Requiem
Volume 113, No. 5
May, 2013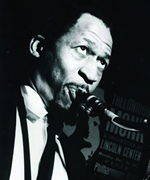 George Barrow
George Barrow, 91, a saxophonist and a member of Local 802 since 1949, died on March 20. Mr. Barrow picked up music relatively late in life, teaching himself the flute, clarinet and saxophone at the ripe old age of 23. A decade later, he was performing and recording with Charles Mingus, Paul Chambers, Bill Evans, Eric Dolphy, Freddie Hubbard, David Amram and Roy Haynes. He played on the acclaimed 1961 Oliver Nelson album "The Blues and the Abstract Truth." That same year, he also recorded the score of Elia Kazan's film "Splendor in the Grass," which won an Oscar for best screenplay.
Mr. Barrow played regularly at the Apollo Theatre. He also performed in Broadway orchestras, including the original prouduction of "42nd Street" as well as "Jelly's Last Jam," among others.
He is survived by his wife Junko, former wife Barbara, sons Eric and Sean and granddaughters Kay and Brooke.
The family requests that donations be made to Education Through Music at www.ETMonline.org.
---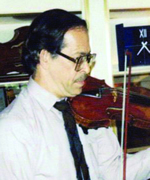 Sherman Goldscheid
Sherman Goldscheid, 89, a violinist and a member of Local 802 since 1943, died on Jan. 9. Mr. Goldscheid performed with the American Ballet Theatre, the Joffrey Ballet, Martha Graham, and the Met Opera's summer ballet series, which hosted foreign companies such as the Bolshoi and Royal Ballets. He also played with the New York Pops under Skitch Henderson, the Little Orchestra Society, the Soho Ensemble, Young Audiences, and the Jackie Gleason Show. He performed in the world premiere of Vivian Fine's "Capriccio for Oboe and String Trio."
"He was respected for his skill, geniality, and wit, as well as his camaraderie as a poker player in the orchestra pit," wrote his daughters Julie and Susan. "He loved playing chamber music with friends, and was revered as a wise and kind mentor to many musicians. He found solace in music until the very end."
Mr. Goldscheid is survived by Julie and Susan, and their partners Penny and Marc.
---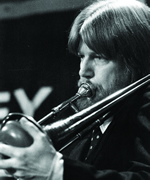 Stephen Knight
Stephen Knight, 77, a Local 802 member since 1954, died on Jan. 19. Mr. Knight played keyboards, bass, trombone, tuba, guitar and oud.
Mr. Knight was the keyboardist for the band Mountain, which toured internationally and performed at the 1969 Woodstock Festival. In the 1950s and 60s, Mr. Knight was active in the Village music scene. He often played in Middle Eastern music performances at Cafe Feenjon. His love of jazz and Middle Eastern rhythms led him to join the group Taksim, with which he performed for over 20 years. He also performed regularly with the Red Onion Jazz Band.
By the time he was 64, Mr. Knight was enjoying semi-retirement in Woodstock and had been elected to the town council there. He had acquired a Bb tuba and was enjoying the challenge of mastering it, but he began noticing some problems. "No matter what I did…my notes would wobble and break up," he wrote in a personal essay, which was published in Allegro in 2001. Upon consulting a neurologist, Mr. Knight discovered that he had Parkinson's. Eight years later, Mr. Knight wrote a second essay for Allegro about his journey with the disease.
Even as his music suffered, Mr. Knight was always optimistic. "On a good day I can still put something of particular value into the mix," Mr. Knight wrote in 2001. "I'd like to think it could be a little like sex: when it's good, it's terrific; when it's bad, it's still pretty good."
He is survived by his daughter Zoe, son-in-law Stuart and grandson Jasper. The family suggests donations to www.WoodstockLandConservancy.org. To read Mr. Knight's essays previously published in Allegro, see www.bitly.com/Knight-1 and www.bitly.com/Knight-2. For another story about Mr. Knight, see Bill Crow's reminiscences in this issue: "The Unstoppable Steve Knight."
---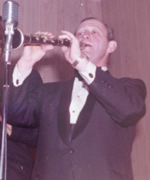 Jacob Zuckerman
Jacob "Zuck" Zuckerman, 97, a saxophonist, clarinetist and pianist, died on Jan. 13. He had been a Local 802 member since 1936.
Mr. Zuckerman shared his love of music as a private teacher of clarinet and saxophone to aspiring students. He was also an M.C. and musician at Kaplan's Catering Hall on the Lower East Side and in Brooklyn, and he played club dates all over the area.
One of his fondest professional memories was playing with legendary saxophonist Davey Schildkraut, a musician he would never forget, and a player whom he considered one of the greats.
Throughout his entire life, Mr. Zuckerman was a voracious reader of all the classics of literature, but also devoured biographies of the great jazz and blues musicians he loved: Lester Young, Billie Holiday, Charlie Parker, Thelonious Monk, Sarah Vaughan and others. Their music filled his home from morning until night, blaring from his old radio.
He is survived by his daughters Susan Scott and Carrie Perlson; grandchildren Daryl, Faith, Cory and Alexis; great-grandchildren Daisy and Eli; pals Brian Nashel and Jack Santi; nieces Roberta and Harriet; and nephew Ben. "May the music never stop playing," wrote Mr. Zuckerman's daughter Susan. "He will never be forgotten."
We also remember . . .
Dr. Victor Aitay, violin
Frank L. Aloi, drums
Lester Clarke, saxophone
William Kaplan, piano
Khali Lukemann, tenor saxophone
Henry Nigrine, viola
Michael J. Piazza, trombone
Youssef A. Rakha, trumpet
Morty Rapfogel, flute
William A. Whited, piano