Requiem
Volume 116, No. 1
January, 2016
LYNN BERMAN
Lynn Berman, 86, a trumpeter and a member of Local 802 for over 50 years, died on Nov. 25. Mr. Berman, a veteran who had played in the Army band, earned his undergraduate degree from the University of Miami School of Music and a master's degree from the Paris Conservatory of Music. He played with the Israeli Philharmonic before spending 37 years with the Metropolitan Opera Orchestra. He retired from the Met in 1993.
Mr. Berman is survived by his wife Janet, stepsons Russell and Guy, brother Kenneth, nephew Richard, nieces Leslie and Paula and cousin Kenneth.
---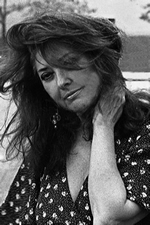 GLADYS "HAVANA" CARBO
Gladys "Havana" Carbo Flower, 80, a singer, pianist and composer, died on Oct. 25. She first joined Local 802 in 1996. Growing up in Cuba in the 1930s and 40s, Ms. Carbo was raised in its rich musical traditions. As a teenager, she created and led a vocal quintet and held her first professional job as a vocalist with Bobby Friedlander's band. In 1964 she moved to Stockbridge, Mass., where she became active in the civil rights and anti-war movements. She was also a pioneer in the women's rights movement with a close cohort of early Berkshire County feminists; she hosted many meetings in her home on Church Street. In the early 70's, Ms. Carbo managed the bar at the renowned Music Inn at Stockbridge, where she selected and promoted many pop and jazz artists.
In her career, Ms. Carbo sang in Spanish, English, French, Italian and Portuguese. Her albums and compositions garnered glowing reviews and she twice won the award for best female jazz vocalist in a Brazilian poll. Her "Stockbridge Requiem" for two sopranos, full chorus, organ and Latin jazz quartet was performed locally in Stockbridge and ultimately at Saint Peter's Church in Manhattan.
Ms. Carbo is survived by her children and their partners: Michael and his fiancée Alison; Robert and his wife Laurie; Aline and her partner Mary; and Ethan and his wife Rebecca. Ms. Carbo is also survived by her brother Nicolás, niece Juliet and her husband John, and grandchildren Andrew, Wilson, Victoria and Sarah. The family suggests donations to Saint Peter's Jazz Vespers at www.SaintPeters.org. A longer version of this obituary along with additional tributes appears at www.HavanaCarbo.com.
---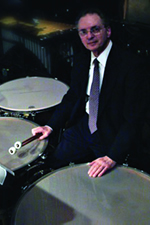 PAUL FEIN
Paul Fein, 78, a prominent timpanist and percussionist, and a Local 802 member since 1954, died on Nov. 30 of natural causes. In his long and highly distinguished career, he performed with an astonishingly vast array of New York City's prominent music ensembles, including the Metropolitan Opera, New York Philharmonic, Symphony of the Air, American Ballet Theatre, Joffrey Ballet, Musica Aeterna Orchestra, Musica Sacra Orchestra and Chorus, Goldman Band and innumerable other employers. He was a member of the orchestra of the original Broadway production of "Man of La Mancha." He performed with the New York City Ballet Orchestra as assistant timpanist and auxiliary percussionist for many years. His most prominent and longest-held position was with the New York City Opera, where he began as a percussionist and was ultimately appointed principal timpanist. Mr. Fein retired from NYCO in 2010.
Mr. Fein was a protégé of Karl Glassman, the timpanist of the NBC Symphony when it was conducted by Arturo Toscanini. In fact, Mr. Fein was known for performing with the vintage timpani passed on to him by his mentor when Mr. Glassman retired. Mr. Fein was also a graduate of Juilliard, where he studied with Saul Goodman, the long-time timpanist of the New York Philharmonic.
His many and varied colleagues from all of his extensive professional network – but particularly from the New York City Opera and the New York City Ballet – express their deep appreciation for Mr. Fein and his deep commitment to the excellence of every one of his performances. He was a great colleague, a gentleman to all, and the consummate professional artist. All touched by his artistry and friendship deeply respect his remarkable legacy and mourn his passing. See Tom Olcott's tribute to Mr. Fein.
---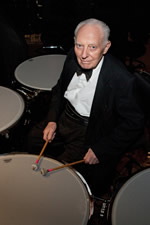 RICHARD HOROWITZ
Richard Horowitz, 91, a timpanist and a member of Local 802 since 1942, died on Nov. 2. Mr. Horowitz studied at the High School of Music and Art, Brooklyn College and Juilliard. He became a member of the Metropolitan Opera Orchestra in 1946 and won the chair of principal timpani in 1971. He played with the Met until 2012 and was the longest-serving orchestra member in the company's history. Mr. Horowitz was also a master maker of conductor's batons, which he crafted in his basement. His unqiue skill earned him at least two profiles in the New York Times over the years, which reported that his batons were used by some of the world's top conductors, including James Levine, Leonard Bernstein, Karl Böhm, Sarah Caldwell, Colin Davis, Christoph von Dohnanyi, Erich Leinsdorf, Thomas Schippers and José Serebrier.
He is survived by his wife Bernice, who is a harpist and also a member of Local 802. Mr. Horowitz is also survived by his sons Mark and Robert, two grandchildren and a great-grandson.
The musicians of the Metropolitan Opera Orchestra posted a tribute on their web site, with testimonials and reminiscences. See www.metorchestramusicians.org/blog/2015/11/12/remembering-richard-horowitz. Also see Tom Olcott's tribute to Mr. Horowitz.
---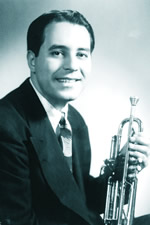 ROSARIO (RUSS) MONTAGNA
Rosario (Russ) Montagna, 95, a trumpeter, violinist, organist, composer, conductor and music educator, died on Nov. 25 of natural causes at his home in Frisco, Texas. Mr. Montagna, whose stage name was sometimes Russ Monte, was born in New York City, the first of four children of Egina and Rosario Montagna, who had emigrated from Italy. With his parents' constant support, Mr. Montagna's musical gifts flourished.
He graduated from Juilliard in 1951, where he majored in trumpet and minored in violin. He studied education at Columbia, where he earned his B.A. and master's degree. Mr. Montagna studied trumpet under William Vacchiano, the principal trumpeter of the New York Philharmonic, and later toured with Louis Prima and Leo Riseman. In 1956, he began a lifelong career as a teacher of instrumental music in the Levittown public school system on Long Island. Even while working as a full-time teacher, he continued to perform professionally on weekends.
Mr. Montagna also studied the organ, and in his later years served as organist at the Holy Family Church in McKinney, Texas. He loved this work and played at Sunday services even up until the week before his death. Mr. Montagna was still teaching students even in his 90s. His love of family, his lifelong devotion to education and art, and his passion for music inspired his family and his community both in New York and in his adopted home in Texas.
He is survived by his wife Sadie, sons Gary, Gerald and Larry, daughter-in-law Giselle, granddaughter Gina and sister Sylvia. Mr. Montagna served in the Army from 1942 to 1945 and was buried at the Dallas-Fort Worth National Cemetery.
---
WE ALSO REMEMBER . . .
Rosario C. Coletta, saxophone
Donald C. Isenman, piano
Thad Marciniak, violin
Jack E. Six, bass
Nathan Stutch, cello
If you have any reminiscences, memories or stories about deceased musicians on these pages, please e-mail them to Allegro@Local802afm.org
To report the death of a member, please call Avelon Ramnath at (212) 245-4802. Be sure to ask about any possible refund of Local 802 membership dues or about the union's death benefit (there are certain eligibility requirements).
Spouses of deceased members should call the AFM Pension Fund at (800) 833-8065, ext. 1311, to ask about any possible benefits.
To submit an obituary to Allegro, e-mail Allegro editor Mikael Elsila at Allegro@Local802afm.org or call (646) 765-9663. Photos and personal essays are also welcome.
To make a contribution to Local 802 in honor of a deceased member, contact the financial vice president's office at (212) 245-4802.