Requiem
Volume CIX, No. 3
March, 2009
To submit an obituary, photo or reminiscence of a deceased member, e-mail Allegro editor Mikael Elsila at Allegro@Local802afm.org. Survivors of deceased members should call Theresa Couture at (212) 245-4802, ext. 115 to ask about a possible refund of Local 802 membership dues. And spouses of deceased members should call the AFM pension fund at (800) 833-8065. Ask for the pension benefits department. Spouses may be entitled to a pension benefit.
George A. Brown Jr, saxophone
Blossom Dearie, vocalist/piano
Lukas Foss, piano/conductor
Leonard O. Gaskin, bass
Arthur E. Goldstein, french horn
Michael Mancini, saxophone
Gordon "Whitey" Mitchell, bass
William Pyatt, saxophone
Chauncey Welsch, trombone
---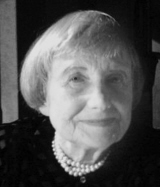 Blossom Dearie, 82, the singer and pianist, died on Feb. 7. She had joined Local 802 in 1949.
After high school, Ms. Dearie moved to New York City to pursue a music career and began to sing in groups such as the Blue Flames (with the Woody Herman Orchestra) and the Blue Reys (with Alvino Rey's band) before starting her solo career.
She moved to Paris in 1952 and formed a vocal group, the Blue Stars. In 1954 the group had a hit in France with a French-language version of "Lullaby of Birdland."
After returning from France, Ms. Dearie made her first six American albums as a solo singer and pianist for Verve Records in the late 1950's and early 1960's, mostly in a small trio or quartet setting.
Dave Garroway, host of "The Today Show" and an early fan of Ms. Dearie, featured her on several occasions, increasing her exposure with the popular audience.
During this same period, Ms. Dearie performed frequently in New York supper clubs and in 1966 made her first appearance at Ronnie Scott's club in London.
Ms. Dearie appeared on television throughout her career, most notably the children's educational series "Schoolhouse Rock!" She sang on the song "Mother Necessity" and others.
The last record Ms. Dearie recorded was a single, "It's All Right to Be Afraid," a ballad dedicated to the victims and survivors of 9/11.
She is survived by an older brother, Barney, and a nephew and niece.
Edited from Wikipedia.
---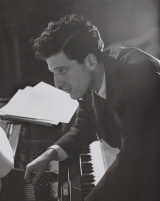 Lukas Foss
Lukas Foss, 86, the composer, pianist and conductor, died on Feb. 1. He had joined Local 802 in 1942.
Mr. Foss was one of the most famous avant-garde voices of American composers. He was also responsible for revitalizing the Brooklyn Philharmonic and turning it into one of New York City's important ensembles.
Born in Germany, he later studied at the Curtis Institute of Music in Philadelphia. The pianist Isabelle Vengerova, the conductor Fritz Reiner and the composers Rosario Scalero and Randall Thompson were his principal teachers. He also studied with Serge Koussevitzky at Tanglewood and composition with Paul Hindemith at Yale.
Mr. Foss became an American citizen in 1942. Two years later, he was the pianist of the Boston Symphony and his cantata "The Prairie" had won the New York Critic's Circle Award.
In 1953, he succeeded Arnold Schoenberg as the head of the composition department at the University of California at Los Angeles.
He was the director of the Buffalo Philharmonic from 1963 to 1970. He took over the Brooklyn Philarhmonia in 1971 and led the group until 1990.
Mr. Foss also directed the Jerusalem Symphony (1972-76) and the Milwaukee Symphony (1980-86) as well as a chamber music festival on Long Island, the Music Festival of the Hamptons.
He is survived by his wife Cornelia, son Christopher, daughter Eliza and brother Oliver.
---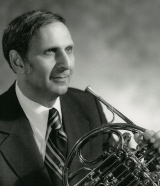 Arthur E. Goldstein
Arthur E. Goldstein, 83, a French horn player and an 802 member since 1946, died on Jan. 2.
Born in Brooklyn, NY, he graduated from the New England Conservatory in 1950 where he studied with Willem Valkenier.
Mr. Goldstein served in the U.S. Army with the 388th ASF band during World War II, which included a White House performance.
During his long career he performed with the Buffalo Philharmonic, the Chicago Symphony, Radio City Music Hall, Long Island Symphony and numerous Broadway shows and recordings. He was a founding member of the Metropolitan Brass Quintet and was on the faculty of Nassau Community College and Hofstra University for 43 years.
Mr. Goldstein was author and publisher of the Schmutzig Series books as well as several horn method books.
An active union member, he was chair of Local 802's CAC committee for 10 years.
Mr. Goldstein is survived by his wife Jeanne and daughter Barbara, both of whom became harpists and Local 802 members. He is also survived by his sons David and Douglas; grandchildren Jaclyn, Bradford, Mallory, Courtney, Shelby; and sister Benita.
---
Gordon "Whitey" Mitchell, 76, the jazz bassist, died on Jan. 16. Mr. Mitchell joined Local 802 in 1955.
Brother of the late jazz great Red Mitchell, he started his jazz career in New York playing bass with big band legends Benny Goodman, Gene Krupa and Lester Young on the Jazz at the Philharmonic series.
Moving to Hollywood after encouragement from comedian Lenny Bruce to pursue writing, Mr. Mitchell became a staff writer and story editor on "Get Smart." He also wrote for Bob Hope's comedy TV specials and such sit-coms as "All in the Family," "The Jeffersons," "Good Times," "The Mary Tyler Moore Show," "The Odd Couple" and "Mork and Mindy" with Robin Williams.
He and his second wife, Marilyn, a television production coordinator, moved to Palm Springs, Calif., in 1995. He began his own radio show, "The Power Lunch," and combined his writing and jazz careers.
Mr. Mitchell returned to playing bass in nightclubs and in concert tributes to Benny Goodman at the Annenberg Theatre, and he wrote a golf column for a local magazine
He also wrote two books: his autobiography, "Hackensack to Hollywood: My Two Show Business Careers," and "Star Walk: A Guide to the Palm Springs Walk of Stars." He taught screenwriting at UCLA and UC Riverside Palm Desert.
Mr. Mitchell is survived by his wife Marilyn; daughters Michele, Karen and Lesley; and five grandchildren.
This obituary first appeared in the online edition of the Desert Sun (Palm Springs, Calif.).