REQUIEM
Volume 120, No. 6
June, 2020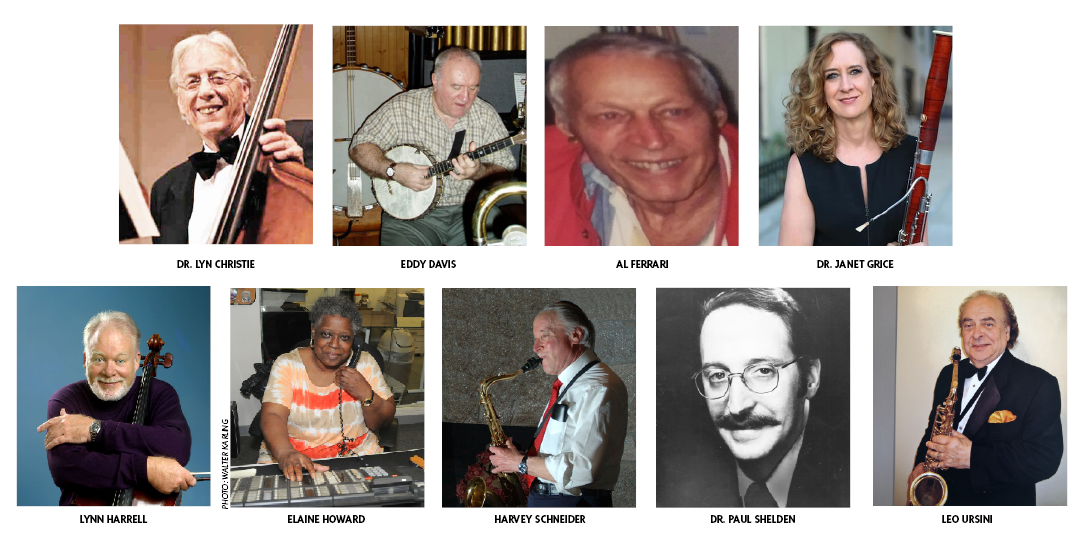 Dr. Lyn Christie
Dr. Lyndon van Christie, 91, a member of Local 802 since 1966, died on March 28. He was born during the Great Depression in Sydney, Australia with music in his blood. His father, the late Clarence Lyndon Piatara Christie, was leader of the Australian Broadcasting Corporation Orchestra at the time while his mother, Clive Grace Christie, was a concert pianist. The family moved back to Christchurch, New Zealand to help run the Christie family printing business where Dr. Christie attended St. Andrews College and Canterbury College in Christchurch before graduating as a Doctor of Medicine from Otago University in Dunedin. He went on to practice medicine in New Zealand and Sydney, Australia, and later at Yonkers General Hospital.
While Dr. Christie retained a strong interest in health and science throughout his life, music was his first and greatest love. Well known in New Zealand and Australian jazz circles during the 40s and 50s, he quickly became established as a professional musician when he moved to New York. Working on the double bass in and around clubs of Greenwich Village, he played with a pantheon of leading artists including Jaki Byard, Joanne Brackeen, Wynton Kelly, Tal Farlow, Zoot Sims/Al Cohn, Chet Baker and Jeremy Steig. He served as the house bassist for the Village Gate from 1967 until its closing, performing with Ahmad Jamal, Sonny Stitt, Chico Hamilton and many others. He was also a member of Hellman's Angels, which appeared each Tuesday at the Gate, led by harpist Daphne Hellman. Dr. Christie appears on a number of recordings including those of Hellman, Toshiko Akiyoshi, Mike Mainieri, Lance Hayward, Tal Farlow, and Mike Longo's New York State of the Art Jazz Ensemble, among many others.
At the same time, Dr. Christie pursued his career as a classical musician. This including him serving for half a century as principal bass with both the Yonkers Philharmonic Orchestra and the former Philharmonic Symphony of Westchester. Dr. Christie toured internationally to Germany, Japan, China and India as well as within the U.S. with both jazz and classical musicians. His experiences in Asia made a strong impression on him and guided his personal life.
In the 1980s, Dr. Christie added teaching to his list of accomplishments, taking private students along with adjunct professorships teaching bass and composition, and directing jazz ensembles at Mercy College, the Music Conservatory of Westchester, Western Connecticut State University and at Lehman and Manhattanville colleges. He continued to teach and mentor up until his final year.
Dr. Christie counted among his personal highlights receiving a fellowship from the National Orchestral Association to study bass with master teacher Homer Mensch of Juilliard, performing at Carnegie Hall several times, and receiving a mayoral tribute for "enriching the cultural, artistic and philanthropic fabric…through magnificent sharing of exceptional talent…as bassist, composer and educator who actively plays and composes…and promoting classical music" in Yonkers in October 2006.
Dr. Christie's experiences in the Depression and as a doctor in rural New Zealand and urban New York reinforced his belief in the need for social justice and responsibility and his active support for the health and well-being of his fellow musicians and friends. His beloved wife, the late Marylyn Christie (nee Lawson), totally supported him in this.
The family is grateful to his friend Diane Braia Rauber for the love and care she provided Dr. Christie. Due to the current circumstances a funeral will not be held. Messages can be sent to the family at bainesc@hotmail.com.
He is survived by his daughters Coralie, Megan, Tunde and Sian, brother Gary and sister Wendy McWhinnie (nee Christie).
---
Eddy Davis
The banjoist Eddy Davis died on April 7 at the age of 79 due to complications of the coronavirus. He had been a member of Local 802 for over 40 years. He is survived by his daughter Lucie and his longtime life partner, Ruth Miller. Here is a personal remembrance by Local 802 member Scott Robinson:
I've just lost one of the dearest friends I've ever had in music. Eddy Davis was a highly significant and influential presence in my life. He was a fiercely individualistic performer, a veteran of the old Chicago days when music was hot, joyful, exuberant and unselfconscious. He was a character and a curmudgeon, who could hold court for hours after the gig. And he was also a loving mentor who helped younger musicians like myself learn and grow in this music.
I had only played with Eddy a handful of times when he called me in late 1998 to say that he was forming a new band to fill a weekly Wednesday spot at the Cajun on 8th Avenue. He wanted me to play lead on C-melody saxophone, in a little group with two reeds, and no drums. This by itself gives a clue to what an original thinker he was.
I already knew that Eddy was a proficient and highly individualistic stylist on the banjo, who sounded like no one else. What I didn't know, but soon found out, was that this man was also a walking repository of many hundreds if not thousands of tunes of every description, ranging far beyond the standard repertoire, with a fascinating background story at the ready for nearly every one. I quickly learned that he was also a prolific and idiosyncratic composer himself, with a wonderfully philosophical work ethic: Write original music every day, keep what works, and throw the rest away without a backward glance.
Eddy was also what used to be called a "character": affable, opinionated, hilarious, and irascible all in one, and above all highly passionate about music. What I learned over the ensuing 7.5 years in Eddy's little band, I cannot begin to describe. I came to refer to those regular Wednesday sessions as my "doctor's appointment" — for they fixed whatever ailed me, and provided the perfect antidote to the ills of the world, and of the music scene. Over the years we were graced with the presence of some very distinguished musicians who came by and sat in with us, including Harry Allen, Joe Muranyi, Bob Barnard, Howard Johnson, and Barry Harris.
Eddy was generous with his strong opinions, with his knowledge and experience, and with his encouragement. But he was a generous soul in other ways as well. When he heard that I was building a studio (my "Laboratory"), he had me come by his apartment and started giving me things out of his closets: a Roland 24-track recorder, three vintage microphones, instruments… things that I treasure, and use, every single day of my life. When my father turned 75, Eddy came out to the Lab in New Jersey and played for him, and wouldn't take a dime for it.
When I got the call last night that Eddy had passed — another victim of this horrible virus that is ruining so many lives, and our musical life as well — I hung up the phone and just cried. Later I went out to my Laboratory, and kissed every single thing there that he had given to me. How cruel to lose such an irreplaceable person… killed by an enemy, as my brother David commented, that is neither visible nor sentient.
One night at the Cajun stands out in my memory, and seems particularly relevant today. It was the night after the last disaster that changed New York forever: the World Trade Center attack. There was a pall over the city, the air was full of dust, and there was a frightful, lingering smell. "What am I doing here?" I thought. "This is crazy." But somehow we all made our way to the nearly empty club. We were in a state of shock; nobody knew what to say. I wondered if we would even be able to play.
We took the stage, looked at each other, and counted off a tune. The instant the first note sounded, I was overcome with emotion and my face was full of tears. Suddenly I understood exactly why we were there, why it was so important that we play this music. We played our hearts out that night — for ourselves, for our city, and for a single table of bewildered tourists, stranded in town by these incomprehensible events. They were so grateful for the music, so comforted by it.
The simple comfort of live music has been taken from us now. We must bear this loss, and those that will surely follow, alone…shut away in our homes. I know that when the awful burden of this terrible time has finally been lifted — when we can share music, life, and love again — it will feel like that night at the Cajun. My eyes will fill, my heart will sing, and the joy that Eddy Davis gave me will be with me every time I lift the horn to my face, for as long as I live.
— Scott Robinson
---
Al Ferrari
My father Al Ferrari, 90, a bass player and a member of Local 802 since 1948, died on April 11. Al was one of six brothers born in Brooklyn to immigrant parents Angelina and Umberto Ferrari. As a young man, Al loved to play baseball. He was scouted to play with the Yankees but was drafted into the military. After returning home from service, Al got married to Lillian, the love of his life, and made a living working in a hat factory, working as an assistant plumber and doing many other jobs. Al had a love for working on cars and always lent a helping hand to all who crossed his path. He was also known as "Mr. Fix-it." Then mom bought dad a guitar and a bass — and the rest, as they say, was history. He clearly had a God-given talent and was able to play any instrument he picked up with such feeling. He also had a great singing voice and was a legendary scat singer. His personality led him to many friends (young and old), opportunities and music connections across many genres. He lived most of his life playing music and singing between New York and Florida. He was known for his heart, incredible talent, generosity and kindness. He played with everyone from local musicians to top stars, including Benny Goodman, Tommy Dorsey and Louis Armstrong. He also played with the Lester Lanin Orchestra in New York and the Barry Herman Orchestra in Florida. Al also appeared on the Tonight Show with Doc Severinsen. Not a moment goes by that dad isn't here by our side. We all loved sitting around hearing his many stories. He left us his love and gift of music. I play guitar, my brother Al plays drums, and my dad's grandson Christian is being taught by Al's close friend, Gene. Christian played piano for his grandpa every day. This brought Al such comfort and joy and Al couldn't be more proud to share the love he had for music with his grandson. What a life my dad led. So many memories: mom and dad's great love, big band rehearsals in the basement while mom cooked for everyone, dad helping me with all my projects, seeing my dad and brother go off to open for Marvin Hamlisch, and seeing my dad being the best grandpa to my son. There are no words to express the gratitude and love I felt every day — and wherever we went, everyone knew him and loved him. Heaven is jamming now that Al is there. We are sad down here, but the love and memories wrap around us like a big hug. I also want to tell my dad, "Love you, dad, bigger than the world. The main thing." My dad is survived by myself, his son Al Jr., his grandson Christian, his wife Lillian (with whom he was married for 68 years), and his nieces and nephews.
— Lillian Ferrari
---
Dr. Janet Grice
Dr. Janet Grice, 64, died on March 31 from complications of a three-year battle with multiple myeloma. She was a bassoonist, bandleader, improviser and educator, and had been a Local 802 member since 1983. She will be remembered for her joyous life, irrepressible vigor, unbounded passion and personal and professional accomplishments. Dr. Grice was that rare thing, a musician equally at home in the jazz and classical worlds. A skilled improviser and innovator on the bassoon, she introduced many musicians in the Boston and New York areas to the joys of Brazilian music, acquired from her many trips to Brazil and tireless research and performances of that country's popular and classical music. She also performed in a wide range of other musical styles with artists including Karl Berger, Butch Morris, Hermeto Pascoal, Leroy Jenkins, Bernie Worrell, the Weekly Reeders, Julius Hemphill and the Westchester Symphony Orchestra. Dr. Grice founded the woodwind group Vento Trio and a quintet with fellow bassoonist Paulo Siqueira, with whom she had recently released a CD of Brazilian music called Prozeas for Bassoon. A frequent sub in the Mingus Orchestra, she once moved Sue Mingus to tell the audience at NYC's Jazz Standard, "Do you have any idea how special this woman is?" Dr. Grice produced six CDs of Brazilian and original music, was awarded grants from Fulbright, NEA, USArtists International, and Surdna, and taught and performed in Brazil at the Festival de Música de Londrina. She earned degrees from NYU and the New England Conservatory of Music, and earned her doctorate from Rutgers University. A resident of Yonkers, she was active in that city's arts community and served on the board of Yonkers Arts. As an educator, she led international workshops on bassoon technique and jazz improvisation, served as professor of bassoon at the Hoff-Barthelson Music School, taught private students and was a woodwind clinician and adjudicator. She directed instrumental music at Fordham High School for the Arts, where she raised money to purchase instruments, send her students to music camp, and finance a professional-level CD of their playing called Fordham Road. Dr. Grice, who was born in Massachusetts on Oct. 2, 1955, is survived by her two sons, Travis Lloyd and Skyler Lloyd, their father Jocko Lloyd, her sister Nancy Grice, her niece Carrie Erving (the vocalist "Shrines") and nephew Alex Erving, her companion Santiago Edie, and the countless devoted friends, students and fans who cherish her memory.
---
Lynn Harrell
Lynn Harrell, 76, a cellist and a member of Local 802 since 1974, died on April 27. A consummate soloist, chamber musician, recitalist, conductor and teacher, his work throughout the Americas, Europe and Asia placed him in the highest echelon of musicians. Mr. Harrell was a frequent guest of many leading orchestras all around the world, and he toured extensively. In 1999, Mr. Harrell was featured in a three-week "Lynn Harrell Cello Festival" with the Hong Kong Philharmonic. He regularly collaborated with James Levine, Sir Neville Marriner, Kurt Masur, Zubin Mehta, André Previn, Sir Simon Rattle, Leonard Slatkin, Yuri Temirkanov, Michael Tilson Thomas and David Zinman, among others. Mr. Harrell also enjoyed working with violinist Anne-Sophie Mutter and pianist André Previn. In January 2004 the trio appeared with the New York Philharmonic performing the Beethoven Triple Concerto with Maestro Masur conducting. An important part of Mr. Harrell's life was summer music festivals, which included appearances at the Verbier Festival in Switzerland, the Aspen and Grand Tetons festivals, and the Amelia Island Festival. In 1994, Mr. Harrell appeared at the Vatican with the Royal Philharmonic in a concert dedicated to the memory of the six million Jews who perished in the Holocaust. The audience for this historic event, which was the Vatican's first official commemoration of the Holocaust, included Pope John Paul II and the chief rabbi of Rome. That year Mr. Harrell also appeared live at the Grammy Awards with Itzhak Perlman and Pinchas Zukerman, performing an excerpt from their Grammy-nominated recording of the complete Beethoven String Trios. His discography included more than 30 acclaimed recordings. Lynn Harrell's experience as an educator was wide and varied. From 1985 to 1993 he held the international chair for cello studies at the Royal Academy in London, where he eventually was appointed head of the school. He also served as artistic director of the orchestra, chamber music and conductor training program at the L.A. Philharmonic Institute and taught cello at Rice University's Shepherd School of Music. Lynn Harrell was born in New York to musician parents. He began his musical studies in Dallas and later studied at Juilliard and Curtis. He is the recipient of numerous awards, including the first Avery Fisher Award. In 2010, he and his wife, violinist Helen Nightengale, founded the HEARTbeats Foundation, a charity that allowed children in need to harness the power of music to better cope with the extreme challenges of poverty and conflict in hope of creating a more peaceful, sustainable world for generations to come. Besides his wife Helen, Mr. Harrell is survived by his children Eben, Kate, Hanna and Noah, and his sister Jane. This obituary was based on the bio on Mr. Harrell's Facebook page.
---
Elaine Howard
Elaine Howard, 69, a staff member of Local 802 for almost four decades, died April 21. In a tribute to Ms. Howard's family, the officers of Local 802 said, "We write to you today on behalf of the officers, the Executive Board, staff and membership of Local 802 to offer our deepest sympathy and condolences on the passing of dear Elaine. For 39 years, Elaine brought her dedication, sweet personality and positive spirit to her work at our union. Over those decades she made many meaningful and lasting friendships with her co-workers. All of us are now mourning her loss and we are in disbelief that she has been taken from us so suddenly. As the gentle, welcoming telephone voice of Local 802, Elaine was known far and wide by members and our business partners. That voice has now been stilled and it will be sorely missed in the days ahead and for years to come. We are sad that the current health crisis prevents a memorial service that would be open to all of Elaine's friends and co-workers. Please know that we are with you all in spirit at this sad time, and that we are thinking of Elaine's grandchildren and great-grandchildren, too. May she rest in peace." Ms. Howard is survived by her husband and her family members Michelle, Eric and Alexis. Allegro received two tributes from fellow staff members:
FRAN KAYNE: "I first met Elaine in August 1988, when Local 802 was located on 42nd Street. She was in charge of the mail and supply room. She could split a 500-page set of dot-matrix printer paper better than any of us. She became 'Ma Bell' when she took over as receptionist/switchboard operator a year or so later. For me, that nickname was partly because she was the operator, but also because Elaine really was a mother: her daughter Michelle also worked at 802. I called her Ma Bell as often as I called her Elaine. I think she made a great face for 802. Elaine was always happy to help any of us when needed. She stuffed thousands of envelopes for me through the years. I think my favorite thing is the friendship she developed with my father. He was a flirt, especially over the phone, and they'd chat a short while whenever he called. They became friends over the years and sometimes I think he called to speak to her, not me! She never stopped asking after him when he stopped calling the switchboard."
GREG VENUTO: "Elaine was like a second mother to me. Thirty-three years ago, she was my supervisor at Local 802 who allowed me to pass my probationary status to become a full member of the staff. I will be forever grateful. She and her family became mine as well. When you spend decades with someone, you can form a strong bond. She called me every day, right up to her passing, even when the Local 802 building was closed due to the quarantine and we were all at home. They say in times of hardship, you really find the people who care about you. Elaine called me because she cared. She was one of those beautiful souls who was caring and loving to so many. She touched so many others and will always be in my heart."
---
Harvey Schneider
Harvey Schneider, 88, a bandleader, saxophonist and music teacher, died on April 13 due to Covid-19. He had been a member of Local 802 since 1953. Mr. Schneider earned a graduate degree in management from Columbia University and worked in a family business before becoming a full-time musician in the 1960s. We received the following note from his family: "Music was the sustenance of Harvey's life. He will be sorely missed, and never forgotten by his two brothers, his niece and nephews, their families, and all whose lives he touched." The family is soliciting donations in Harvey's memory to a number of organizations, including the Local 802 Musicians' Emergency Relief Fund (https://erf.local802afm.org/donate) as well as the National Foundation for Infectious Diseases.
---
Dr. Paul Shelden
Dr. Paul Shelden, 79, a professor emeritus of music at Brooklyn College and an influential woodwind performer and educator, died on April 17 due to complications from Covid-19. He had been a member of Local 802 since 1956.
As assistant director at the Conservatory of Music at Brooklyn College, and inspired by his time playing under Leonard Bernstein, he spent decades producing and conducting concerts for young people, bringing classical music to hundreds of thousands of Brooklyn public school students.
A native of Brooklyn, Dr. Shelden was a musician from the start — as a child he performed on Ted Mack's Original Amateur Hour alongside his identical twin brother, before later becoming the youngest band director in the Catskill Mountain resorts. It was there that he met his lifelong wife, after she sang with his band. He would go on to earn multiple degrees from Juilliard, to perform and conduct in a wide range of genres, including classical, opera, jazz and klezmer, in numerous venues (including Carnegie Hall, Radio City Music Hall, the Kennedy Center, and the White House), but also Broadway pits, recording studios and radio programs. In popular music, he worked with luminaries such as Bob Hope, Rosemary Clooney and Tony Bennett, and played with groups ranging from Blood, Sweat & Tears to the famous Lombardo orchestra, ushering in the televised New Year's Eve festivities for years. In classical music, Dr. Shelden performed under the batons of conductors such as James Levine, Robert Shaw and Leonard Bernstein, and premiered works written specifically for him, including at Carnegie Hall. As an academic, with a doctorate from the University of Maryland, he published widely about pedagogy and performance and adjudicated numerous competitions and programs.
In his later years, he founded his own musical instrument company, Diplomatte Musical Instruments, where he oversaw the design and manufacture of woodwind instruments made in China. He battled Parkinson's disease, even in a somewhat literal sense, as he became a devoted participant in the Rock Steady Boxing program (a noted Parkinsonian therapy) at the New York Institute of Technology). In this way, he carried on the legacy of his father, himself a boxer in his youth. But Dr. Shelden continued to perform, even into his final months, including with Long Island's Northwinds Symphonic Band.
His son, Seth Shelden, a musician and performer in his own right — among his credits is years of playing Harpo Marx (and Harpo's instruments) in the first-ever revival of the Marx Brothers' first-ever Broadway show — is also a law professor at CUNY Law, and part of the team that was awarded the 2017 Nobel Peace Prize.
Dr. Shelden's wife of 51 years, Dr. Pamela Shelden, a lifelong educator who spent most of her career teaching at Stuyvesant High School, is also sick with Covid-19. Their daughter Dr. Loren Napoli is a school psychologist living in White Plains with her husband Rocco and children Helena and Gregory. Dr. Shelden is also survived by his identical twin brother Aaron Shelden, who also joined Local 802 in 1956 and now works in financial services.
---
Leo Fred Ursini
"Music is not what comes from your head; it's what comes from your heart." This meaningful quote by Buster Williams personifies the musical talent and career of my husband Leo Ursini. When he left the professional and personal life he loved on Jan. 24 at the age of 82, the world lost a musical legacy. He was a giant in his great heart, his perceptive soul, his charisma and in the gift of music he gave to the world.
He was born in 1937, the only child of Angelina and Fred Ursini. His father, Fred, a graduate of Juilliard, was also a well known and talented professional musician. He was Leo's only teacher. At the age of 3, Leo was playing the violin at neighborhood events. By the time he was 14, he was appearing regularly on the weekly "Star Time for Television Kids" show. He attended John Adams High School (class of 1953), where he always received standing ovations for his clarinet performances, especially of "Rhapsody in Blue." He joined Local 802 in 1955. Then he attended the Manhattan School of Music where he earned a bachelor's degree in music (class of 1957) and a master's degree in music education (class of 1958). During the Korean War, he served in the Army and played in the Army Band.
Leo's musical career was as diversified as his talent and expertise on clarinet, saxophone, flute and piccolo. He became the conductor-arranger of the world-famous Peter Duchin orchestra and gained acclaim for his charismatic, dignified leadership and versatile musicianship. He and the orchestra became the preferred choice of elite patrons across America and abroad.
Leo's journey as a musician also led him to play with the bands that backed Judy Garland, Tony Bennett, Aretha Franklin, Barbra Streisand, James Brown, Liza Minnelli and Donna Summer, to name a few. He also had the opportunity to perform with the Four Tops, Temptations, Supremes, Jack Jones, Rich Little, Diahann Carroll, Johnny Mathis, Peter Nero and Tom Jones.
In addition, he has been part of the ensembles of great musical artists such as Benny Goodman, Buddy Rich, Lionel Hampton, Maynard Ferguson, Les and Larry Elgart and Tito Puente. He also enjoyed the times he performed with the CBS Staff Orchestra for the Ed Sullivan Television Show, backing up famous singers and groups.
Furthermore, with the Peter Duchin Orchestra, Leo and the musicians played at the inaugural balls of several U.S. presidents. He also performed for Princess Grace Kelly in Monaco.
On the Broadway scene, he had a chance to play in the pit orchestras for some box office hits such as "Woman of the Year," "Sugar Babies" and "Dancin'." He can also be found in the movies, performing in the wedding scenes of "Working Girl" and "When Harry Met Sally."
A highlight of Leo's musical career occurred when he took a sabbatical from his profession as a high school music teacher to tour with Frank Sinatra, Dean Martin and Sammy Davis. He always referred to this as a phenomenal musical experience with the greatest of musicians. Also, for decades, Leo loved his years performing in New Orleans with the renowned Jimmy Maxwell Orchestra. He not only played at all the famous Mardi Gras balls and on the grand parade floats, but also wrote and arranged original music themes for the majestic ritual ceremonies that were spectacular events of the Mardi Gras festivities.
Later on in his musical career, he established his own orchestra, the Music Masters company and continued to bring music of distinction to parties and special occasions with his fellow musicians. At home on Long Island, Leo loved working with Lou Panacciulli for the Nassau Pops and in recent years, with Steve Perrillo and the 18-piece New Millennium Jazz Band. Leo attended rehearsals and performances with this big band during the most challenging times of his illness, and the fellow musicians supported and sustained him like family. On Feb. 26, the entire band hosted a special memorial tribute for Leo. In his honor, they played his favorite tunes and reminisced about their unique experiences together.
Leo was not only passionate about his career as a professional musician, but also about his inspirational role as an incredible music educator. He began his tenure in the New York City Public School system, then moved on to teach in Freeport, Massapequa, Sewanhaka and the Lawrence School Districts. His students were a great source of pride and affection for him. He encouraged, motivated and brought out the musical best in all of them through his teaching, conducting, marching band and class lessons. Many students became professional musicians themselves and they remained good friends throughout their lifetime.
While he was a teacher in the Lawrence Public Schools, Leo arranged the instrumental music for an original song called "The Gifts of Life." It was written to commemorate the life of a young man who was killed in a tragic car crash, but his organ donations saved many lives. This song was sung and played at the Lawrence Philharmonic's spring concert and created a powerful performance that addressed tragedy and pain through the experience of music.
Also, for 25 years, until last spring, Leo served as an adjudicator for the New York State School Music Association. He loved judging and listening to the talented young musicians play their instruments and wrote glowing evaluations of their performances which enabled them to join bands and orchestras on district, county and state levels.
Leo loved to play his instruments, lead a job and share jokes and experiences with his musicians and friends. He always radiated energy and enthusiasm when he was in his element. Musicians enjoyed performing with him on the bandstand whenever he led a job. He was confident, intuitive and perceptive about the music needed to make every event and occasion a success.
His knowledge of all genres of music was boundless. He had a great love and appreciation for Latin music. He had a repertoire of tunes in his mind and always performed with all his heart and soul. He could listen to classical music and name the composer, or hear a jazz composition and name the performer. He could write music with great ease, arrange and conduct, recall countless tunes or lyrics from every musical decade….and it was all in every fiber of his being! Leo's talent and music kept him joyful and motivated, gave him courage and strength and thankfully, he was able to play to the very end of his life.
This past Dec. 9, 2019, despite the progression of his illness and the fact that he was on oxygen, he performed on a record date in Astoria, Queens with some of his best musician friends. His performance for five hours was incredible and, fortunately, we have that CD. It was the last time he played his saxophone.
Leo most definitely was a "giant" in many aspects of his life. He is a veritable legacy…as a professional musician, as a music educator and to the family he loved so very much. He was my beloved husband for 46 years, extraordinary father to Angela Maria (and her husband Angelo), James Fred (and his wife Noreen) and adored grandfather to Mario, Jacob, Liliana and Antonia. Leo Ursini was absolutely the best of the best! He will be truly missed, but he will live forever in the hearts and minds of those whose lives he touched!
— Antoinette L. Ursini, angel5129.au@gmail.com