Requiem
Volume 118, No. 1
January, 2018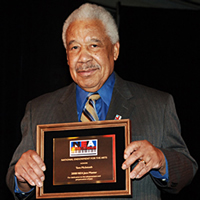 TOM MCINTOSH
Tom McIntosh, 90, a trombonist, composer, arranger and conductor, died on July 26, 2017. He had been a member of Local 802 since 1956. Mr. McIntosh studied at the Peabody Conservatory before serving in the 427th Army Band, the first unit to be integrated (under President Harry S. Truman). He later moved to NYC, where he studied at Juilliard and began a long career that included collaborations with Dizzy Gillespie, James Moody, Milt Jackson, the Art Farmer/Benny Golson Jazztet, the New York Jazz Sextet, Herbie Hancock, J.J. Johnson, Ron Carter, Billy Cobham, George Benson, Hubert Laws, Thad Jones, Mel Lewis, Tommy Flanagan, Roland Hanna, Richard Davis, Oliver Nelson, Art Blakey, Illinois Jacquet, Bobby Timmons, Shirley Scott, Jimmy Smith, John Lewis, Jack McDuff, Eddie Harris, Jimmy Heath, Lee Morgan, Roland Kirk, Earl Coleman, Paquito D'Rivera, Frank Perowsky, Jimmy Owens, John Handy and Howard McGhee, among others. In 1969, Mr. McIntosh moved to L.A. and found success writing for movies and TV, but he returned to the East Coast in the 1990s and began a teaching career, which included a position as director of the Thelonious Monk Institute at the New England Conservatory of Music. In 2003, at the age of 76, Mr. McIntosh released his first album as a leader, "With Malice Towards None." In 2008, at the height of his powers, Mr. McIntosh was named a Jazz Master by the National Endowment for the Arts. That same year, Mr. McIntosh recorded an extensive interview for the Smithsonian Jazz Oral History Program, which is available online. Mr. McIntosh's faith as a Jehovah's Witness was very important to him. Mr. McIntosh is survived by his brother Henry, nephew Ralph and many other nieces and nephews. (Obituary information from Mr. McIntosh's nephew, friends, Wikipedia and the NEA Jazz Masters site.)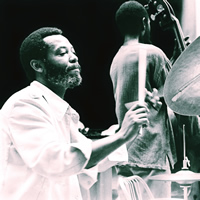 BEN RILEY
Ben Riley, 84, the jazz drummer and a one-time member of Local 802, died on Nov. 18. Mr. Riley was born in Savannah but moved to NYC with his family at the age of 4. In high school, he played in the school band, and after graduation he joined the Army, where he was a paratrooper and also played with the Army band. After his discharge in 1954, he moved to New York and soon started playing jazz professionally. Mr. Riley was best known for his work with Thelonious Monk, but he also played with Alice Coltrane, Stan Getz, Woody Herman, Eddie "Lockjaw" Davis, Ahmad Jamal, Kenny Barron, Randy Weston, Sonny Stitt, Mary Lou Williams, Sonny Rollins, Andrew Hill, Abdullah Ibrahim, Billy Taylor, Ron Carter and Johnny Griffin, and as member of the New York Jazz Quartet as well as the group Sphere. It wasn't until the age of 60 that Mr. Riley recorded his own album as a bandleader, "Weaver of Dreams," with bassist Buster Williams and saxophonist Ralph Moore. At the end of his life, Mr. Riley could still be found tapping out rhythms at the nursing home where he lived. Mr. Riley is survived by his wife Inez, children Kim, Gina, Corey and Jason, nine grandchildren, 17 great-grandchildren and one great-great-grandchild. (Obituary information from Wikipedia and WBGO.org.)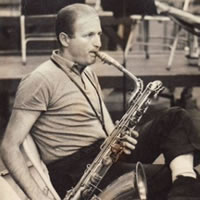 SOL SCHLINGER
Sol Schlinger, 91, a baritone saxophonist who played in several major big bands in the 1940s and was part of the East Coast sax section that handled a sizable amount of studio recording in the 1950s and beyond, died on Nov. 12. He had been a member of Local 802 since 1943. Among producers, contractors, arrangers and musicians, Mr. Schlinger was considered a rock-solid anchor in reed sections that recorded jazz and pop in New York in the 12-inch LP era, starting in 1955. Mr. Schlinger's strength was his relaxed sense of humor, his sense of swing and his ability to sight-read the most complex music flawlessly. He contributed his warm sound to the Charlie Barnet, Sauter-Finegan and Benny Goodman bands as well as studio sessions with Manny Albam, Quincy Jones, Al Cohn and many others. One of Mr. Schlinger's mentors was Bill Shiner, who had studied with Stan Getz's teacher. Mr. Schlinger was also known for writing parodies of songs for his friends. He is survived by his children Lisa, Robert and Andee and grandchildren Ben, Michael and Samantha. (For much more information on Mr. Schlinger's life, see an extensive interview by Marc Myers at www.jazzwax.com. Mr. Myers also contributed to the obituary above.)
SOL SCHLINGER:
A PERSONAL NOTE
Sol Schlinger was a great musician and an excellent writer and storyteller. I first met him in 1944 with the Shep Fields New Music Band (which had a very unusual instrumentation: nine saxes, one harp, four rhythm players…but no brass!) Sol was playing tenor sax then. I'm not sure when he switched to baritone, but he became a master on it. He played baritone with the bands of Tommy & Jimmy Dorsey and Benny Goodman. When he settled back in New York, Sol was one the first-call baritone players at the time, along with Danny Banks and Gene Allen. Arrangers Marion Evans, Don Costa, Torrie Zito and Pat Williams all loved Sol's playing. Most of the projects I had in New York were with Sol, such as recordings with Tony Bennett (including his Carnegie Hall television special in 1967), Steve & Eydie and Perry Como, to name a few. Besides doing recording and TV sessions, Sol was wanted in the jazz circles by Stan Getz, Al Cohn, Zoot Sims, Phil Woods, Gene Quill and others. He played on the famous "Porgy and Bess" album by Bill Potts. With all of his success, Sol was very unassuming. He never made a big deal about himself. As to his writing, he would take the melody of songs by Cole Porter, George Gershwin, Jule Styne and others and write his own funny lyrics about his friends. Humor was important in Sol's life…and mine. That is why he lived so long, and that's why I'm still going strong. Sol was a great friend and I'll miss our talks very much (he never had a computer or a cell phone).
–  Joe Soldo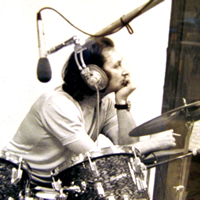 TED SOMMER
Ted Sommer, 93, a drummer, percussionist, composer and arranger, died on Nov. 5. He had been a member of Local 802 since 1942. Mr. Sommer's 75-year career began in the Bronx, where he learned to play drums at the age of 13. (His bandmates at an early age included Shorty Rogers, Bernie Glow, Al Cohn and Manny Albam.) After serving in the Army and the U.S.O., Mr. Sommer attended the Manhattan School of Music. He was soon touring with Tommy Dorsey, Les Elgart and Neal Hefti. In addition, Mr. Sommer wrote and arranged for Tito Puente, Eydie Gormé, Teddi King, Les Elgart and Machito, and was on staff with the early ABC and NBC orchestras. He played behind almost every major singer from every genre, including Frank Sinatra, Ella Fitzgerald, Sammy Davis Jr., Tony Bennett, Lena Horne, Sarah Vaughan, Joe Williams, Barbra Streisand, Bette Midler, Barry Manilow, John Denver and Glenn Campbell. He also recorded with Lionel Hampton, Count Basie, Phil Woods, Bucky Pizzarelli, Dick Hyman, Herbie Mann, Toots Thielemans and many other jazz artists. Mr. Sommer toured extensively with Mr. Sinatra (for two decades) and Rita Moreno (for over 40 years), and can be heard on numerous jingles, Broadway show albums and films (including those of Woody Allen). Some of Mr. Sommer's classic recordings include "The Drum Suite" (1956), "Candido" (1956), "Puente Goes Jazz" (1956) and "Brandeis Jazz Festival" (1957). He won a Grammy nomination in 1967 for his album "Percussive Mariachi" and a CLIO award in 1973. He was nominated for the Recording Academy's "Most Valuable Player" Award. Mr. Sommer was married to Yole Velona Sommer, a former big band singer. He is survived by his daughters Terry and Kathy, and Kathy's husband Rick. (Both Kathy and Rick are members of Local 802.)
WE ALSO REMEMBER . . .
Louis Colicchio, guitar
Al Fritsch, synthesizer
Paul Gaglio, saxophone
Mortimer Geist, saxophone
Joseph Hanchrow, tuba
Julius A. Miller, viola
Frank M. West, trumpet
To report the death of a member, call Avelon Ramnath at (212) 245-4802, ext. 128.  Be sure to ask about the union's death benefit. Spouses of deceased members should call the AFM Pension Fund at (800) 833-8065, ext. 1311. To submit an obituary to Allegro, e-mail Mikael Elsila or call (646) 765-9663.