Return to Roots
How I learned to teach music to kids in the NYC public school system
Volume 112, No. 2
February, 2012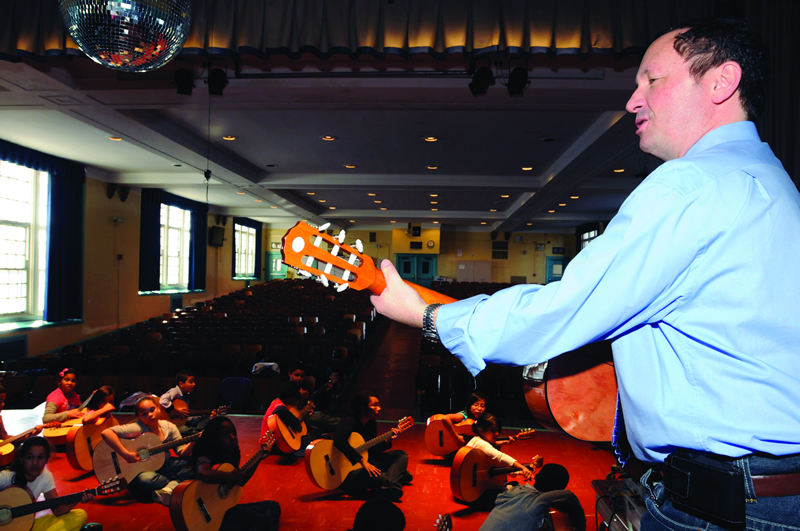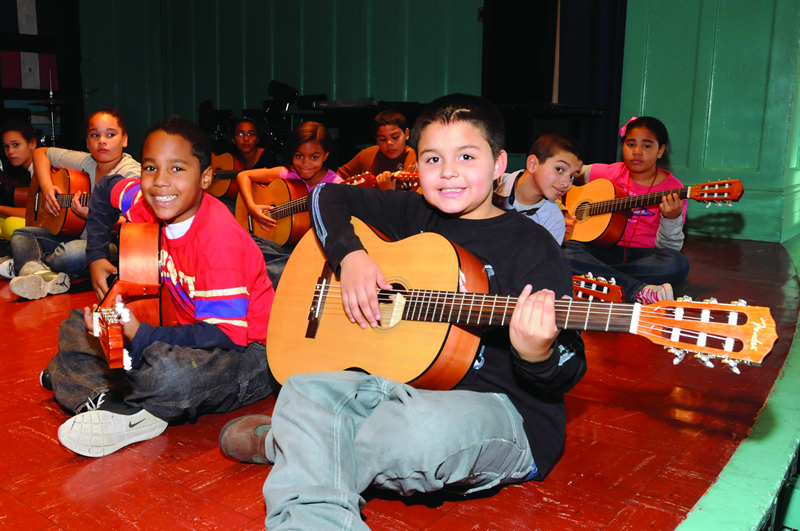 THE MAGIC OF MUSIC: Local 802 member Brian Doherty (top photo) teaches music at P.S. 66 in the South Bronx. His path led him from playing drums for They Might Be Giants to teaching rock and ensemble work to grade-schoolers. Photos by Walter Karling.
This is a story about a return to roots. A decade ago, I was a gigging rock drummer, playing for They Might Be Giants, XTC, the Silos and many others. But I needed a change. More than that: I needed a calling and a greater purpose. My heart and soul led me to become a public school teacher.
I joined the NYC Teaching Fellows, a program aimed at recruiting career-changers into the world of education. They placed me as a 5th grade teacher in the South Bronx at P.S. 66, which is also called the School of Higher Expectations. Suddenly, I was a classroom teacher by day while I studied at City College at night. In hindsight, I can't believe how lucky I was.
Although my background was in music, there were no music positions available. I embraced the job of classroom teacher and I felt fortunate. I taught math, social studies, science and writing.
Before this time, I held an image of public school teachers shuffling their feet through a short workday. Now I was solely responsible for 25 students. I woke up at 5 a.m. and planned lessons. I was often the last to leave the school building at the end of the day. I had never worked so hard in my life and would sometimes pass out from exhaustion upon arriving home. Humbled, I had a new appreciation of teachers.
Over the ensuing years I "sharpened the saw" as my teaching became less about struggle and more about what I should bring to the table. I joined committees and study groups at my school and got to know the parents and families of the neighborhood, which is called West Farms.
When I was finally offered the music position at my school, I jumped at the chance. I was assigned about 250 students in grades 3, 4 and 5. After some research and help from experienced music teachers, I settled on a curriculum and began my first year.
After a while, I found my groove. Things were good. Parents were happy. But something was missing.
I grew up in the New Jersey suburbs at a time when classic rock ruled. I saw practically every band that passed through the Capitol Theatre in Passaic, the Show Place in Dover, or the Morris Stage in Morristown. Seeing live music was exhilarating, inspiring and an integral part of my musical upbringing. Yet, what I was experiencing in the world was not reflected in what was taught in music at school.
In no way do I intend to diminish the traditional music education track, but a significant disconnect exists between music in the real world and the way it is usually taught in the schools. I believe it is time music teachers address this situation head on.
So I decided to turn up the volume on my music teaching. I opened up the curriculum and started teaching the kids multi-media skills, such as multi-track recording, digital editing, video, GarageBand, Pro Tools and small ensemble rock and pop.
I got help from a venture called Little Kids Rock, which supplies music teachers with 30 Fender acoustic guitars, a well designed kid-friendly curriculum, and enormous teacher support. The philosophy is that students strongly relate to popular forms of music, like rock, rap and blues.
The curriculum teaches music by doing and also by playing in ensembles. Teacher talk is discouraged. Basically, you hand the student a guitar and go! Actually, there's a bit more to it, but I believe this approach is perfect for young students. The bottom line is, when it comes to music, kids want hands-on experiences, and they want to play an instrument now. In this case it's the guitar.
Why guitar? Kids are drawn to it. Perhaps it's the dream of becoming a rock star, or the fact that you can actually make music right away by picking one up and strumming. Of course, the guitar is the centerpiece of rock and blues. Put one in students' hands and you've instantly engaged them.
What about the multitude of additional benefits of learning the guitar? There's cooperative learning and group work in ensemble playing. Coordination and motor skills sharpen when forming chords. And there is inclusion of Special Education students, those who are still learning English, and any other student who struggles with the so-called "classroom norms." Teaching rock makes it more possible for student success across the board. In the near future, I'll add instruction for the bass, keyboards, drums and small ensembles.
In years past, I have watched and taught students how to play recorder and percussion. But nothing can come close to the lit-up faces as students unzip their guitar cases at the beginning of the period.
At the same time, I don't want to give the impression that I am against teaching kids how to play violin, trumpet or French horn. What I am doing is trying to get kids to connect to the magic of music. And if they get hooked now, they will appreciate live music in any form in the future. By learning that all kinds of music are acceptable at school, they will become open-minded listeners. Those are the kind of musicians and audiences we need in the 21st century.
Education is a hot-button social issue. It seems that there is diminishing support for art and music in our schools. If that's really true, it is a sad commentary on our education system. As we become more focused on concrete indicators like standardized tests, national learning standards and student performance data, there is less room for those intangibles like playing, fun and real-world experience. It is my hope that music in education bridges the gap between these two worlds.
With that said, I am happy to report that I have not experienced any lack of resources due to budget cuts at the school where I teach. In my view, this is due to the priorities of the school and the view of its administration. Thankfully, my principal (Thomas DeGrazia) and assistant principals Doreen Duff, Ruby Moses and Susan Merola not only support the arts in our school, but they also feature them. We give plenty of concerts and our music program is becoming famous.
For those music teachers who are getting worn down, I encourage you to stay strong and persevere. The fads of education will come and go while its foundation and core values will always remain. If any arts teachers are reading this, please e-mail me. There is help out there. I found an organization called Donor's Choose, which is a mini-grant Web site where teachers outline their needs and implore private donors to support them.
Today, I am fortunate to be a member of two very strong unions: Local 802 and the United Federation of Teachers. There are similarities between the two, like their ability to organize, communicate effectively with membership and adapt to changing times. One aspect that I believe puts Local 802 members at a disadvantage is that the music business is one of the only industries where laypeople compete for our jobs by working for free. Imagine what would happen to other industries or occupations – like electricians or lawyers for instance – if laypeople flooded their markets with cheap or free labor.
As an arts teacher, I count my blessings every day. However, teaching music is about much more than my gratitude. It's about realizing that students are already motivated. We just need to awaken their music skills and show them that music is a life-long journey. There are no politics or hidden agendas for kids, only an internal drive to do anything musical, to have fun – and to rock!
A drummer and educator, Brian Doherty is known for his work with bands like They Might Be Giants, XTC and the Silos. Doherty has also supplied beats to Ben Folds, Freedy Johnston, Twyla Tharp, Christy Thompson, M2M, Guy Davis, Lonnie Liston Smith and Frank Black of The Pixies. E-mail him at BrianDrum@gmail.com.