Remembering Richard Woitach
Volume 120, No. 11
December, 2020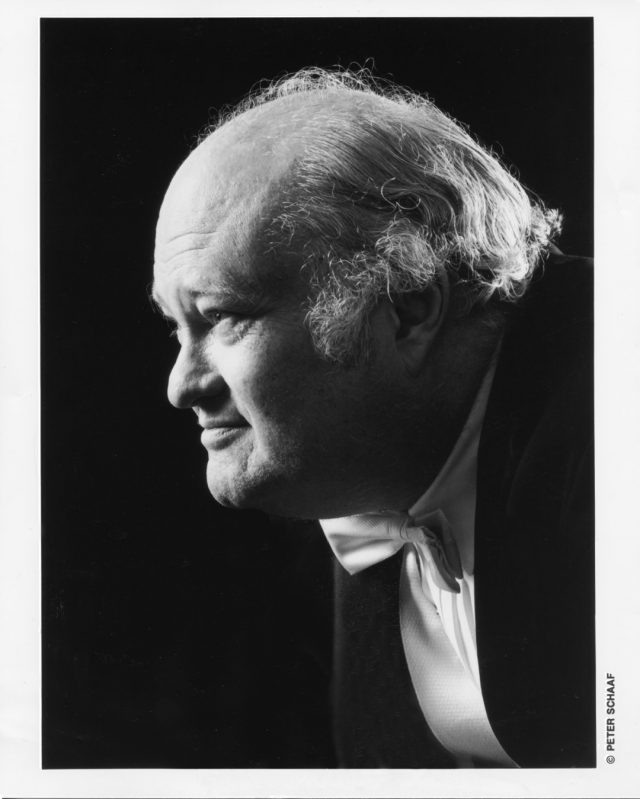 Richard Woitach, a versatile Grammy-nominated conductor and pianist whose career included nearly four decades with the Metropolitan Opera, died on October 3rd in New York following a long illness. He was 85 and had been a member of Local 802 since 1957.
Maestro Woitach led over 800 performances of 88 operas, including 23 productions with the Met. He made regular appearances bringing opera to a wider audience with the annual Met in the Parks series. His repertoire as a conductor included over 200 orchestral works. When he wasn't on the podium, he was well-known for his many appearances on the Metropolitan Opera's radio broadcast intermission features as a host, pianist, historian, and as an expert panel member on the Texaco Opera Quiz. In 1981, Mr. Woitach recorded "The Unknown Kurt Weill" with soprano Teresa Stratas, which received two Grammy nominations for best classical album and best classical vocal soloist performance. That same year, he accompanied the Metropolitan Opera Ballet to the White House, where they performed Poulenc's "Babar," narrated by Werner Klemperer. A frequent guest piano soloist with various orchestras, he also conducted a London Symphony Orchestra recording of arias with Soprano Lisa DiJulio. Celebrated singers with whom he played and recorded also included Beverly Sills, Sherrill Milnes, Anna Moffo, Regina Resnick, and Jon Vickers.
Born in Johnson City, New York on July 27, 1935, Woitach began his music studies at age 6, studying piano, flute and conducting as well as performing on the organ with his mother Esther. He attended Johnson City High School where, at the age of 16, he performed Beethoven's Fourth Concerto with the Tri-Cities Symphony.
Woitach attended the Eastman School of Music, studying under Orazio Frugoni. He joined the Rochester Philharmonic as official pianist while still an undergraduate, where he appeared under the baton of his mentor Erich Leinsdorf as piano soloist, a collaboration that continued with The Boston Symphony. He toured as the piano accompanist for violinist Zino Francescatti from 1957-59, and in 1959 joined the Metropolitan Opera as a rehearsal Pianist and Conductor.
Woitach made his professional operatic debut as a conductor in 1961 with the Cincinnati Opera's production of "The Barber of Seville" and his Metropolitan Opera debut in 1974 conducting "I Vespri Sicilliani." He served as Artistic Advisor of the Arizona Opera, Music Director of Western Opera Theatre as well as the Wolf Trap Opera Company, which he led for seven seasons. Over the years, he appeared as guest conductor with numerous companies including the San Francisco Opera Company, Opera Company of Boston, Opera Company of Philadelphia, The Vancouver International Festival, and the Milwaukee Florentine Opera. In 1990, he inaugurated the Valhalla Wagnerfest in New York State, conducting performances of Wagner's Siegfried.
Maestro Woitach was committed to bringing operatic masterpieces from his parents' native Poland to America. In 1992, he conducted the first complete performances outside Eastern Europe of Karol Szymanowski's "Krol Roger" in the original Polish, and an English production at Wolf Trap featuring Metropolitan Opera singers Alan Monk and Richard Cassely.
After retiring from the Metropolitan Opera staff in 1997, Mr. Woitach served as Music Director of the Merrick Symphony, and continued to perform as a pianist in both recitals and as a soloist with orchestras in the New York area. In 2004, he produced and performed the world premiere of a cycle of songs for bass voice by Jack Beeson as well as a suite of selections from "Twelfth Night" by Donald Foster. Mr. Woitach also produced and performed piano recitals featuring works of composer friends as well as concerts featuring the music of Gustav Mahler.
Woitach continued to record performances on piano after his retirement, including "The Low Bass" with basso Kevin Maynor (2002). A 1971 recording of Roland Trogan's "Five Nocturnes" was reissued on CD in 2006. These nocturnes, which were published to coincide with the recording, were written for and dedicated to Maestro Woitach.
A dedicated teacher and mentor to many throughout his career, Woitach coached many singers and taught Master Classes for singers at San Francisco State University, Indiana University, Academy of Vocal Arts (Philadelphia), University of Guelph (Ontario, Canada), The Bel Canto Institute at SUNY New Paltz, The Pittsburgh Opera, The University of Alabama, The Glimmerglass Opera (New York), The National Association of Teachers of Singing (Toronto) and others. He participated in programs as a member of the Institute for Psychoanalytic Training and Research (IPTAR), which involved analyzing Richard Strauss, his personality and his music
He is survived by his wife Jeryl Metz-Woitach, two sons, Paul of Skillman, NJ, Karl of New York City, and three grandchildren. His first great grandchild, Jackson Woitach, was born on October 21st.. His first marriage to violinist and fellow 802 member Terry Woitach ended in divorce.