A tribute to Rodger Parrett
Volume 123, No. 4
April, 2023
(Above: a YouTube clip of Rodger Parrett on trumpet, performing in 1996 with Micki Grant and the Waterfront Six at the Long Island Traditional Jazz Society)
---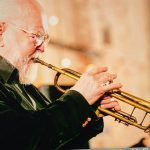 Rodger Parrett, 86, a trumpeter and a member of Local 802 since 1964, died on Feb. 22, 2023. He was buried in Calverton National Cemetery in Long Island.
Allegro spoke to three of Rodger's friends — Arthur Miller, Don Edmonds and Wally Dunbar — who described him with a host of adjectives: honest, exuberant, good-hearted, intelligent, kind, unique, jovial, a "walking celebration," funny, cheery, a good friend, and a "real upper." Rodger loved to tell stories, they said. And Rodger would tell you exactly how he felt — and therefore wouldn't talk behind your back. Sometimes his direct honesty would cause him to lose gigs when he would speak his mind to a bandleader, his friends said.
Rodger loved playing trumpet, and his high notes were brilliant. Reviewing a gig with Bill Spilka and the Rowdy Rooters Dixieland Band in 1984, the New York Times noted Rodger's "driving, crackling attack."
The details of Rodger's early life have been a little lost to history. Rodger's niece says that her father (Rodger's older brother Ernest) was born in Columbus, Ohio, and therefore she believes that Rodger was born there too. While his brother served in the Army, Rodger and his mother moved to Utah and lived there for a while. Friends remember that Rodger would tell stories of his mother marrying a "bad guy" named Coyote Bill. Rodger himself was in the Navy, and after he finished his service, he began his music career on the East Coast.
Rodger first made his way to Boston where he spoke fondly about studying with a mentor named "Dr. Coffee." After spending many years there, he arrived in New York City, and enjoyed a long career playing with many jazz masters including Jaki Byard; Lionel Hampton; Woody Herman (he played lead trumpet in Herman's band in the 1960s); Guy Lombardo; Sammy Kaye; Les Elgart; the Glenn Miller ghost band led by Buddy DeFranco; and even Cab Calloway (he played first trumpet in Calloway's 1990s band, right before Calloway's passing). He worked at the Roseland Ballroom with all the bands there. He also played every other kind of gig, including classical, club dates, all formats of jazz including big bands and swing bands, circus bands, Latin bands and Dixieland.
Rodger played with Micki Grant and the Waterfront Six, and there is a clip on YouTube showing him playing "Struttin' With Some Barbecue" in 1996 at the Long Island Traditional Jazz Society with Bob Smith, Arthur Miller, Pete Socolow, Dick Waldburger and Harry Stump. He also played with the band Decades, led by Eric Emory, which received a full-page write-up in the New York Times in 1988.
Rodger's wife Phyllis died of cancer decades ago, and his older brother Ernest died in 2014. His only living relative is his niece Saundra Parrett, who remembers her uncle as "a great musician and a fun storyteller. He loved my father and was well liked by the musical community."
"His notes would bring tears to your eyes," said Arthur Miller, who played with his friend Rodger for over three decades. Arthur says he still remembers Rodger's solo on "Tenderly" at a gig with the Savoy Trio at Nawlin's Grille in Mineola. "You wanted to cry listening to that solo. It was just gorgeous. It was one of the best solos I ever heard anyone take. I never forgot it."
Rest in peace, Rodger.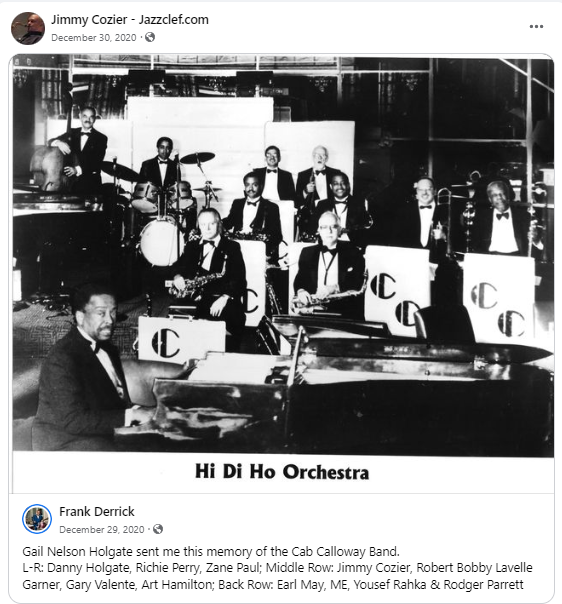 Above, a screenshot of a Facebook post showing Rodger Parrett in the Cab Calloway Band. (Rodger is standing in the back row, in the middle of the frame, with his back against the white backdrop.)