A tribute to Roger Middleton
Volume 122, No. 5
May, 2022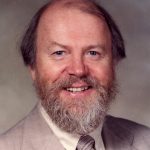 Roger Lee Middleton, 91, of Quincy, Mass., died January 29, 2022, at St. Elizabeth's Hospital in Brighton, Mass., after a brief illness. He had been a Local 802 member since 1957.
Born in 1930 in Salem, Oregon, Mr. Middleton was raised from an early age by his mother and grandmother after his parents separated during the Depression. He was musical from an early age, beginning trumpet lessons while in elementary school as well as singing in the First Methodist Episcopal church choir.
After graduating from Salem High School, Mr. Middleton enrolled at the University of Oregon, but interrupted his studies to enlist in the Air Force during the Korean War era. Here, his musical skills won him a place in the recently formed Air Force dance band, the Airmen of Note, where he formed lifelong friendships and got to be an extra in the 1954 movie "The Glenn Miller Story."
It was during his Air Force service, while stationed in upstate New York, that Mr. Middleton met and fell in love with Marjorie Anne Etling, then a student at Wells College. After their wedding in 1955, the newlyweds returned to Oregon, where Mr. Middleton completed his college degree. In 1956, they had a son, Jeffrey, and in the fall of that year Mr. Middleton began law school. But music remained his true calling, and at Marjorie's urging, he abandoned his law studies and drove across the country with his wife and infant son to New York to begin his musical career. About a year later, in 1958, their second son Brian was born.
Mr. Middleton's most prominent gig as a young musician was with the Stan Kenton Orchestra. His trumpet can be heard on the 1959 Kenton studio albums "Standards in Silhouette" and "Viva Kenton!" as well as several live collections from this period. He also contributed arrangements and original compositions to the Kenton book.
In the early 60s, a new phase of Mr. Middleton's career began when he joined the orchestra for the hit Broadway show "Bye Bye Birdie." Over the next five years he played in the pit for "How to Succeed in Business Without Really Trying," "Golden Boy" and several other Broadway musicals. Throughout this time he was also writing arrangements for top artists, including bandleader Skitch Henderson.
In 1965, the family moved to Hackettstown, a small town in northwest New Jersey. Soon afterwards, Mr. Middleton decided to become a teacher. He taught music in and around Hackettstown for the rest of his working life, becoming a beloved mentor to a generation of students, many of whom tell stories of times when his encouragement and guidance made a difference in their lives.
After retiring in the early 1990s, Mr. Middleton and Marjorie moved west and lived on the Pacific Coast in Lincoln City, Oregon, for two decades. A few years after Marjorie's death in 2011, Mr. Middleton moved to the Boston area to be closer to his East Coast family members. He lived in Quincy for the rest of his life, remaining sharp and active until his final illness.
His loved ones will remember him for his humble, gentle nature, his cheerful demeanor, his keen and curious mind, and his strong sense of integrity, fairness, and responsibility.
Mr. Middleton was predeceased by his wife Marjorie, his mother, Dorothy Crawford, and his sister, Janice Hiebert. He is survived by son Jeffrey Middleton of Cottage Grove, Oregon; son Brian Middleton and his wife Alicia Zipp of Boston; grandson Christopher Middleton and his wife Natalyn Middleton-Yu of Somerville, Mass.; nephew David Hiebert and his wife Dianna of Gearhart, Oregon; niece Karen Cogburn and her husband Richard of Milwaukie, Oregon; and many loving friends, family members, and former colleagues across the world.
By Mr. Middleton's request, there will be no funeral services. Those who would like to make a donation in Mr. Middleton's memory are encouraged to give to their local public school music program or to another music education charity of their choice.
To share memories of Roger, and to stay posted about a possible memorial gathering in the future, visit everloved.com/life-of/roger-middleton/