Romolo Ferri: Master Jazz Teacher and Accompanist
Volume 120, No. 7
July, 2020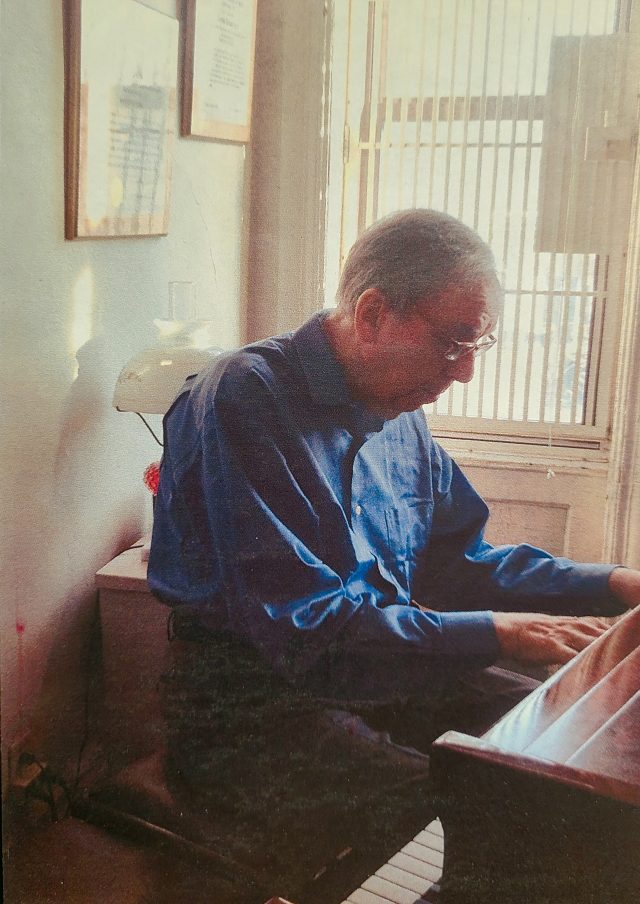 Romolo Ferri: Master Jazz Teacher and Accompanist
April 17, 1931 – May 1st, 2020
By Eve Zanni (jazz vocalist, author)
Read more at https://www.facebook.com/groups/RomFerriMemorial
Romolo Ferri, a Local 802 member since 1954, died on May 1 at the age of 89. He is survived by his wife Linda, son Matthew, granddaughter Elena, extended family and friends. Rom was born into a loving, musical family; the youngest of 5 children in New Jersey. His father was an opera singer who sang at La Scala in Milano and whose also appreciated Louis Armstrong's singing.  2 of Rom's uncles played guitar, mandolin and banjo in some of the major big bands like Red Nichols and his Five Pennies.  Rom's oldest brother helped to get Rom a piano, then paid for his piano lessons. Rom accompanied both of his singing sisters on early radio broadcasts. At North Plainfield High School, Rom met Bill Evans who was a senior when Rom was a freshman. Rom was dazzled by Bill's exceptional talents, classical chops and appreciated Bill's encouragement. They became friends, and when Bill went south to study at Southeastern University in Louisiana where they were building a jazz studies program, Bill helped Rom get a scholarship there. They opened the door and were followed by at least 12 other musician friends. Then Rom enlisted in the army and got a position teaching music theory at The Naval School of Music in Washington, DC.
Rom's interest in the esoteric teachings of St. Thomas Aquinas led him to study metaphysics at The Catholic University in DC. He was deeply inspired by a professor of Thomistic Metaphysics and formed one of the most illustrative mantras of his teaching and life philosophy: "Knowledge comes to the receiver in the manner of the receiver" which, as wife Linda remarked, "That's all you really need to know, in order to be a human being or a teacher!"
In 1962 Rom enrolled in Manhattan School of Music to finish his Masters' degree.  Rom earned the respect of the classical faculty even though jazz was not considered "legit"! There he met star classical piano student Linda Kessler, winner of the prestigious Harold Bauer Award for Outstanding Accomplishments in Music. The school community of faculty and students rallied around these 2 extraordinary musicians in their respective genres: Jazz and Classical, and literally cheered when they announced their engagement! They married in 1964. Their son Matthew, born in 1965, inherited some incredible musical genes and is a consummate scat singer.
Rom's long career in teaching includes many venerable institutions such as Fairleigh Dickenson University; Rutherford, New Jersey, Alma White College; Zarephath, New Jersey, Mannes School of Music, The New School, private piano studio.
As a jazz artist, he played with many greats such as Dizzy Gillespie, Gene Rowland, Todd Coleman, Carol Sudhalter, Larry Brown, Giacomo Gates, Lalia Madriguerra, many more. Rom's incredible sensitivity and artistry really shone as a master jazz accompanist for singers and as a master of solo piano. Rom
Composed 2 musicals "Nobody but Us" lyrics by Walter Thomas, "A Nasty Itch" with Kenny Beltrone, original classical and jazz pieces such as Waltz for Elena and Francesca, some are included on Linda Kessler Ferri's CD The Well-tempered Grandma.
Rom and Linda: partners in life and music
Rom's musical soul is a deep vessel of Italian opera, the exquisite jazz genius of Bill Evans, Charlie Parker, Clifford Brown, Duke Ellington and many majestic jazz luminaries and a love of classical music that he always shared with his wife Linda, an exquisite concert pianist and teacher. To be received into their Greenwich Village apartment, was to enter a Music Zone; you sidle between shelves of music scores, books, records, CD's, boxes with original music, theory, music history, all interspersed with photos of Rom and Linda, their son, with jazz luminaries, family and friends, wonderful and artwork by their adored granddaughter Elena. Then you are in The Piano Room; a small room completely dominated by a large Steinway Grand, lovingly tuned, buffed and polished and choice spot for a vibrating catnap by Trevor the Musical Cat. These 2 pianists; both top notch artists and master teachers in their respective genres were, for many years, a "One-Stop-Shop" for serious music students, both jazz and classical. In their busy lives teaching piano, whether teaching together at Mannes School of Music, The New School, die-hard jazz students crossed paths with earnest classical students. When one of Rom's jazz pianists had an issue with fingering or hand position, they could book a consult with Linda for her classical expertise. When one of Linda's classical students wanted to learn to play Bird's "Billie's Bounce" she could send him or her to Rom for an in-depth jazz improv lesson. And what a tag team: whether teaching or playing a gig, they would spell each other. If either Rom or Linda had a long solo gig, the other might step in and do a 'guest' set. I especially love "The Cannoli Caper" when Linda, sitting by at a gig of Rom's, noticed that the cannolis were quickly diminishing, signaled to Rom, then quietly took over the piano chair, so Rom could enjoy his favorite dessert, then slip back onto the piano bench without missing a beat. Those audiences really didn't know what musical marvels they were getting: and 2 for the price of one!
Jazz accompanist — a singer's dream
Rom Ferri on the piano will always be the elegant groove merchant who created a deep cushion of harmonic beauty and swing for every singer and instrumentalist who was blessed to make music with him. As soon as he started the intro, you knew 'who was boss'. And if you paused to really take it in, you'd feel a 'red carpet welcome' and you'd know that you and your song were in expert hands. To sing or play with Rom accompanying, was to ride on a magic swinging carpet… a groove current of vibrant harmony, elegant melodic fills and pure delight. I liked to call Rom "The Italian Hank Jones" but he was many things…deeply steeped in Bill Evans, with a Sinatra swagger, prone to impressionistic melodic flights, elegant, delightful, swinging, sublime.
Memories and reflections
I have so many memories of Rom as a friend and mentor; the time he asked me to do a duo gig at The Grand Prospect Hall in Brooklyn, which was so ornate and grand…I remember feeling honoured to be there, singing with Rom and his elegant piano stylings and thinking that this setting seemed to fit him. But Rom made all settings feel elegant…images of an Open Mic in the flower district with garden hoses snaking between the tables, make me smile, or the years at Cucina in the Village where you might hear the great Annie Brazil or maybe Russell Malone would stop by to sing with Rom…some of the singers were a few shades to the left of professional but Rom played beautifully for everyone. A shaky 'new' singer was always supported by Rom musically and given time and respect. A few years later and that 'new' singer was swinging with authority, after studying with Rom. When I started my journey as a music teacher in the local public school, Rom was always there for me. I often asked his advice which he gave so generously and most valuable of all, Rom always supplied me with a vitamin of courage, saying "You're doing great!" And brave Rom came to many of the school concerts, where I conducted my Songbird Choir and GrooveCats jazz band in a packed auditorium with kids and parents making a crazy din! I always felt like I was on the front lines of a battlefield but seeing Rom in the back row gave me the strength to live and teach another day."  Eve Zanni
More memories and reflections:
"My conversation with Rom Ferri about him and Jazz piano player Bill Evans(c) by Jazz Vocalist JoAnn Dee DeNomie:
"…Rom knew I was a maniac for jazz…Rom gave me such a detailed report as if he knew that this would go into his biography.  Both Bill Evans and Rom were from Plainfield New Jersey, both went to north Plainfield High School. Rom was a freshman when Bill was a senior. Bill Evans and Rom played in jam sessions in high school. Rom said Bill was great then (classically trained) Bill Evans graduated from Southeastern University in Louisiana and got Rom a scholarship there. (The school was then trying to build a jazz department). Rom went to school there and his band followed him there (about 12 guys). Bill went into the army. Rom went into the army (this was during the Korean War). While in the army Rom was at the Naval School of Music in Washington DC from 1956 to 1959. He taught theory and ear training 4 hours a day for 3 years to Army and Navy men. Rom said this is where he learned to teach. Later Rom taught music at Fairley Dickinson University. He brought Dizzy Gillespie to do a show there.
Rom and Bill Evans at The Spot Light Club in Washington DC.
Rom lived near the club at that time. The band was Bill Evans, Miles Davis, John Coltrane, Cannonball Adderley,  Paul Chambers. That night at the club on breaks, Coltrane would go into the kitchen and practice. You could hear him playing. He didn't stop. Bill was sitting at a table with Rom. Miles came over and in a raspy voice said "Bill, write me the changes for Love for Sale." Bill took a napkin, wrote out the changes at the table.
Today I called Rom and he said that he had just listened to Bill's first recording as leader of his trio; 1956 New Jazz Conceptions. Rom said it sounded fresh." (note: the 2015 film about Bill Evans "Time Remembered" includes Rom Ferri's interviews on camera). Rom is my dear friend, a great jazz piano player, teacher of music and a humanitarian. Rom is partial to singers and provides them with the most beautiful and sensitive piano accompaniment. He is most generous with his music."   JoAnn Dee DeNomie, Jazz vocalist.
Phone Conversation with Todd Coolman and Linda Ferri
Nov.25, 2018
Linda: "I was writing as fast as i could, leaning on the piano, capturing fragments while Todd was talking to me…"  Todd Coolman, having heard Rom's solo piano CD Music for Dinner with granddaughter's Elena Ferri's graphics, said that he heard in Rom's playing: "love and admiration for the American Songbook, Rom's own personal love of playing the piano and the music." Todd's enthusiasm over-flowed, he called Rom's playing "marvelous!" "thrilling"  and this comment… "not duty-playing"…  Rom's choice of harmonic, rhythmic "alterations made with respect and the composer's intent" and the experience of Rom's music: "JOY!" After visiting with Rom and Linda Ferri at their Greenwich Village apartment, Todd commented…  "a lot of people live in apartments… few people live in homes: this is a home."
Vocalist Jeanie Carlin: "I am sad to hear of Rom's passing.  I got to meet him through our mutual friend JoAnne DeNomie, of course, who shared his great talent and heart with me. I had a song that I had written for Jazz harmonica man Toots Thielmann.  JoAnn brought me over to Rom's home one afternoon and he graciously and so quickly and efficiently wrote out the music as I sang it to him!  What a brilliant loving person he was; no wonder JoAnn thought so much of him as anyone who met him did.  He did not charge me for doing that and I coming from the farm country in Wisconsin had brought him a package of some frozen home grown meat as a Thank you. He was so nice and humble and I was also lucky enough to sing a couple of times at some of the nyc venues where he played so sweetly for all the singers.  What a treasure and a treat!"
Write your own reminiscences of Romolo Ferri at at https://www.facebook.com/groups/RomFerriMemorial