Rufus Reid: Evolution of an idealist
Volume 114, No. 2
February, 2014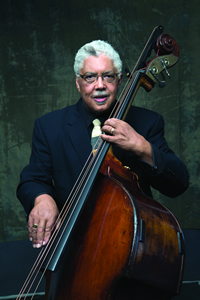 Photos by Jimmy Katz
Artistic passion may sometimes seem like a secondary consideration today, especially when faced with a society that rarely rewards originality. But while Rufus Reid's talents as a bassist – and composer – have continued to win him critical acclaim, he still professes a youthful idealism about jazz, his own future and the importance of creativity. He wants his voice and his music to be heard – whether by jazz audiences or by students – but he's also humble enough to know he's only as effective as his message.
When I catch up with him one afternoon at Local 802, he is characteristically soft-spoken at first. But as our conversation continues, he becomes by turns animated, reflective, witty, self-effacing and emphatic. Throughout, he remains forthright in his opinions, and down-to-earth when addressing his own strengths, and what he perceives to be his limitations.
For example, Reid told me, "I do say I'm a composer now, but I can't really call myself a composer. Maybe 20 years from now, I may have accumulated a significant body of work. And yet right now I'm just doing what seems to work; I'm not trying to make you happy or anybody else happy for that matter. I'm just doing what feels right."
A member of Local 802 since 1977, Rufus Lamar Reid was born in Atlanta on
Feb. 10, 1944, to Sylvia Lindsay and Alvin Andrew Reid, who were both teachers. Atlanta, Reid recalls, was terribly segregated at the time. His parents ran their own school, called Reid's Business College. One reason for its success was that it offered black students the chance to study typing and stenography, a resource otherwise unavailable to them.
His father was soon to leave the family, and Sylvia ended up supporting the four Reid children on her own. When he was still a boy, Reid's mother moved them to Sacramento, where she enrolled Rufus in the local school system. He took up the trumpet.
"In California," remembers Reid, "we were taught the skills of reading and following the conductor. We played for dances; we played for the student plays, in the pit. It was simply fun to do."
Reid graduated from Sacramento High, and soon after, despite the protestations of his mother, he enlisted in the Air Force. There, he began to teach himself the bass in his free time, using a Bob Haggart technique book. "It had a little picture where
E- flat was. I didn't know anything about jazz," Reid recalls. "But I was listening, and I had the skills that got me into the Air Force Band."
He was stationed at Maxwell Air Field in Montgomery, Alabama and eventually he began to visit the black clubs in town. The 17-year-old auditioned for a leader named Al Stringer, who was looking for a bassist. Reid didn't even own an instrument. "That shows you how much audacity I had!" he remembers. "When Stringer heard me, he said, 'You know "Misty"?' I said 'Yeah,' because I'd been playing it on trumpet. I knew what the bass was supposed to do. He hired me. On Wednesday afternoons, we learned stuff off the jukebox – because on Friday we had to play it for the people. This was all on electric. I wasn't strong enough to play upright. But some nights, Al would let me play the first set with the string bass. The people, they came to dance. We learned all the Bobby Blue Bland numbers. That stuff."
During this period, Reid found himself in the center of the then-exploding R&B and southern soul scene. He witnessed scores of performances by artists like James Brown, Ike and Tina Turner, and the original Motown Revue, to name a few.
"I used to go to the clubs, and I wasn't old enough," he recalls, smiling at the memory. "But back then nobody carded you, and I would smoke to make myself look mature. Ike Turner's band had a four-horn front line. His rhythm section was powerful. Absolutely riveting."
Reid now had a regular engagement, and Stringer began teaching him standards and chord changes. And the teenager began writing it all down. "I had my own Real Book," he remembers. "And Al was on me. I would get comfortable, looking at the girls, and I'd mess up a little bit, and he'd say, 'I heard that.' He was a taskmaster, but it was fun and at a really high level. I remember the first time I heard Horace Silver's 'Señor Blues.' They were dancing to that. I didn't even know who Horace Silver was."

Abruptly, Reid was transferred to Japan. While serving overseas, he came into contact with a more complex form – hard bop. And it had a profound effect on him. "When I got to Japan, that's when the bass really started to jump," Reid recalls, "because I was playing in a group that was not part of the regular Air Force band. There were a couple of Army guys, a drummer, from the motor pool, he really could swing – he knew all the Art Blakey tunes. And we would go to the clubs in Tokyo, and listen. I heard Horace Silver, Duke's band, the Modern Jazz Quartet, and Ray Brown – and it changed my life. My first teacher there was a retired bassist from the Tokyo Symphony. He couldn't speak much English, nor could I speak Japanese. It didn't matter. We got along."
Reid remained in the service for five and a half years. In early 1966, when he came back to Sacramento, he sold his trumpet, bought a bass, and soon got the chance to play with Wes Montgomery's youngest brother, pianist/vibraphonist Buddy Montgomery. Reid recalls this as another highly significant moment.
"With Buddy, I knew he had no music, nothing; you had to learn it, watch it, remember it," remembers Reid. "And you know, none of the Montgomery brothers could read except Monk, the bassist. I make a joke about Buddy, that he didn't even want to look at blank manuscript paper. It was amazing, but he could really play, and Buddy complimented me, 'You're doing pretty good, young man. Keep it up.'"
After a stint in Seattle and lessons with the principal bassist of the Seattle Symphony, Reid was accepted at Northwestern University, and moved to Chicago.
While in Chicago, the now 25-year-old Reid studied with Warren Benfield and Joseph Guastefeste. He sought to realize his burgeoning vision of himself as a "complete musician," and began working with a variety of pickup bands and pit orchestras, including many jazz gigs and the occasional symphonic date.
By the mid-1970s, Rufus Reid had become one of the most sought-after jazz bassists in the United States, appearing with a wide range of acts, including Eddie Harris, Nancy Wilson, Harold Land and Bobby Hutcherson, Lee Konitz, Thad Jones & Mel Lewis, Dexter Gordon, J.J. Johnson, Art Farmer, Stan Getz, Kenny Burrell, Kenny Barron and countless others. His 1974 book, "The Evolving Bassist," is still considered an industry standard.
Reid's transition from full-time performer to leading jazz educator came naturally. By 1979 he was ensconced at William Paterson University, where he developed a highly regarded program that continues to attract top flight students. Throughout his tenure there, Reid encouraged a progressive approach, but maintained his discerning eye when dealing with pedagogical matters.
He has noticed that the overall quality of jazz students is on the rise. In the past, "if you had enough money and you simply bought the instrument, you could come into a school – and that perpetuated a certain degree of mediocrity," he says, "but I believe things have improved." Still, he has his criticisms: "We've got these young people coming up now, and some are unbelievable, but often, it seems, only for about five minutes. Because they still don't know how to sustain a real performance that actually lasts an hour or two, because they've never had to. It was never asked of them."
Reid's evolution from performer to composer happened gradually. After 20 years at William Paterson, he recognized that he had grown comfortable, and perhaps somewhat complacent.
In 1999, he joined the BMI Composers Workshop, and began working with such legendary composers as Jim McNeely, Michael Abene and Manny Albam.
"I learned more than a few things from these great masters," he says. "One idea is that you have to get out of your own way, to allow something to happen. Otherwise, you become solely focused on writing to appease your own taste, or the tastes of others. Because, unconsciously, that's how we function every day. Everything, often without our knowledge, is prescribed."
Overall, Reid's efforts were lauded by his colleagues, and he began to seek other ways to develop his craft. Fellowships and grants followed (he won the Beverly Sackler Prize in Composition in 2006 and a Guggenheim in 2008), and he suddenly found himself in the estimable position of having his work performed in public.
Throughout his career, Reid has maintained a reverence for his roots and a sense of wonder at the gifts he's been given. Back in the early 1970s, when he was living in Chicago, he reconnected with his father, whom he had not seen in decades.
"My dad came to town," remembers Reid, "and it turned out he was an amateur jazz piano player! We played together, and that blew me away. But I hadn't known that, because we weren't really in communication. But he came to hear me. He even came to see me playing in a pit band for some show, and I got him some seats where he could actually see me. It was like I'd given him a golden ticket. He was really happy."
Reid understands the importance of passing on his legacy through teaching and writing. For him, as for many artists, this is part and parcel of recognizing the deeper meaning behind jazz and its significance in the American cultural landscape.
He also recognizes the importance of maintaining high professional standards, and upholding one's integrity as a worker in a society where words like "monetization" and "downsizing" have become increasingly prevalent – and where the study and appreciation of live music has diminished.
"Generally speaking, the cost of everything has increased – except the musicians' compensation," says Reid. "Most people don't want to pay for music – live, recorded, or otherwise. The technology we have now is incredible, but it's also hurt all of us who play, create and compose."
Reid acknowledges Local 802's efforts to make things better for musicians. And he is a supporter of the union's Justice for Jazz Artists campaign.
"There really isn't a valid reason for club owners not to contribute to the musicians' pension fund, particularly if the venue is charging a cover," he says. "We aren't alone with these issues – so many artists retire with no savings, no safety net. This phenomenon is prevalent in most large cities. More respect for the artists is what's needed. Not just for the jazz players, who are a very special breed, but indeed, for all musicians. And we have to work together to make that happen."
Reid continues to perform, teach, lecture, record and compose. For many years, he co-led the group TanaReid with drummer Akira Tana. They produced five critically acclaimed CDs.
Over the past decade, a project has come into being, the serendipitous nature of which still amazes him. It's called "Quiet Pride" and it's a five-movement suite for large ensemble inspired by the sculptures of African-American artist Elizabeth Catlett.
"Years ago, I'd picked up this art book in Princeton," explains Reid. "And I took it home, and it'd been sitting on my coffee table. And 20 years later, I looked at these sculptures, and I said, 'Well, these are fantastic.' There were four that I really liked. So I decided to try and write something inspired by the sculptures. I ended up with a lot of music. The whole process ended up being about art inspiring other art."
That led to a providential meeting. As Reid was rehearsing the pieces here at Local 802, he told the band how the music was inspired by Catlett's work. Reid laughs when he remembers what happened next: "Trumpeter Cecil Bridgewater raised his hand and said, 'You know Catlett's son lives here in New York.' And then, as if on cue, the French horn player said, 'Oh yeah, Elizabeth Catlett is my godmother.'"
So Reid found a way to get in contact with Catlett's son, Francisco. And, as it turned out, Catlett herself was living in Mexico but came to New York every April, where she had an apartment.
Finally, a meeting was arranged, and Catlett came to hear Reid play. "She was, I think, 93, and she used a walker," remembers Reid. "But she made it. It was an incredible night." A few years later, in 2012, Elizabeth Catlett died at the age of 96.
The sculpture project led to another incredible encounter. One of the Catlett sculptures that inspired Reid is titled "Glory" – it's a life-size bronze bust of a woman. Reid was playing George Wein's birthday party, and he was introduced to an older, female guest who bore an uncanny resemblance to the sculpture. So Reid asked her, "Excuse me, do you happen to be the 'Glory' of Elizabeth Catlett fame?"
"She looked at me," says Reid, smiling, "and said, 'Excuse me, but what do you know about that?' I said, 'I set some music to it.'"
Perhaps Reid's most passionate exhortation comes at the end of our interview. I ask him how we may ensure that the music has a secure future, and that more young people become exposed to jazz.
"The music is like any other art form; people simply need to be exposed to it," he tells me. "With the kids, they have to witness the music as it's being performed. That's absolutely critical. When I play for kids, I always say, 'Don't sit in the audience, come on up here, get right next to everybody – and hang out.' And I just watch their faces."
Rufus Reid's new CD "Quiet Pride" will be released on Feb. 10 in honor of the composer's 70th birthday. It is available at motema.com and RufusReid.com.