An interview with Sandra Billingslea
Volume 123, No. 3
March, 2023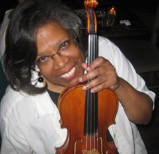 SANDRA BILLINGSLEA
I started playing piano when I was seven years old, but what attracted me to classical music was seeing the dying swan performed on the Ed Sullivan Show to The Swan from The Carnival of the Animals by Camille Saint-Saens when I was four. Soon after, I began taking ballet classes and kept up with those classes through high school. I studied piano with Mrs. Odessa Simpson, who was Canadian and from the Royal Conservatory. She was Black but very light skinned and could have passed for white in segregated Detroit but was proud of her heritage and refused to turn her back on it. I started violin when I was twelve in the Detroit public schools with Mr. Miller. I had been playing for a year when I heard the Mendelssohn Violin Concerto at a concert. That is when I decided that was what I wanted to do.
When the Detroit public schools desegregated I was transferred to another school which did not have a string teacher. We string students did the best we could. Many families discouraged girls from taking private lessons because they were expected to marry and start families after high school or because the families didn't have the money.
My family always expected me to go to college. Opportunities for Black females without a college degree in the 50s and 60's were very slim: domestic work, elevator operator if you were light skinned and pretty enough, beautician, waitress, nursing with extra schooling, maybe receptionist or secretary in a Black owned business. Nothing I was interested in. In public high school, I started private lessons. Michigan State professor Lyman Bodman heard me play in a Detroit festival and got me a full scholarship to Michigan State University, where I received my Bachelor's and Master's degrees. My early training had left me with some technical problems which we worked hard to fix.
One of the greatest influences on me was Mrs. Simpson, my Canadian piano teacher. She insisted I learn how to sight read anything placed in front of me, especially the rhythms.
I loved playing charts with jazz and Latino stars in string sections, but classical music was always my passion and focus. When I came to NY, I was hired as organist for a church in Jamaica Queens, thanks to my exposure to choir repertoire in Detroit. Howard Roberts, a Broadway conductor, heard me play there and hired me for the 1976 revival of Guys and Dolls, my first Broadway show.
I joined Gayle Dixon, violinist and advocate, in The String Reunion with Noel Pointer and Akua Dixon. Gayle was instrumental in giving me a leg up on my career.
Standout experiences include hearing that Mendelssohn concerto from the balcony of Ford Auditorium with my father, who had just worked a 16 hour shift with the Detroit Street Railway. Our free tickets were provided by Jackie Kennedy Onassis as part of her effort to make classical music accessible to everyone.
Career highlights include playing with the Dance Theatre of Harlem Orchestra at the Uris Theatre (my first union gig); playing at a Mahler Festival in Austria in 1985 performing the Ninth Symphony and visiting Mahler's home; my first trip to Japan with the NY Pops and subsequent trips with The New York Ragtime Orchestra. And I was busy on the club date scene in the 1970's and 80's. Lena Horne came over to me and sang Honeysuckle Rose on my first club date in NYC! Playing for Sammy Davis Jr., Bill Cosby, Diane Carrol, Cleo Lane, Frank Sinatra, Joe Williams and so many more was fun, challenging and a source of income I couldn't imagine growing up in Detroit.
There were many painful experiences. As a youngster I won the audition for a front chair at the Detroit District Orchestra. Just before the start of the performance, I found my violin moved, my chair gone, and all the white violinists moved up. There was nothing I could do except get a chair and sit in the back of the section. When I won concertmaster in my high school orchestra, the rest of the section, all white and people I thought were my friends, walked out and refused to play. Black students were actively discouraged from playing violin and from playing classical music, not just by white adults but by some members of the Black Power movement who thought we should be playing jazz instead of "white people's music." I felt affirmed in my chosen path much later by Rahsaan Roland Kirk who told me, "If you don't feel it, it won't come out of your horn."
The culture in the music industry was racist and misogynist. When Sanford Allen got me onto a jingle, the conductor/arranger on the date made it clear he didn't want any women there, saying this was a professional job and we belonged in the kitchen. Sanford lost that contract because he hired women. Other contractors would only hire women if they were sleeping with them or they were someone's girlfriend or wife. In the revival of The King and I with Yul Brynner, the conductor would hold up a Playboy centerfold for Brynner at the same point in every performance. On my first job with Earl Shendell, a contractor, he put his hands where he shouldn't. I was so incensed, I grabbed a newspaper, rolled it up and began beating him with it, screaming at him. All of a sudden, I noticed he was laughing. He loved that I had stood up for myself and would take none of his nonsense. I was very surprised. I'd expected an immediate dismissal. None of the other men tried anything with me after that, although I was propositioned often with promises for work, recordings, etc. Red Press was one contractor who helped change the dynamic in Broadway pits by hiring women.
I am now on the board for the Harlem Chamber Players and I also play with them regularly. They are a diverse ensemble–they welcome everyone and it is gratifying to see. I also just came back from the Color of Music Festival in Charleston, SC, (an international festival of Black and Latino classical musicians).
I come from a family of union members and supporters. My grandfather helped found the Electricians Union in Wetumpka Alabama in 1910. The union was integrated but the neighborhoods the electricians serviced were segregated: white electricians going to white neighborhoods and Black electricians servicing the Black neighborhoods.
I attended the Workers Institute at Cornell's ILR School to be better able to serve my community and union, but because of administrative changes at the union and in my personal life I didn't follow through.
I was always determined to stick with my path, despite all the naysayers. And along the way, there were a number of people who had my back, even when the going was rough. I am grateful for the many wonderful experiences I have had.
---
BIOGRAPHY
Sandra Billingslea, violin, received her Bachelor and Master of Music degrees from Michigan State University. Miss Billingslea is a long standing member of Scandia Symphony, Queens Symphony, the Long Island Philharmonic, New York Virtuosi Ensemble, Bronx Arts Ensemble, Brooklyn Philharmonic, Dance Theatre & Boys Choir of Harlem Orchestras, and the New York Ragtime Orchestra. Miss Billingslea is violinist and Board President for The Harlem Chamber Players and violinist with The Color of Music Festival Ensemble, an international orchestra/chamber ensemble of Black Classical Musicians. She has played in several Broadway shows including The Producers, Follies, The Man from Oz, Miss Saigon, the original Dreamgirls, Follies, The Life & Adventures of Nicholas Nickleby, Guys & Dolls, The Mystery of Edwin Drew, The King & I & Timbuktu.
Ms. Billingslea has performed on recordings, television commercials, & movie scores including Malcolm X, Do the Right Thing, School Daze, Age of Innocence, Carlito's Way & Indian in the Cupboard. She's played with Aretha Franklin, Stevie Wonder, Lena Horne, Johnny Mathis, Barry White, Brittany Spears, Luther Vandross, Abbey Lincoln, Ray Charles, Donna Summers, Dionne Warwick, Jay Black, Phyllis Hyman, Sammy Davis Jr., Michael Bolton, Billy Ocean, Barry White, Frank Sinatra, Cleo Lane and many more.
Ms. Billingslea has been a pioneer in Special Education through her work with special needs children in the "Music Outreach" Program and the West End Little Symphony. She was also a Teaching Artist" & "Artist in Residence" for the New York State Council for the Arts and Lincoln Center Arts in Education, the Westchester Philharmonic, violin instructor at the Waldorf School of Garden City, the Ridgewood Conservatory of Music, Rutgers University and York College CUNY. She is a professional storyteller, having told stories with The Queens, Scandia, West End Symphonies & The Housing Authority Orchestra. She was Minister of Music at Unity Church of Christ, Teaneck NJ, and continues as violin soloist at Unity Maywood. Life is ever changing and good.
---
This interview by Martha Hyde and Sara Cutler first appeared in the March 2023 issue of Allegro, the magazine of the NYC musicians' union Local 802 as part of a feature called "Women's Lives, Women's Stories"