Get paid with a union contract for home recording
Recording & Electronic Media Update
Volume 123, No. 4
April, 2023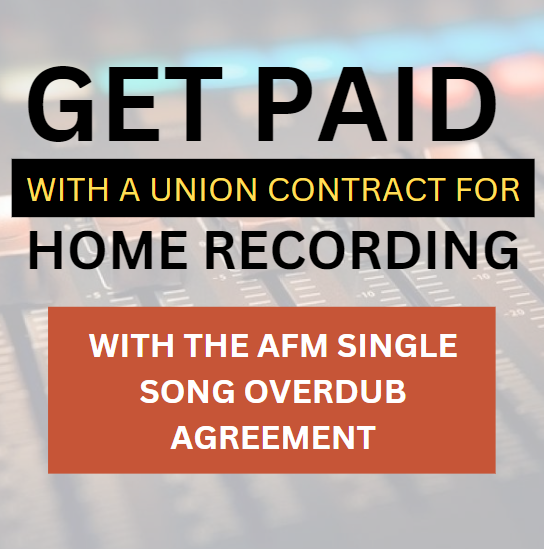 In March, Local 802 was happy to host a seminar to discuss ways musicians can get their recordings covered by an AFM contract. This particular meeting catered to independent musicians, artists who are not signed to major labels, and musicians who record from home.
We highlighted our Single Song Overdub Agreement, which is the only AFM agreement that allows musicians to be paid per song. In addition to its practical per-song payment structure, it's also a rare agreement that allows musicians to pay directly into their own pension.
This agreement was created in Nashville and approved by the AFM a few years ago. It has given many independent musicians the ability to do AFM work in our remote-working world.
Dave Pomeroy, president of AFM Local 257 (Nashville), gave a great presentation explaining the Single Song Overdub Agreement and its benefits. He talked through the simple process of using this contract and highlighted the successes of many musicians who have already used it for years. I'm happy to say we had many musicians attend this seminar — some in person at our club room, and many through Zoom from other locals all over the country.
In today's world, where more and more recording work happens from home, musicians can know that the opportunities to do AFM work (and enjoy the accompanied benefits) are there.
To download a blank copy of the Single Song Overdub Agreement, log into www.afm.org as a member, then click on DOCUMENT LIBRARY, then EMSD, then ELECTRONIC MEDIA GUIDELINES & SUMMARIES, then SINGLE SONG OVERDUB AGREEMENT.
If you have any questions about our Single Song Overdub Agreement, please do not hesitate to reach out to me at mcontini@local802afm.org or (212) 245-4802, ext. 234.