Solid Gains in a New Contract
Volume CIX, No. 1
January, 2009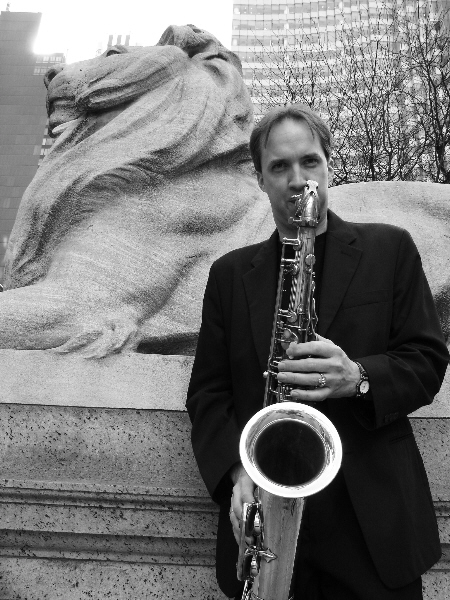 Local 802 member and saxophonist Sean Lyons helped organize theaching artists at Midori & Friends, winning a union contract.

After five sessions and over a dozen hours at the negotiating table, Local 802 and Midori & Friends — an educational nonprofit that places teaching artists in schools — have reached a three-year successor agreement.
The union negotiating committee, which was led by Recording Vice President Bill Dennison, consisted of Sean Lyons, Marsha Heydt, Tom Halpenny and Guido Gonzales. At stake were the maintenance and expansion of gains achieved two years ago, when 802 musicians struck after management refused to accept a proposed union deal.
Local 802 negotiators worked to build on earlier agreements and pushed for minimums to rise above the $50 per class mark for non-probationary teachers.
Other goals were to increase professional development rates and to improve pension contributions, currently 8.5 percent.
Midori management put up strong resistance on these points. However, the organization — which was founded by violin virtuosa Midori Gota — has an annual operating budget of over $1.2 million, a small portion of which goes to teachers' wages.
Current gains included minimum wage increases (per class) from $45, $46 and $48 to $49, $50 and $51; annual wage increases of 3.5 percent for probationary employees for the first year and a 4 percent increase (or $50 a class, whichever is higher) for non-probationary employees and a 3.5 percent wage increase thereafter.
Also achieved were increased professional development rates; a $1 per class increase in health benefit contributions; an upgrade in travel reimbursement; and a pension increase to 9.5 percent (from 8.5 percent) over the life of the contract. A variety of administrative issues were also clarified.
802 Legal Counsel Harvey Mars and I also participated in negotiations, which began in July.
A SAXOPHONIST SPEAKS
Saxophonist Sean Lyons spearheaded the organizing drive in 2001 which led to the union contract for teaching artists at Midori & Friends. He continues to be adamant that the company recognize the unique talents of its dedicated but small staff.
"When I began working for Midori ten years ago, I started at $50 a class," Lyons told Allegro. "In my second year in 1999, they dropped the starting wage 20 percent to $40 and kept it there until we forced them to raise it by going on strike. That was in 2006."
"Before we unionized, they fired teachers often and without explanation," Lyons added. "They also dropped pre-existing transportation reimbursements. Most important, we had no health and pension, no job security, no seniority rights, and no scheduled wage increases. We gained all those things — plus respect — when we finally signed our first contract in October 2002. But since then, management has managed to substantially cut the average number of hours per teacher, and the length of the residencies. Midori has continually cried poormouth when it comes to providing us with a basic, dignified contract. That said, we've come a long way in terms of our ability to reach out to each other across the table."