Solidarity at its Best
President's Report
Volume 111, No. 10
October, 2011
Thanks to help from our friends, we were able to win a Local 802 contract for a recent movie date. When everyone sticks together, we win…

Musical director and pianist extraordinaire Bill Charlap (left) met up with Local 802's Recording Vice President John O'Connor at the 92nd Street Y's long-running "Jazz in July" series this summer. Local 802 and the 92nd Street Y have enjoyed a healthy relationship for many years.
I'd like to start this month's column with a story of union solidarity at its best. Recently, Local 802 learned of a Hollywood feature movie that was filming in New York City. The producers were set to hire 40 of our musicians to appear in a scene. This was a "sidelining" job; that is, the musicians were asked to appear on camera but not play their instruments. The AFM has jurisdiction over this type of work.
Since the film was being shot on our home turf, we immediately went into action to identify the musicians and the contractor. We also called the Screen Actors Guild and IATSE.
In the end, we were able to get the producers to sign a contract covering the work under an AFM agreement. This will ensure proper wage, pension and health payments for musicians.
Also, musicians will now be eligible to receive payments from the Film Musicians Secondary Markets Fund if the movie goes to DVD, for example. This represents a significant improvement in the musicians' ultimate compensation.
We especially thank IATSE Local 52 and IATSE Local 1, who both told the movie producers in no uncertain terms that they needed to talk to us and sign the appropriate agreement to ensure the job was union.
The moral of the story is that when everyone sticks together, we win. If you're a musician who's called to appear in a movie, please call the Recording Department at (212) 245-4802 and ask for a recording rep. We have a good track record in turning nonunion work into union work while protecting your identity and keeping your job safe.
THEATRE ROUNDUP
Local 802's Theatre Department has been busy. We recently negotiated two agreements for shows that are still under development: "Superfly" and "Ace." For both of these agreements, we won identity with the product rights, which is a very powerful union benefit. As I explained in this column recently, identity with the product means that if a show moves from a workshop to Off Broadway or even Broadway, the original musicians have first right of refusal if their instrument continues to be part of the production. Please remember that if you are called to play for workshops or readings, we can cover you under a union agreement. Call the Theatre Department at (212) 245-4802.
"Million Dollar Quartet" recently transferred from Broadway to Off Broadway and is now playing at New World Stages. The employer signed on to our Off Broadway Commercial Area Standards. This show is special because the musicians also work as actors. We do have an actor-musician agreement with the League that covers Broadway shows, but we've never had one Off Broadway, until now. We were able to win language that will pay the musicians the higher of either Local 802 or Actors Equity scale. Additionally, they will receive Local 802 health and pension benefits. Over the years, we've helped a few actors benefit from our health plan and become vested in the AFM pension plan.
We also renegotiated agreements with the Gateway Playhouse and Bay St. Theatre. Both theatres are located in Long Island and both agreements include fair wage increases.
NEGOTIATIONS AND RATIFICATION
As I reported to you last time, we have concluded negotiations with the New York City Ballet, Metropolitan Opera and the Radio City Music Hall. I am happy to report to you that the three agreements were ratified by their respective orchestras. These agreements represent reasonable wage gains and some work rule changes that improve the conditions in the workplace. Additionally, in the Radio City agreement, improved health benefits were gained for those musicians not part of the orchestra pool.
For those who are interested, the new Radio City agreement will be posted on the Local 802 Web site, at www.Local802afm.org. Log in as a member, then click "Wage & Contract Info," from the left-hand, red menus.
Among the agreements that we are still negotiating or beginning to negotiate are the New York Philharmonic, the Metropolitan Opera Associate Musicians, the Metropolitan Music Staff, and of course, the beleaguered New York City Opera.
A SPECIAL SHOW
One thing we can all agree on is that the more audience, the better. We recently learned of a new experiment that makes Broadway even more accessible to more people. "The Lion King" is the first show in Broadway history to produce a special showing designed for autistic audience members. The project came about due to the efforts of the Theatre Development Fund and its new Autism Theatre Initiative.
"For the first time in Broadway history a designated performance of a show will be open to the autism community," said Lisa Carling, TDF's director of accessibility programs. "Our goal is to be as inclusive as possible, welcoming families with children and adults on the autism spectrum, including Asperger's syndrome, to fill the theatre and be assured that everyone involved with the production – from the cast, production crew and theatre staff – is delighted to have the audience there. No judgments – just united support in making the theatre experience as enjoyable as possible for its audience."
In order to be autism-friendly, the show was performed in a friendly, supportive environment for an audience of families and friends with children or adults who were diagnosed with an autism spectrum disorder or other sensitivity issues. Slight adjustments to the production included reduction of any jarring sounds or strobe lights focused into the audience. In the theatre lobby area, there were designated quiet areas, staffed with autism experts, if anyone needed to leave their seats during the performance.
The show took place on Oct. 2. The Theatre Development Fund purchased every seat in the house for sale to families whose members include individuals on the autism spectrum.
If you are interested in being notified of future autism-friendly performances, please go to www.tdf.org/autism.
UPDATE FROM BRAZIL
Many of you helped out in the international campaign supporting musicians of the Brazilian Symphonic Orchestra. You may remember that 33 musicians had been fired after they refused management's demand to re-audition for their own chairs. I'm pleased to report that in early September, a settlement was worked out between musicians and management.
Musicians who were fired will be offered a job in a new ensemble that is connected to the orchestra. They will also receive salaries for the months they did not work.
A spokesperson for the international musicians' union (FIM) called this settlement a success and said that "it confirms the crucial and even increasing importance of international solidarity."
I'd like to thank the Local 802 musicians and staff who helped out in this campaign.
PLAYER CONFERENCE REPORTS
Musicians came together for the various AFM player conferences this summer, including ICSOM, ROPA and TMA.
This year's ICSOM conference was particularly compelling. There were several reports from orchestras across the country with similar tales of woe. This is a very difficult time for orchestras nationwide and it is up to us to stick together and offer the support needed for all of us to weather the current storm.
At the conference, ICSOM chair Bruce Ridge gave an impassioned speech about the state of classical music. It was so powerful we decided to send it out in the Sept. 14 edition of our electronic newsletter 802 Notes. If you'd like a copy of it, e-mail Allegro@Local802afm.org.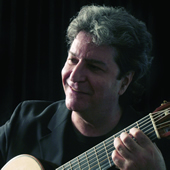 Andrew Schulman
CONGRATS, ANDREW!
As many of you know, the Louis Armstrong Center for Music and Medicine is a premier music therapy clinic in New York City, based at Beth Israel Medical Center. The center recently honored Local 802 member Andrew Schulman with its "Wonderful World" award, along with legendary musician Levon Helm.
Two years ago, Andrew had major surgery that resulted in a life-threatening situation. Fortunately, he had a miraculous recovery. One day, we'll ask Andrew to tell his story in Allegro: it's an incredible story about how the power of music helped him to heal. Andrew was so grateful for the treatment he received at the hospital, he started performing as a volunteer musician there. Since then, hundreds of patients have benefited from Andrew's musicianship.
At the awards ceremony, trumpet great Jon Faddis performed as well as the Broadway cast of "Phantom of the Opera." The dancer/choreographer Mercedes Ellington was the master of ceremonies.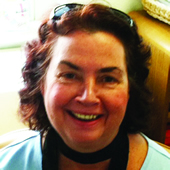 Mary Donovan
CHANGING OF THE GUARD
How can I possibly say thank you enough to a loyal union staff member who put 22 of her best years into helping musicians? By the time you read this, Mary Donovan will have retired from Local 802. She was my assistant as well as the supervisor of the Theatre Department – and also a very dear friend. Mary was invaluable to me as I took the reins of our union for the first time. Without her, my transition to this position would have been far more difficult. Her institutional knowledge of this local is unparalleled and I will miss her counsel. My challenge going forward will be finding someone to fill her shoes. In the interim, I have appointed K.C. Boyle, our political and public relations director, to be my assistant. He can be reached at (212) 245-4802, ext. 176 or Kboyle@Local802afm.org.
Mary first became interested in unions by working on a successful campaign to organize her own workplace. In a campaign that lasted five years, she was one of several union activists who helped organize an independent union at the Multnomah County Public Library in Portland, Oregon – a 450-worker, 17-facility organization. Later, she was a shop steward, union delegate and local officer at several college libraries including Teachers College and Baruch College. She earned a master's degree in library and information science from the University of Michigan.
Mary joined the staff of Local 802 in 1989 and earned another master's degree – this one in labor and policy studies – from Empire State College in 1990. She taught labor history at the Harry Van Arsdale Jr. Center for Labor Studies and organizing at Cornell's Labor Studies Program.
Mary's husband Michael Donovan will also be leaving the union with Mary. Michael had just joined us almost a year ago as the union's director of organizing and club dates; I introduced him in the November 2010 issue of Allegro.
Mary and Michael, I can't thank you enough. We all wish you the best. See Mary's goodbye letter in this issue.

Leon Bell
We have decided to promote business rep and organizer Leon Bell to the position of director of organizing and club dates.
Leon is a graduate of the University of Michigan and Tulane Law School. He worked for 12 years as a staff attorney with the West Side SRO Law Project, a legal services office that fought to preserve single room occupancy housing on the West Side of Manhattan and to provide legal representation to this vulnerable, low-income tenant population.
Prior to coming to Local 802, he worked for nine years as a labor relations representative at the New York State Nurses, a union representing more than 30,000 registered nurses in New York and New Jersey.
In his previous positions, he gained extensive experience in litigation, negotiation of collective bargaining agreements with public and private sector employers, internal and external organizing, the planning and execution of contract campaigns, strategic campaign research and planning, contract enforcement, advocacy before governmental agencies, and political action.
In addition to his work experience, he was actively involved as a member in his own union's activities, serving as an elected delegate and bargaining committee member with UAW Local 2320 and UNITE-HERE. Leon can be reached at (212) 245-4802, ext. 140 or Lbell@Local802afm.org.
Finally, we have two other changes of the guard to announce. Sara Cutler was appointed to the Executive Board to replace Tom Olcott's vacant seat. Mary Whitaker was then appointed to the Trial Board to fill the chair left vacant by Sara.
ON PARADE
Thanks to all musicians who took part in the annual Labor Rally as well as the special commemoration of 9/11. See photos in this issue.
CORRECTION
We neglected to print a credit along with the photo of Jimmy Owens that was printed on this page last month. The photo was taken by Stephanie Myers.
This story originally appeared in the October 2011 issue of Allegro, the magazine of the New York City musicians' union (AFM Local 802). For reprint requests, send an e-mail to editor Mikael Elsila at Allegro@Local802afm.org.