Staying True to the Music
Kenny Davis keeps it real
Volume CX, No. 7/8
July, 2010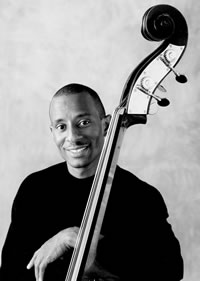 Kenny Davis is known as an acoustic jazz bassist who doubles on electric, but he's one of those versatile performers who has appeared in hundreds of distinctive settings – jazz, pop, Broadway, gospel, hip hop – and with a multitude of prominent artists, from Barry Manilow and Burt Bacharach to Dakota Staton and Stanley Turrentine, with dozens of big names in between. Kenny has studied and taught in the jazz programs at Rutgers and at U Conn. He's also been a Local 802 member since 1992.
Between rehearsals, in January of this year, I sat down with Kenny to talk about his 35 years in the music business. A generally quiet, introspective man, like all veterans, he had stories to tell:
"My real introduction into the world of union work," remembered Davis, "happened in the early 1990's on an NYC recording session. I got a call to lay down a bass track for a prominent hip-hop artist. We agreed on a price and time: 12 midnight. I got there around 11:30 p.m., but they weren't ready for me; they were still doing the vocals. They finally got to me about 1 in the morning. Everything was already in the can and I laid down the bass track – I knew it already just from listening. They didn't have any papers for me to sign. They said, 'Oh, man, just come by tomorrow and we'll have everything ready for you.' So tomorrow came. I called – no answer. So I put in a call to 802…"
Davis got his start on Chicago's West Side. He was born there in 1961, and by the time he was 10, he was playing electric bass with local bands – by ear. He went professional in 1975.
"My brother had a singing group," he told me, "they were called 'Tailored to Perfection' and they were like the Temptations of Chicago. Something happened with the bass player. I was just learning to play, so I quickly absorbed all this stuff, and I was in."
I asked Davis if his parents minded that he was playing in nightclubs at the tender age of 14. He told me, "Well, my father was a preacher, so it was a concern. But I was with my brother, so that was O.K. But during that period, when I was still a kid, I also worked with the Reverend James Cleveland. He had community choirs all over – Chicago, Los Angeles. I remember traveling to Detroit to play a midnight service at the Reverend C.L. Franklin's church – that's Aretha's father. My first record was with the gospel singer, Inez Andrews, when I was still a minor."
Davis studied sociology and music at Northeastern Illinois University. It was there that he began his first associations with the young jazz artists that were to push him to pursue the music fulltime – bassist Lonnie Plaxico being the foremost among them:
"Up to that point, I had never seen a young guy that was so much into jazz. And Lonnie had certain facilities on the double bass. That opened up a lot for me – by just seeing him! And then Wynton came on the scene and I said, 'Wow you can actually play jazz!'"
Other early influences were the bassists Billy Dickens and Daryl Jones. Jones was another electric/acoustic doubler whose jazz skills didn't stop him from working with the Rolling Stones.
The model of the versatile player was being cast before Kenny's eyes.
Eventually he landed the bass chair in the Northeastern Jazz Band.
"They didn't have a bass teacher there," remembered Davis, "so I was studying with the violin teacher, and he could only take me so far. I went to the dean and said, 'You all are depriving me of my education. There's no bass teacher here.' So he said, 'Well, go out and get a teacher – we'll pay.' So I said, 'O.K..' He thought I'd just go and get a local guy. I did. I called Warren Benfield of the Chicago Symphony Orchestra. They were surprised, but he became my bass teacher."
After an extended stint with jazz legend Von Freeman, Kenny was ready to come to New York.
From the moment he hit town, he had work.
He quickly became the bassist for in a Blue Note Records-sponsored group called OTB, or Out of the Blue. Recordings and tours followed.
Kenny's star was in its ascension – by 1989, he found himself working in the Tonight Show band with Kevin Eubanks, which "really opened some doors" for him.
Over the years, Kenny has toured with virtuoso jazz artists Art Farmer, Sonny Rollins – and also Herbie Hancock, a job that he remembers accepting with pride.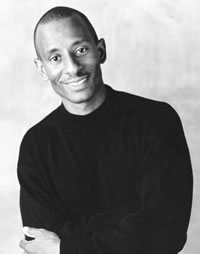 "I had been subbing on 'Lion King,' and 'Color Purple,'" Davis recalled. "That was a different kind of challenge. On 'Color Purple,' doubling was a question of sheer timing, 'cause you'd only have about three seconds to put the acoustic down and grab the electric. It was the same thing with 'Lion King.' I'd be bowing on the upright, and have the neck brace for the electric strapped to my back, and I'd have to switch instruments in a flash while not missing a beat. Anyway, on 'Lion King,' I was offered the bass chair. I was ready to take it, when I got the call to go out with Herbie Hancock.
I told them, 'Give me a minute to decide.'"
He went with Herbie.
Kenny has developed numerous techniques and approaches to his craft, depending on the style that's required. One mentor was Ron Carter:
"Ron taught me that instead of just pulling the strings, there's a way to pluck them so when they vibrate, I'm hitting them and stopping the string from vibrating simultaneously. You have to do this by ear – and by eyeballing the string. You're trying for a 'thum, thum, thum' sound. Ron showed me how to compromise the string by vibrating it in a certain way."
Most doublers will admit to occasional conflicts of interest that arise over their involvement with one genre of music versus another. This is particularly true with bassists. Straight ahead jazz musicians can sometimes look down on a bassist who plays electric, assuming he or she can't cut it when it comes to a more traditional acoustic presentation – and of course, the opposite is true with funk, rock and R&B players, who can be sometimes less than welcoming to their more rarefied jazz brethren.
Davis recalled a perceived conflict with the trumpeter Art Farmer that he rigorously sought to avoid:
"I went to Art's house; and I discovered that his son George played bass. And George had all these fusion records like Jaco Pastorious, Jeff Berlin, and Percy Jones. Some of the solos I knew, and I played them with George – to help him out. Suddenly, Art appeared and said, 'Man I didn't know you played electric.' This was after many years of playing together. And I said, a little sheepishly, 'Yeah, I play electric.' I thought, frankly, that he was gonna say something disparaging. He turned to his son and he said, 'You see what I'm talking about? He's playing electric, but if I call any tune [on acoustic] he can play it.'
Then Art looked at me and said, very seriously; 'Man, remember this: whatever you play, stay true to the music.'
"Art Farmer was sending a message," said Davis with a smile, "If you're doubling, and you're gonna play funk, play funk like a real funk musician; if you're gonna play jazz, play like a real jazz bassist. Classical? Play classical like that's the only thing you do. Latin? Same rule. When I understood that, from that moment on, I began telling people that I played both instruments."
And what about that hip hop recording session back in 1992?
"Oh that! Three months went by with no pay, nothing doing, so I went to [802 Principal Business Rep] David Sheldon, and I told him what was up. He said, 'You're the only one in here? You're the leader. After midnight? That's another rate.'
"The label was the one that had to pay me, and they were upset with the producer – instead of paying me what he had intended, they wound up paying me four times the amount! And I thank David to this day. That's the power of the union."
Kenny Davis's latest recording, "Kenny Davis," is available at www.KennyDavis.net as well as iTunes, CD Baby and Amazon.