A tribute to Steve Morrell
Volume 122, No. 11
December, 2022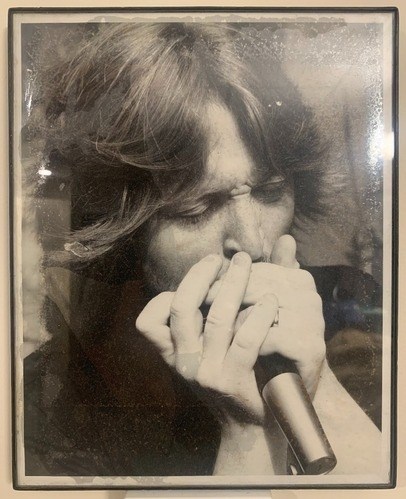 Steve Morrell, 70, a member of Local 802 since 1979, died on Oct. 22, 2022. He grew up in Stamford, Connecticut and studied at the American Musical and Dramatic Academy in New York City. He had an extensive career as a top-tier harmonica player, including associations with James Taylor, Muddy Waters, Kool and the Gang, Billy Joel, The Band, Melanie Safka (with whom he shared the stage at Carnegie Hall in 1978), Levon Helm, Nine Below Zero, Leon Bryant, Michael Murphy, David Bromberg, Dr. Sin and the Woodstock All Stars.  For much of the 1970s, he played in a popular rock band called Dark Star, and he was a good friend of Lester Chambers of The Chambers Brothers.
Mr. Morrell also led his own band (where he performed, sang, and recorded his own music), taught lessons, and was endorsed by Hohner, Fender, Shure and Morley. As a composer, he won an American Advertising (Addy) Award for a jingle he wrote for the Footlocker brand.
Apart from music, Mr. Morrell had a strong conviction in the importance of donating blood. He organized blood drives at Local 802 and gave blood at the New York Health Center. In 2001, Mr. Morrell wrote these words in Allegro: "I have been an avid blood donor since I first became eligible, at 17 years old. By now I've donated gallons and gallons of blood — in fact, I hold the New York blood program's 'gallon club' card. I do it because it saves lives; that's the bottom line. With all the advances that science has made, they still can't manufacture blood. Human beings have to donate it…when you give blood, you're actually saving a life, and that's a wonderful feeling."
As part of his blood donation efforts, Mr. Morrell wrote three promotional songs to support blood drives, which are still posted on his Bandcamp page.
After hearing of Mr. Morrell's death, Louisa Duffy, the manager of donor center support for the New York Blood Center, wrote, "We will remember Steve in his steadfast support of the blood supply to hospitals in the New York region and beyond. Steve will be remembered and honored by us all for his dedication to blood donation, for his creative approach to work, and for the more than 350 lives his efforts helped to save. Steve was held in the highest regard by our collections team colleagues and by many others with whom he worked to create three blood drives held at Local 802. As both a dedicated blood donor and as the chair of these blood drives, Steve set an example that will continue to be an inspiration. It was an honor for all of us to have worked with Steve and to have known him. The power of his example will remain with us as we remember him with fondness and respect."
Finally, Mr. Morell's faith was deeply important to him. He liked to say that his motto was: "God is the great Performer. Man is the great performance of God."
Mr. Morrell is survived by his son, Stephen Frank Morrell of Wilmington, Calif.; his brothers, Geoffrey P. Morrell of New Milford, Conn. and Rusty R. Morrell of San Antonio, Texas; his sister-in-law, Marie A. Morrell of San Antonio; his nieces, Maria P. Morrell and Gloria J. Morrell of San Antonio; and his cousin, Lydia A. Morrell of Chatham, Mass.
Information for this obituary came from Mr. Morrell's obituary posted at Legacy.com as well as an entry for Mr. Morrell found at Prabook.com and correspondence with Mr. Morrell's brother Rusty Morrell. If you have any corrections or anything to add, please send an e-mail to Allegro@Local802afm.org.