STREET-NAMING HONORS BILL SCRIBNER, FOUNDER OF THE BRONX ARTS ENSEMBLE
Volume 120, No. 1
January, 2020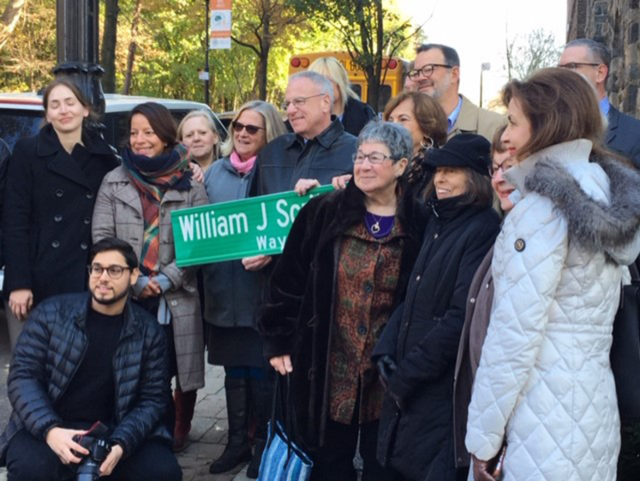 An emotional and moving ceremony on Nov. 15 gathered together family, friends and colleagues of late bassoonist and 802 member Bill Scribner, founder of the Bronx Arts Ensemble, as Hillman Avenue at Van Cortlandt Park South in the Bronx was officially designated WILLIAM J. SCRIBNER WAY, honoring Bill's lifetime dedication to bringing concerts and arts education to the Bronx. The street naming was instigated by the New York City Council and had the major support of Councilman Andrew Cohen, as well as State Assemblyman Jeffrey Dinowitz, a longtime supporter of the Bronx Arts Ensemble.
Bill founded the organization in 1972 at a time when there were few concerts in the borough and existing school music programs were decimated by budget constraints. Bill insisted that the Bronx Arts Ensemble was to be the first group of its kind with a Local 802 union contract to ensure the high quality of performances.
The group presented free or affordable concerts in local venues like Fordham University, the New York Botanical Garden, Woodlawn Cemetery, Orchard Beach, Hostos Community College and Bronx Community College, as well as schools, libraries, senior housing, community centers and private homes.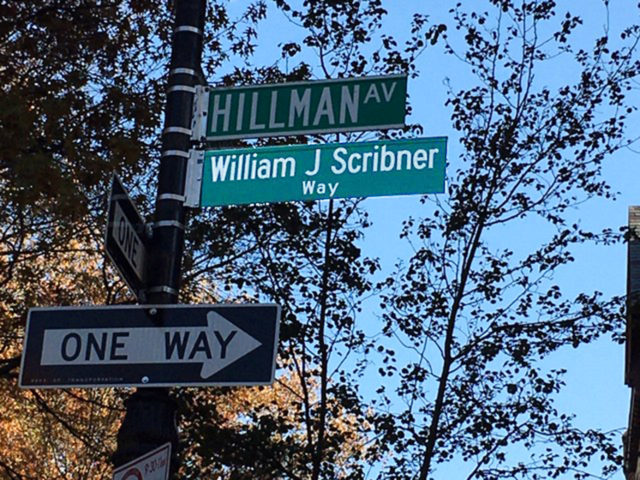 The Bronx Arts Ensemble premiered works by Morton Gould, Roberto Sierra, Max Lifchitz, numerous Latino composers, and also seldom-heard classical works, including Debussy's operatic fragment "La Chute de la Maison Usher."
Bill also engaged such acclaimed artists as Claude Frank, Cynthia Phelps, Elmar Oliveira, Sharon Isbin and Paquito D'Rivera for his programs. At the same time, he personally maintained an active performance career as one of the city's busiest and sought-after freelancers and teachers.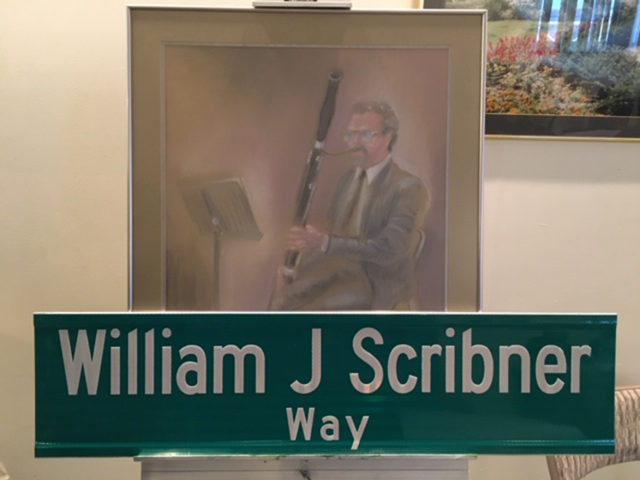 Bill's enduring legacy includes a widely praised arts-in-education program in over 45 schools, fulfilling his dream of building audiences for the future and making the arts an active part of the school curriculum. At present the Bronx Arts Ensemble hires instructors in music, visual art, dance, theatre, music theatre, Brazilian capoeira, Latin and African drumming and more. We are proud to honor Bill Scribner's lifelong passion, unparalleled energy and influence in the field of music and arts education and his commitment to bringing the arts to his community!
For more about the Bronx Arts Ensemble, see www.BronxArtsEnsemble.org.
BILL SCRIBNER, IN HIS OWN WORDS
In 2014, Tom Olcott interviewed Bill Scribner for Allegro. Scribner told us about his first performances with the American Symphony: "When I saw Stokowski in operation, I was scared out of my wits," Scribner said. "Fortunately, I was playing contrabassoon so I got to watch everybody getting fired around me. But I learned something: the best thing is not so much what to do, but what not to do. When I moved over to first bassoon, I survived." Read more at www.bitly.com/bill-scribner