Students at NYU Learn About Recording the Union Way
Volume CX, No. 4
April, 2010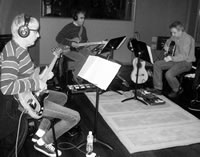 From left, Will Lee, David Spinozza and Hugh McCracken back up NYU students at the university's new recording studio.
I received a phone call one recent afternoon from my old friend and NYU classmate Ira Newborn. Ira, a former L.A.-based conductor, music director and composer with many film and TV credits, is now an NYU professor teaching film scoring. He had a question for me.
A group of graduate students from the film scoring program would be recording original songs. Ira and his colleagues wanted to make the recording session union by paying demo scale and benefits and filing a union contract. Could this be done?
Of course!
The NYU film scoring program resides at the university's Steinhardt School of Education. It recently completed a $6.5 million state-of-the-art recording studio. This demo session was to be the first.
Both Ira and I envisioned the session as a throwback to the "good old days" – Brill Building style – done as a live recording with "real" musicians, no overdubs, and the singer in a vocal booth.
The session, conducted by Ira Newborn, consisted of Hugh Mc Cracken (guitar), Christopher Parker (drums), Robbie Kondor (piano), Will Lee (bass) and David Spinozza (guitar).
It was attended by NYU faculty members from the film department, including department head Ronald Sadoff, David Spears, Tim Starnes, recording engineer Paul Geluso and Mark Suozzo.
I hope this is the first of many recording sessions involving Local 802 partnering with a college or university. It's mutually beneficial.
First, it provides the students with hands-on, real-world experience.
Second, it gives both the students and their sponsoring departments an opportunity to obtain first-class recordings of their work.
And third, it provides pay and benefits for 802 members.
The union's Music Prep Department has been developing a series of seminars about the union and the music business for presentation at music departments and conservatories. I've already gotten calls from several institutions expressing interest. The topics will include the benefits of working under union contracts, how music prep works, and, most importanty, how to get paid – and what to do if you're not.