Taking It to the Street
Volume CIX, No. 11
November, 2009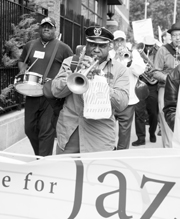 Supporters make a joyful noise at the Sept. 29 rally. Photos by Enid Farber.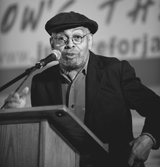 Amiri Baraka
The city heard Local 802 loud and clear when we took our jazz campaign to Greenwich Village on Sept. 29.
More than 100 area jazz musicians gathered at Judson Memorial Church to hear speakers like Senior Pastor Amandus J. Derr of St. Peter's; poet, playwright, critic and activist Amiri Baraka; State Assemblywoman Inez Barron; and City Councilman Alan Gerson.
Recording Vice President Bill Dennison spoke about recent legislative efforts by the union and the state legislature, and about working with local club owners to strengthen the jazz community here in the New York area. At the end of his remarks, he held up a copy of the Justice for Jazz Artists petition, with over 2,000 signatures of professional musicians, and announced that they would be delivering petitions to the city's jazz clubs.
Musicians gathered quickly in front of the church, and at the signal began marching to the hymn, "Just a Closer Walk with Thee." There were several drummers, and a large brass section that included trombonists Benny Powell and Dick Griffin, and trumpeter Joey Morant. Bob Cranshaw played a marching bass drum. Passersby joined the march as the musicians and their supporters, some carrying signs, made their way down the street through Greenwich Village. Many residents cheered as the marchers walked by, shouting words of encouragement.
The band swung into "The Saints," and some in the growing crowd began to dance and clap their hands.
Since the rally in September, there have been off-the-record talks with several club representatives and with members of the New York City Council, who are anxious to see musicians receiving the benefits they need.