Teaching Artists Strike for Justice
Volume CVI, No. 2
February, 2006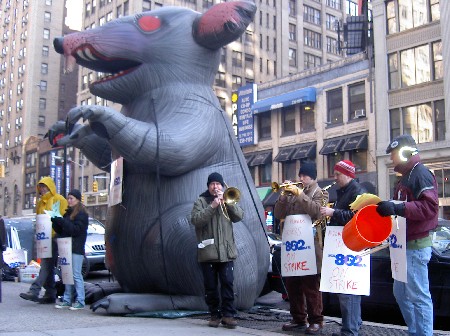 Teaching artists on strike at Midori and Friends keep their spirits high by performing music on the picket line.
Pushed to the limit by more than ten months of negotiations with an unresponsive management, the 27 teaching artists represented by Local 802 at the Midori and Friends Foundation went on strike on Jan. 19.
"We hoped this negotiation would be pretty straightforward," committee member Brenda Vincent told Allegro. "But management kept bringing concessionary proposals to the table, seeking to take away our hard-earned pension benefits, along with other disrespectful proposals." Vincent has taught violin there since 2003.
The foundation, started in 1992 by the concert violinist Midori, sends teaching artists to some of New York City's most underserved schools to teach classes in brass, woodwinds, strings and general music.
The teaching artists' three-year contract, their first after an organizing victory in 2002, expired on June 30, 2005. Nevertheless, the teachers began working as scheduled for the 2005-06 school year.
"We really wanted to give the foundation the benefit of the doubt," said Micah Killion, a brass teacher and committee member. "We would go to negotiations and wait for hours, and then management would raise their offer 50 cents. It became obvious that they weren't in a hurry to sign a fair contract."
In December the faculty voted to give the negotiating committee strike authorization. Several weeks later they met and voted to set a strike deadline of Jan. 19.
Several issues were outstanding when the strike began.
The starting wage for new teaching artists had not been raised in ten years. In fact, it had actually decreased by 20 percent seven years ago and then remained stagnant.
A pension benefit for new teaching artists was also a major priority for the faculty. Currently artists must work an entire year before starting to receive pension contributions.
Meanwhile, the foundation's executive director received an 80 percent raise over the past three years, to $135,000 a year (from $75,000), plus $18,000 each year in pension and health benefits.
The employer has communicated with teaching artists only once since the strike began. In a nine-hour session with a federal mediator on Feb. 9, the foundation came closer to a fair wage proposal, but still refused to fund pensions for first-year artists, citing a "philosophical objection" to the idea, and calling pension a "reward."
"I've been performing and teaching professionally for many years, both in Las Vegas and in New York," said brass teacher Deborah Weisz, a new hire at the foundation this year. "When you are a freelancer you have no guarantee that you will work all the time, so it is important to receive full benefits every time you do union work. Waiting a year – or for some vague date in the future when your employer decides you have passed your probationary period – to receive pension benefits for previous work is not the way a freelance career works."
At the mediation session, the foundation also sought to force the teaching artists to accept a new, punitive no-substitution policy.
"Part of the service we bring to the foundation is that we are all performing musicians as well as teachers," said Vincent. "This new substitution policy would prevent teaching artists from continuing our professional careers. It just doesn't make sense."
Fair wages, fair pension, fair working conditions. What it comes down to, said committee member and violin teacher Sarah Loveland, is that "we're standing out there in the cold really over issues of respect."
Picketing has continued in front of the employer's Midtown offices at 352 Seventh Avenue (between West 29th and 30th streets) since Jan. 19. The AFM has placed the foundation on the International Unfair List, meaning no AFM member may work for Midori and Friends.
For more information and updates, keep checking this web site or the teachers' strike blog at www.MidoriAndFriends.typepad.com. On the blog, you can read stories and testimonials from the teaching artists.
HOW TO HELP
Call Judi Linden, the foundation's executive director, at (212) 767-1300, or e-mail her at jlinden@MidoriAndFriends.org. Tell her professional musicians and teachers deserve a fair contract.
Come to the picket line at 352 Seventh Avenue (between West 29th and 30th streets), weekdays between 9 and 1. Look for the giant rat.
If you're called to scab for Midori and Friends Foundation, notify the Organizing Department at (212) 245-4802.
Stay updated by checking this website or the teaching artists' strike blog at www.MidoriAndFriends.typepad.com.