'Tell a Story, Don't Just Play Notes'
Janos Starker's musical mastery
Volume CX, No. 10
October, 2010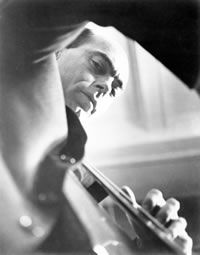 When cellist Janos Starker speaks, musicians listen. Starker recently gave a master class in southern California, and it was a pleasure to be there. Over lunch we spoke about making a film of his extraordinary life. The cellists of the Montecito Music Festival performed for Starker at Westmont College in the beautiful hills of Santa Barbara, overlooking the Pacific Ocean. Visitors to the campus enjoyed a stunning view, while 19 terrific young cellists were pouring their hearts into major cello works inside Porter Hall.
I'm a former student of Starker, and I recently wrote a biography of him. He has been a Local 802 member since 1949 and is now an honor member.
The words of advice he gave to the young cellists in California will be of interest not just to cellists but to all musicians. But first, some history.
Janos Starker was born in Budapest to a father of Polish descent and a mother who had immigrated from Ukraine. The family was all Jewish. His two older brothers were violinists, and the young János (named for the hospital in which he was born) was given a cello before his sixth birthday. A child prodigy, Starker made his first public performances at ages six and seven. He entered the Franz Liszt Academy of Music in Budapest to study with Adolf Schiffer and made his debut there at age 11.
The golden age of music reigned in Budapest when Starker was a student. He and others were surrounded by some of the greats in music with such faculty members as Bela Bartok, Zoltan Kodaly,and Ernst Dochnanyi. Also, Leo Weiner, the legendary chamber music coach and teacher of many outstanding Hungarian musicians, left his significant influence on the students. After World War II, these young Hungarian musicians left for various parts of the world to make their mark.
Starker made his professional debut at age 14 playing the Dvorák cello concerto with three hours' notice when the originally scheduled soloist was unable to play. At age 15 he performed the Solo Sonata by Kodaly and caught the attention of the music world with his brilliant performance.
He left the Liszt Academy in 1939 and spent most of the war in Budapest. Because of his youth, Starker escaped the tragic fate of his older brothers, who were pressed into forced labor and eventually murdered by the Nazis. Starker nevertheless spent three months in a Nazi internment camp on Cespel Sziget Island where Messerschmidt planes were produced. There he survived a bombing while others on each side of him perished. During the Siege of Budapest in early 1944, Russians fighting Germans, Starker aimed to survive in very difficult circumstances: no cello playing, no bath or clean clothes for months, little and poor food.
After the war, Janos Starker became principal cellist of both the Budapest Opera and the Budapest Philharmonic Orchestra. Because of these prestigious titles, he finally received Hungarian citizenship. For many years, the Starkers, as Jews, had been considered foreigners and "enemies of the state," even though Starker himself and his three sons were born in Hungary. Anti-semitism was sanctioned by the government even after the war, and Jews were only allowed a certain quota of jobs. Every few months, the Starkers were required to apply for permission to stay. At the first opportunity, in 1946 Starker left the Soviet-occupied country for more civilized countries to the west.
Around this time, Starker had an epiphany. He was in the audience at a concert by the former child prodigy Yehudi Menuhin. The performance was awful, and Starker realized that if he were to become a professional cellist, he must understand what he is doing and not play from sheer talent, as prodigies do. Starker later said he became physically ill from the realization that he had little idea how he really played the cello from a technical standpoint. "What happens to the bird who sings and doesn't know how it sings? That's what happens to child prodigies," Starker said.
A year of practicing and plumbing his thoughts helped in the analysis of how one plays the instrument. Slowly, answers came to mind, and he formulated his approach to cello playing. And teaching helped him to verbalize solutions for his students.
The studies and exercises he wrote for his friend George Bekefi ultimately resulted in his famous published cello method, "An Organized Method of String Playing."
Starker, still in visa limbo, went from Geneva to Paris, where he spent a year. There he made his first recording of Kodaly's monumental solo cello sonata (Op. 8), a work which was considered technically unplayable before that time. The recording earned him the Grand Prix du Disque and cemented his fame.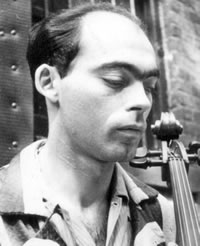 Janos Starker in Paris at age 23
Starker emigrated to the United States in 1948 to become principal cellist of the Dallas Symphony Orchestra under Antal Doráti. In 1949 he moved to New York City to become principal cellist of the Metropolitan Opera under Fritz Reiner. It was in New York that Starker made the first of his acclaimed recordings of the Bach cello suites.
In 1951, he became a founding member of the Suk Trio with Josef Suk and Julius Katchen. A year later, he became principal cellist of the Chicago Symphony Orchestra when Fritz Reiner became the music director. In 1958, Starker moved to Indiana University and started his solo career, giving hundreds of concerts on every continent.
Since 2001, Starker has limited his activities to teaching, master classes and occasional performances with his longtime partners, pianists Gyorgy Sebok and Shigeo Neriki, as well as his son-in-law, violinist William Preucil. He still actively teaches and views teaching as his responsibility to the next generation of cellists.
One of the most recorded cellists in the world, Starker has made over 160 recordings of nearly the entire cello repertoire. He has recorded the Bach solo cello suites five times, most recently for RCA in 1992 for which he won a Grammy. He was also nominated for a Grammy award for his 1990 recording "Romantic Favorites: a Tribute to David Popper." These are pieces that he performed as a boy and recorded in his 70's. He has had concerti written for him by David Baker, Antal Doráti, Bernhard Heiden, Jean Martinon, Miklos Rozsa and Robert Starer.
Starker's playing style is intense and involves great technical mastery. According to some of his students, his technique revolves around long, legato notes, with very little shifting noise from his left hand, resulting in smooth, pure tones. Starker himself describes his sound as "centered" and "focused." He is known for his ability to produce an extremely wide range of sounds and tone shading. He eschews the wide vibrato favored by some of his peers – which he views as a cover for poor intonation – and he is known for his patrician stage presence, preferring to let the music do the emoting. He quotes his longtime friend and colleague Gyorgy Sebok, who said, "Create excitement. Don't get excited."
Now at age 86, he still dazzles audiences with his displays of the repertoire, all from memory.
In the California master class that Starker recently gave, one of the pieces performed by students was David Popper's "Hungarian Rhapsody." Starker told the audience that Popper is his "cello grandfather" since as a youth Starker studied at the Franz Liszt Academy of Music in Budapest with Popper's student, Adolph Schiffer. That makes Schiffer his "cello father."
After performing a piece, each cellist eagerly awaited Starker's comments. After a compliment on their accomplishment, he zeroed in on a few important aspects of their playing, something typically critical to the future of each as a future professional cellist. Here are some of his comments:
"Don't hold a note just because you love it. Keep in mind what the composer intends."

"Where is the beat? Is it forgotten in your effusive interpretation?"

"Don't bunch up your fingers. Independent fingers, all five of them."

"What about the phrasing? Breathing is part of the music."

"On the downbeat, your head goes down, not up."

"Prepare your shifts. Make circular motions in your bow arm, hand, and fingers, not stiff."

"Horizontal motions, yes. Vertical motions interrupt the music and the flow of body motions for the sake of the music."

"Vibrato, the arm moves with flexibility in the first joint of the finger, not rolling motions above and below the pitch."

"This kind of piece you play with a smile, not so serious."

"My friend, Paul Tortelier in France, said that you must tell a story, not just play notes."

"Have as your goal purity, simplicity, and balance, not excessive personal emotion."
Starker told us, "Many years ago I heard Jacqueline DuPre on the radio playing Elgar's Concerto. I thought to myself, this person shall not live long." DuPre was a powerful player who played with a wide range of emotion and huge physical exertion, an inspiring cellist. But playing the cello with such brutal force, a human body cannot survive long. Tragically, she died rather young, but her contributions to the world of cello playing are major!
Starker also said, "If a student wants to play the cello for a lifetime, consideration must be given to effective, natural, balanced body use. When I was a student at the Franz Liszt Academy of Music in Budapest, we were exposed to the ideas of Deszo Rados, an expert on the science of body use in the mechanics of instrumental playing. One evening he lectured me on circles, how every motion is part of a circle; circular motions, just not a complete circle."
One time in the master class, he demonstrated a passage and was obviously not happy with his playing. He sat up, obtained playing posture, and proceeded to play beautifully. He uses his wisdom, his decades of concert experience, and his keen insight into human psychology to touch each person. It is his wish that all of his students fulfill their potential.
Postscript
Astute readers may notice that some of this article is identical to what appears in the Wikipedia entry for Janos Starker. It appears that Wikipedia contributors used portions of my own book as well as Janos Starker's autobiography.
Joyce Geeting's book "Janos Starker, King of Cellists" can be ordered at (805) 341-1249 or by sending an e-mail to JoyceGeeting@Digitron.net.