Telling it like it is
An interview with Julie Landsman
Volume 113, No. 9
October, 2013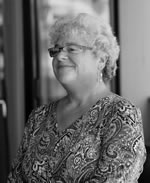 Julie Landsman found her dream job – and now she's happy to pass along her hard-won knowledge to the next generation
Julie Landsman, a member of Local 802 since 1972, is one of the most distinguished French hornists and teachers of our time. She held the position of principal horn of the Metropolitan Opera Orchestra for 25 years until her retirement in 2010. She now enjoys a wide variety of musical activities, including performances with the Orpheus Chamber Orchestra. She's also playing guest principal with the Washington National Opera company.
A former member of the Houston Symphony, Landsman has performed as a guest artist with the Mainly Mozart Festival Orchestra in San Diego, Philadelphia Orchestra, New York Philharmonic and St. Paul Chamber Orchestra. She has also performed as a chamber musician at many festivals and concert series, including the Marlboro Music Festival, Chamber Music Northwest, Santa Fe Chamber Music Festival, La Jolla Summerfest, Chamber Music Society of Lincoln Center, and Metropolitan Museum of Art, where she appeared as a guest artist with the Guarneri Quartet. She performs and teaches during the summer at Aspen Music Festival, Sarasota Music Festival, and Music Academy of the West.
World renowned as a master teacher, Julie Landsman holds teaching positions at the Juilliard School and Bard College, and teaches frequently as a guest at the Curtis Institute. She has given master classes at such distinguished institutions as the Colburn School, Curtis Institute, Eastman School of Music, Mannes College of Music, Manhattan School of Music, University of Oklahoma, and University of Southern Mississippi. Her students hold positions in the Metropolitan Opera Orchestra, Philadelphia Orchestra, Los Angeles Philharmonic, San Francisco Opera and Ballet Orchestras, Dallas Symphony, St. Louis Symphony, New Jersey Symphony, and the Colorado Symphony. She recently received the Pioneer Award from the International Women's Brass Conference and was a featured artist at the International Horn Society Conference in 2012.
Recently, Local 802 recording rep Bob Pawlo sat down with Julie to discuss her musical past, her thoughts on playing, and what advice she would give to musicians now.
Bob Pawlo: What drew you to playing the French horn?
Julie Landsman: It was Joe Greco, my bandleader at Ardsley High School in Westchester County. He said that the band needed French horn players. I wanted to play the oboe, but my mother met with Mr. Greco, who said that lessons for oboe would cost $7 and lessons for French horn would be free. My mother was looking for a bargain and she spotted one!
BP: Little did they know! And from there how did you proceed?
JL: I was 12. I practiced all the time. I was good at it right away. It was really a godsend that I finally had something that I could do well! I played mostly in the high school band and the Westchester Youth Symphony.
BP: Who have been your most important teachers?
JL: My first horn teacher was Mr. Howard Howard – yes that is his actual name! – throughout high school. Also, one of the biggest influences in my life as a young player was the presence of Carmine Caruso. Carmine used to come and work with our high school band and I have practiced his method since I was 12 years old. But Mr. Howard was the first horn player of the Metropolitan Opera. I went to the Met five times a week in standing room, and that is when I set my goal to be the first horn player of the Met. I had my eye on the chair.
BP: After high school, you went to Juilliard. How was your experience there?
JL: Once I started Juilliard, I excelled very quickly in the school. It was a competitive environment and I was a competitive player. So I practiced all the time; I had my horn on my face 8 to 12 hours a day. James Chambers was my teacher. He was in the New York Philharmonic.
BP: After graduation, what did you do?
JL: I was already freelancing by the time I graduated. I played extra horn with the New York Philharmonic and the Met, and I was also subbing at various gigs around New York for a number of years. My first job out of college was playing principal horn with the National Ballet of Canada Orchestra. I also played with the St. Paul Chamber Orchestra for a few months. Then I auditioned for the Houston Symphony and I won the first horn position, and I was there from 1982 to 1985.
BP: And from Houston, what happened next?
JL: The Metropolitan Opera principal horn position opened up. I prepared very diligently for the audition and I won it. I became the first female brass player in the Met orchestra.
BP: How did you prepare for a successful audition?
JL: The summer before my Met audition, I visited Carmine Caruso at his summer home. We really tweaked my routine. I developed a very strong Caruso routine that I did daily and still do.
BP: It stresses what ideas?
JL: Rhythm, continuous blow, flexibility throughout all the registers with a very comfortable embouchure set, strength, endurance, great high chops, great low chops, just strong all over the horn – and playing music with abandon! Also subdivision, timing and coordination. Everything that the Caruso method has brought into my reflexive playing equals accuracy.
BP: What was the schedule like as a player in the Met?
JL: Grueling…and it still is! A typical week consists of rehearsals nearly every day and performances four to five nights a week. The services are the Met are very long, the operas are challenging, and the schedule is very Herculean.
BP: How did you prepare mentally and physically for the challenge?
JL: My whole day revolved around my work. I would work out in the afternoons and do yoga with its really strong mental work, so that when I came into performances, I was l00 percent accountable.
BP: How did you maintain such a high level of performance?
JL: I loved what I did. I loved working at the Met. It was a dream come true. The singers inspired me and the orchestra is amazing. Because of how much I loved it, I just kept myself going.
BP: How was it working for James Levine?
JL: Fabulous.
BP: Anything specific he stressed for the brass or horns?
JL: Flexibility and blend. And also really developing a very subtle and colorful soft palate of colors.
BP: How has French horn playing changed in 30 years?
JL: Things have changed quite a bit – and it makes me very sad. I'm very much from the old school, using a warm, round tone with tremendous heart and expression. It's what defines my playing and what I hold in high regard in French horn playing in general.
BP: Do you feel that there's more equality between women and men in the brass world these days?
JL: I would say it's become much more commonplace and popular in the United States and even in some places in Europe as well.
BP: What do you stress to your students after such an incredible career?
JL: I stress listening and creating a beautiful tone and using imagination and heart.
BP: What's your favorite repertoire?
JL: Now that I've retired it's going to be a different answer than when I was at the Met. When I was at the Met I loved playing Mozart operas – "Marriage of Figaro," "Magic Flute," – it's absolutely beautiful sublime music. There's nothing like Puccini for soul satisfaction and colors. Wagner is a good physical challenge and Strauss is athletic and very satisfying as well.
BP: What do you look forward to now in this phase in your career?
JL: I look forward now to enjoying what I do and having fun playing music with people that I enjoy working with. This year I played principal horn with the Washington National Opera. One of my students is in the section. It's so wonderful to be in a position as a mentor, to get to play with my students. It gives me tremendous satisfaction. I like passing on what I've learned. I like sharing it. It's not something to keep for myself. I look forward to connecting with my audiences, with other performers, and especially passing it on to my beloved students.
BP: The French horn is called on to play in so many different registers and so many colors, blending with the celli, with the violins. What kind of challenge is that for a player?
JL: That is one of the most awesome things about playing the horn. It's the range of color, dynamic and expression. It's so vast, and stimulating. I love it.
BP: What would you say to a person now trying to follow in your footsteps?
JL: Practice. Set your dreams and goals and stick to them. Find a good teacher. Don't let anyone discourage you. Work as hard as you can possibly work, and keep your eye on the prize. I love what I do; I listen to it with ears filled with appreciation and love. And I make sure I subdivide my butt off!
BP: Let's end by talking about the union. How has the union been for you?
JL: Local 802 has given me entrée to some of the best organizations in the world. It's been a privilege to be a member of the union for so long and I hope for many more years.