The All-Star Orchestra
Volume 112, No. 10
October, 2012


Classical music recently took center stage at Manhattan Center. Local 802 members and contractors Neil Balm and Jonathan Haas (who work together as Gemini Music Productions) assembled and established the All-Star Orchestra, which was created to produce an annual series of classical music TV programs for broadcast on public television beginning in 2013. The project was made possible with the cooperation and assistance of Local 802 and the AFM. Photos by Walter Karling.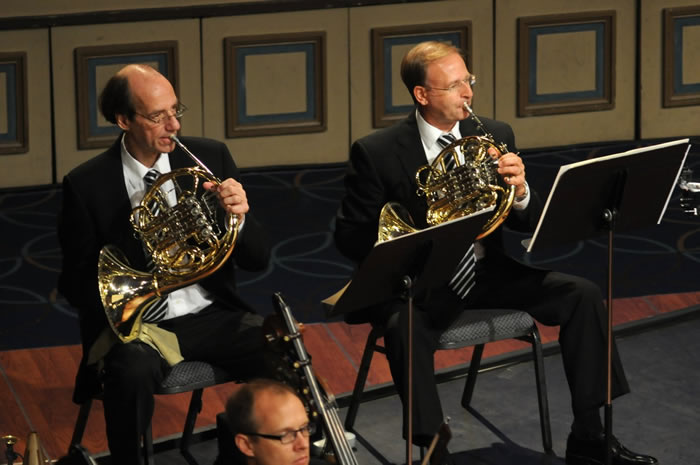 New York Philharmonic French hornist Howard Wall (left) and Met Opera principal hornist
Erik Ralske perform as part of the All-Star Orchestra.
Conducted by Gerard Schwarz, the orchestra featured performances by outstanding players selected from major orchestras around the country. The series, planned for broadcast on PBS beginning in 2013, is designed to appeal to classical music newcomers and connoisseurs alike. Each one-hour program will combine a popular masterpiece with an exciting, short new work by a leading American composer.
The performances – filmed with nine cameras in HD by an Emmy-award-winning production team – will be prefaced with lively commentary by Gerard Schwarz, the composers, the players, and experts from various fields.
The resulting programs will entertain, educate and encourage greater understanding of classical music as a living tradition that spans and unites generations.
As part of the project, producers will also develop interactive classical music learning aids for distribution to schools and educational institutions.