The American Classical Orchestra plays early music with grace, style, and a union contract
Photo Feature
Volume 117, No. 11
November, 2017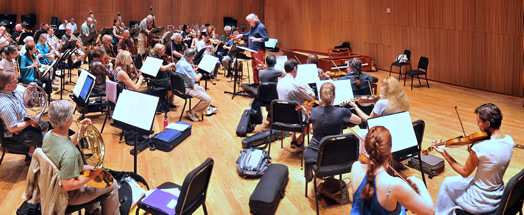 Described as "simply splendid" by the New York Times, the American Classical Orchestra is the city's premier period instrument ensemble, and is the only early music orchestra with a collective bargaining agreement with Local 802. The orchestra is devoted to preserving and performing the repertoire of the 17th, 18th and 19th centuries and also aims to create the sound world of these time periods using historic instruments, as well as era-specific performance techniques.
The ACO was founded in 1984 by Thomas Crawford in Fairfield, Conn., as the Orchestra of the Old Fairfield Academy. Crawford moved the orchestra to New York in 2005 and still serves as artistic director. The orchestra holds an annual series at Alice Tully Hall and has also performed a number of unique concerts, including a collaboration with the Metropolitan Museum of Art for its exhibition "Art and the Empire City: New York, 1825 to 1861"; a debut concert at the Lincoln Center Great Performers Series; a sold-out 25th anniversary performance of Beethoven's Ninth Symphony at the Cathedral of St. John the Divine; and a staged performance of Handel's opera "Alceste."
The ACO presents extensive educational programs, and is dedicated to spreading historically-informed performance practices to new generations. Through its immersive in-school program, Classical Music for Kids, the orchestra has reached over 250,000 young students and musicians. For this work, the ACO was awarded a National Endowment for the Arts grant and Early Music America prize.
What is so special about these instruments? Principal hornist R.J. Kelley describes the experience of performing on the natural horn with its many crooks as "illuminating" and enjoys the range of colors that his instrument yields.
Principal flutist Sandra Miller also loves the many sound colors of her 18th century flute. "The composers were aware of the tones of the flute that were of paler color," she said. "They wrote accordingly in keys that either showed off these pale notes for greatest expressiveness or avoided them if they wanted the flute to sound strong."
Andrew Schwartz, principal bassoonist, said "I get a thrill from playing in the American Classical Orchestra." He added, "What is happening with this organization in the last few years with concerts at Lincoln Center has brought a whole new chapter to the musical life in New York City."
When principal bassist John Feeney plays on gut strings, he notices that "at a cellular level they are a more sensitive barometer of what we do as players. They react to the slightest movement of the left hand, the slightest degree of bow speed or pressure. This allows for great expressiveness at the quietest dynamic and tremendous power in large dynamics because of the immediacy of tone."
Cellist Myron Lutzke agrees. "The gut strings with early bows have a particular kind of sonority and quality which promotes blending, and changes the sound we make as a group," he said. "Owning these 18th instruments is like owning land in a way. You don't really own them. You just take care of them for a while and then you pass them on. These instruments obviously have a life span far beyond ours. Tom Crawford is extraordinarily supportive and has created an environment which enables us to continue doing what we do, and for that we are happy and grateful."
How is American Classical Orchestra unique? An orchestra member summed  it up by saying, "Classical music lovers who come to hear us describe the concerts as 'revelatory' – hearing the way period instruments blend and balance in the works of Beethoven and Mozart, and other composers. The dynamic effects can be breathtaking, which we most recently discovered in Mendelssohn's piano concerto. Our director is very thoughtful in his study and interpretation of the original scores, which makes for a cohesive and effective performance."
Below, Allegro photographer Walter Karling captured some moments at a recent ACO rehearsal.