The Beat Goes On
Jazz conference makes a splash in Toronto
Volume CVIII, No. 3
March, 2008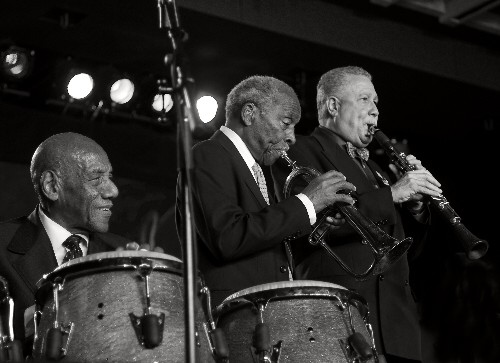 Jazz lives! Local 802 members Candido Camero (congas), Joe Wilder (flugelhorn) and Paquito D'Rivera (clarinet) were honored as NEA Jazz Masters at the 2008 conference of the International Association of Jazz Education in Toronto. Photo by Ed Berger.
Lake Ontario's normally frigid waters warmed to the sounds of jazz this winter as the International Association for Jazz Education held its annual conference there on Jan. 10-13.
As usual, Local 802 had strong representation. Jazz Consultant Bob Cranshaw and Jazz Rep Todd Weeks were present, along with Jimmy Owens, the Jazz Advisory Committee's liaison to the Executive Board. They teamed up with the AFM's Dick Gabriel and staffed a joint booth in a key location on the exhibition floor.
Cranshaw and Weeks were provided with the perfect platform to spread the 802 gospel and interact with musicians, educators and other reps from 802's Toronto and AFM Canada offices.
Over 100 exhibitors participated, and the weather proved sympathetic — temperatures hovered in the high 30's and low 40's.
The 802 reps met with scores of people over three days and discussed issues ranging from pension and health benefits to the state of jazz education across the globe.
Reps from the Toronto Musicians' Association came together with 802 to provide information to musicians and music educators from Juilliard, Rutgers, Berklee, Oberlin, Eastman and many other institutions, including Jazz at Lincoln Center.
There were hundreds of students attending, and Weeks and Cranshaw made a special effort to reach out to the next generation of jazz stars.
Also during the conference, the National Endowment for the Arts Jazz Masters Fellowships were awarded.
This year's honors went to Tom McIntosh, Gunther Schuller, Quincy Jones and Local 802 members Candido Camero and Joe Wilder.
The fellowships, which pay $25,000, are the highest honors that the government bestows upon jazz musicians.
Additionally, Andrew Hill was honored posthumously as was Oscar Peterson, who was presented with a special achievement award presented jointly by the NEA and the Canada Council for the Arts.
Kelly Peterson, widow to the famous pianist, accepted the award on her husband's behalf and spoke of his "mind-boggling talent . . . that gave us such an incredible gift of music. Music that will remain long after we all are gone." Peterson died on Dec. 23 at the age of 82.
On the concert scene, participants were treated to performances by the likes of Courtney Pine, the IAJE Sisters in Jazz, Branford Marsalis and Paquito D'Rivera.
On Friday evening, vocalist Kurt Elling appeared with the Smithsonian Jazz Masterworks Orchestra in a Sinatra tribute.
Saturday culminated in a celebration of Canadian jazz featuring Les Projectionnistes, the François Houle Octet, Barry Romberg's Random Access Large Ensemble and the Mainstream Icon Quintet.
All in all, it was a productive conference and 802 looks forward to next year's event. See you in Seattle!