The Beat Goes On
Member to Member
Volume 111, No. 9
September, 2011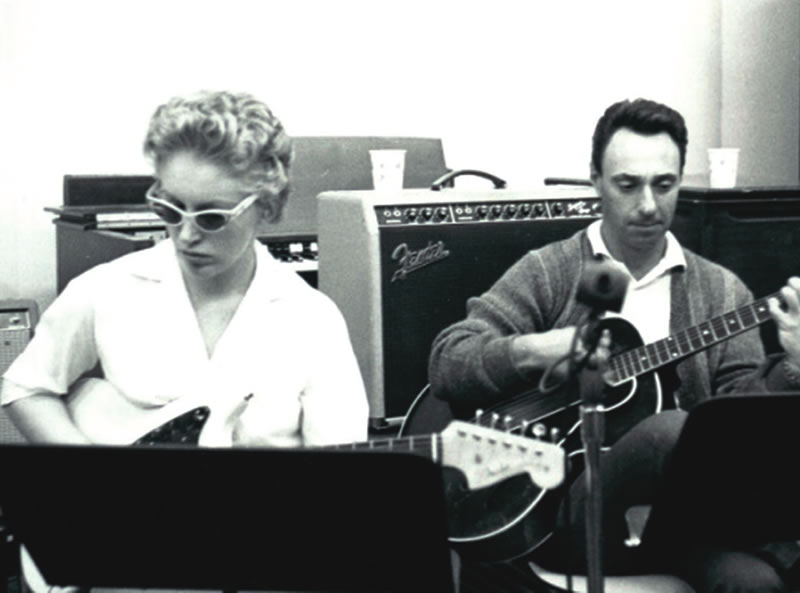 "The Wrecking Crew" is a new documentary about the top studio musicians in L.A. who created more classic grooves than you can imagine. Above, Carol Kaye and Bill Pittman.
Most musicians know that the made-for-TV rock group The Monkees didn't play their own instruments on their hit recordings. Fewer still know who did: an aggregation of super-hot L.A. session players – all AFM members – who came to be known as the Wrecking Crew. But until I saw the film "The Wrecking Crew," I didn't know the half of it.
The Byrds' first album? The Wrecking Crew did that!
The Beach Boys? The Wrecking Crew!
The Association? Sonny and Cher? The Carpenters? The Ronettes? The Tijuana Brass? The Righteous Brothers? The Crystals? Wayne Newton?
The Wrecking Crew did it all!
These were crack session players who moved effortlessly through many different styles: pop, jazz, rockabilly, but primarily the two-minute-thirty-second world of hit records that America listened to all through the sixties and seventies. If it was a hit, and it recorded in L.A., The Wrecking Crew cut the tracks.
I first heard rumors about the film many years ago, on original Crew bassist Carol Kaye's Web site. Denny Tedesco, son of Tommy Tedesco (one of the Crew's guitarists) had started filming it when his father was diagnosed with terminal cancer. After Tommy died, Denny kept filming, and interviewing. When I heard his finished film would be playing at the IFC Film Center in New York a couple of years ago, I went, and kept on going – sat through it five times, mesmerized and exhilarated.
It's hard to explain what a thrill it is to hear the music you grew up with, and for the first time hear and see the guys (and mostly guys, too, except for pioneering Fender bassist Carol Kaye) talking about what it was like to be at the top of their game, and at the center of a thriving recording scene. It's a movie full of affectionate reminiscences, hilarious and touching musician talk, instantly recognizable music, and best of all, a bunch of formerly anonymous players finally, at long last, getting the credit due them.
Live, onscreen, either talking about or talked-about, are Crew guitarists Tommy Tedesco, Bill Pitman, Barney Kessel, Al Casey, and Glenn Campbell; pianists like Larry Knechtel, Don Randi, Al Delory, Leon Russell, and Mike Melvoin; bassists including Carol Kaye, Chuck Berghofer, Lyle Ritz, and Joe Osborne; percussionists Hal Blaine, Earl Palmer, Julius Wechter, and Frank Capp; wind players like Plas Johnson, Jay Migliori, Bill Green, Roy Caton, Jim Horn, Steve Douglas, Lew McCreary; singers, composers and producers including Nancy Sinatra, Jimmy Webb, Cher, H.B. Barnum, Bones Howe, Herb Alpert..the list is pretty near endless.
There are somber moments too, like watching trombonist Lew McCreary and percussionist Julius Wechter (Tijuana Brass, Baja Marimba Band) recalling sessions and players they'd both worked with, a scant few months before they both died; and a fatalistic Al Casey (who came to L.A. in the mid-50's as a rockabilly guitar hero, and stayed on to contribute the fingerstyle guitar on Nilsson's "Everybody's Talkin'," as well as the guitar intro to the Frank and Nancy Sinatra duet "Something Stupid") talking about getting a call from a young session player who'd been hired to play "like Al Casey" and needing pointers; Al deadpans, "I had the date open, too.").
"The Wrecking Crew" has been characterized as a "Standing in the Shadows of Motown" for the West Coast studio scene, since it gives previously unknown (or, known only to a few) players an identity, placing them in the fabric of American pop music. And frankly, at a time when Local 802 is fighting so hard for recognition for musicians, and credit for their true contribution to our cultural life – well, here's a chance to see a movie that does the same thing – memorably, humorously, and affectionately. It's a look at the craft, and the heart, that every working musician – L.A., New York, wherever – puts into their performances and their careers.
Filmmaker Denny Tedesco is aiming for a national theatrical release as well as an eventual DVD release, but the music licensing fees (even with generous help from the record companies) are enormous.
A rare screening will be happening later this month, on Sept. 28, at the Ciccone Theatre on the Bergen Community College campus, a short hop and a skip from Port Authority on the 163 bus. I sure won't miss it – but will regret only getting to see it once, this time around. For more information, e-mail Denny Tedesco at DennyTed@mac.com.
This story originally appeared in the September 2011 issue of Allegro, the magazine of the New York City musicians' union (AFM Local 802). For reprint requests, send an e-mail to editor Mikael Elsila at Allegro@Local802afm.org.