THE CASE ACT CAN HELP MUSICIANS
Local 802 Artist Rights Caucus
Volume 120, No. 2
February, 2020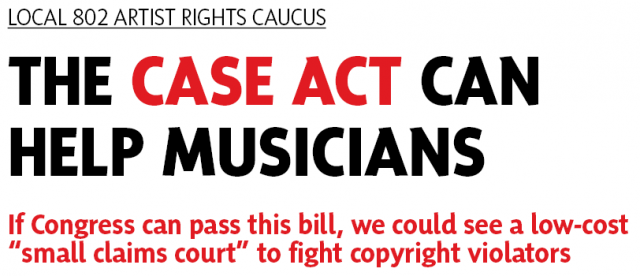 For the musicians who remember what our industry was like before the digital paradigm shift, it is abundantly clear that others are now profiting even more from our work than we are. This is especially true for recorded music. For those who have only known the music world since the digital revolution, let me assure you that it doesn't have to be this inequitable!
While there is no silver bullet that will fix what ails the music business, there are several legislative remedies on the horizon that will be very helpful.
We at the Local 802 Artist Rights Caucus have been engaged in creating a series of educational articles designed to inform the Local 802 membership about issues we face in the digital realm and about various legislative remedies, in the hope of rallying the membership to support the remedies, oppose the inequities and engage in concrete actions demonstrating support for artists' rights. After all, complaining about things we are unwilling to put forth effort to fix is the definition of futility. By the way, musicians are not alone in this fight: we have solidarity with other content creators.
There is currently a legislative remedy pending in Congress that needs our support. This bill is called the CASE Act. (Its name is an acronym for Copyright Alternative in Small Claims Enforcement.) The CASE Act will empower musicians to protect and enforce their rights. Let me explain why we need it and how it is designed to work.
For many photographers, filmmakers, authors, songwriters and other content creators, defending our rights is simply not feasible, because litigation is cost prohibitive. Merely sending a copyright infringement letter will typically cost you somewhere between $1,500 and $3,000. An essay by University of Pennsylvania Law School Professor Shyamkrishna Balganesh published in 2013 in the Columbia Law Review states: "As of 2011, the average cost of litigating a copyright infringement case through trial, for either plaintiff or defendant…was estimated to range from $384,000 to a staggering $2 million." It's likely to be even more cost prohibitive now.
If you win a federal copyright lawsuit, in theory your legal fees are awarded at the discretion of the presiding judge. However, in a recent decision (Rimini Street v Oracle), the Supreme Court interpreted the term "full costs" as used in the Copyright Act to mean not all costs incurred in the litigation. This means few musicians can afford the risk or expense required to pursue a copyright lawsuit.
Laws and rights that one cannot afford to enforce are ineffective at best. Put another way, justice delayed is justice denied. We need an alternative to expensive full-fledged federal copyright lawsuits when our rights are infringed.
The CASE Act is that alternative. It will establish a Copyright Claims Board within the United States Copyright Office to adjudicate copyright claims, thus putting an affordable form of justice within our reach. This will protect our rights and help us get paid for our work! However, the law will require the copyright violator to opt in to the process. This could ultimately mean that the CASE Act may prove to be more effective in addressing good faith actors than the bad guys. Nevertheless, it will still be one of several useful paths to justice.
The Copyright Claims Board will be overseen by three Copyright Claims Officers appointed by the Librarian of Congress. The CASE Act limits damages to $15,000 per work and $30,000 total per claim. Copyright owners must have their works registered with the U.S. Copyright Office to be eligible to file a case.
The Copyright Claims Board will essentially be a small claims court that makes it cost effective for us to defend the rights we have under the copyright law. It will require vigilance, because the burden will still be on musicians to seek out copyright infringement and assert their rights.  But I suspect the fact that enforcement of our rights will finally become cost effective and feasible under the CASE Act will change the environment so we can all have each other's backs.
I encourage you to be skeptical of claims from big tech astroturf shills like the Electronic Frontier Foundation, Public Knowledge, and the Authors Alliance. These and other tech-funded groups oppose the CASE Act and all other legislative remedies designed to protect artists' rights. They are busy obfuscating the truth by proliferating bogus arguments claiming the CASE Act will allow big record companies to "bully" the poor tech companies into paying sums they cannot afford via illegitimate copyright infringement claims. On July 30, 2019, Copyright Register Karyn A. Temple responded to such criticisms in a statement to the Senate Judiciary Committee Subcommittee on Intellectual Property, saying: "I am pleased to note that the legislation that was recently passed out of the full Senate Judiciary Committee contains several provisions to help address these concerns… These provisions, combined with the extensive notice requirements and due process safeguards for respondents, would provide important safeguards against the use of the CCB [Copyright Claims Board] by bad faith claimants."
In an earlier statement to the House of Representatives Committee on the Judiciary on June 26, 2019, Ms. Temple expressed the U.S. Copyright Office's support for a small claims tribunal system, stating that "…low-dollar but still valuable copyrighted works are frequently infringed with impunity, and individual creators and small businesses often lack an effective remedy… [to address such infringements]. For this reason, the Copyright Office strongly supports a small claims tribunal structured along the lines of the proposal detailed in the Copyright Office's 2013 report." This referenced report entitled Copyright Small Claims was overseen and submitted by one of the artists' rights movement's strongest advocates: former Register of Copyrights Maria Pallante. Reading it, I was struck by how much it informed the CASE Act.
The CASE Act has bipartisan support from groups as diverse as the AFM and Local 802, the Copyright Alliance, Professional Photographers of America, American Society of Media Photographers, International Authors Forum, the Authors Guild, the Graphic Artists Guild, the NAACP, AFL-CIO, the American Conservative Union, the American Bar Association, the U.S. Chamber of Commerce, plus a multitude of independent content creators and small businesses throughout the United States. Supporters of the bill concur with the Copyright Office's findings that the Copyright Claims Board will provide a more financially accessible option than federal court for those with limited financial resources seeking to defend their copyrights. It will also be capable of assessing whether or not use of a copyrighted work constitutes fair use, which will protect good faith users from frivolous litigation, thus addressing the bill's opponents' concerns about trolling.
Finally, we should all thank Rep. Hakeem Jeffries (D-NY), because the CASE Act is his initiative, and without his efforts it would not exist, and without our support it may not become law! So, we urge all musicians to support the CASE Act.
P.S. Please come to the next meeting of the Local 802 Artist Rights Caucus on Monday, Feb. 10 at 4:30 p.m. in the Executive Board room of Local 802. E-mail us at artistrightscaucus@gmail.com.
Guitarist Ken Hatfield is the co-chair of the Local 802 Artist Rights Caucus. He has been a member of Local 802 since 1977. Reach him at www.KenHatfield.com.
THE CASE ACT: A TIMELINE
The CASE Act (H.R. 2426) was reintroduced on May 1, 2019, in the U.S. House of Representatives by Hakeem Jeffries (D-NY) and Doug Collins (R-GA), and first introduced in the Senate (S. 1273) by Senators John Kennedy (R-LA), Thom Tillis (R-NC), Dick Durbin (D-IL) and Mazie Hirono (D-HI). Original House co-sponsors include House Committee on the Judiciary Chairman Jerry Nadler (D-NY) and House Committee on the Judiciary Intellectual Property Subcommittee Chairman Hank Johnson (D-GA), as well as Martha Roby (R-AL), Judy Chu (D-CA), Ben Cline (R-VA), Ted Lieu (D-CA), and Brian Fitzpatrick (R-PA).
On Oct. 22, 2019, the House passed H.R. 2426 (the CASE Act) by a vote of 410-6, with 15 abstentions.
On Sept. 12, 2019, the Senate Committee on the Judiciary approved the measure without amendment. But as of this writing, Senator Ron Wyden (D-OR) has a hold on the bill, an issue which our recent e-mail blast to Local 802 membership was designed to address.