The Doctor is in
Larry Ridley's jazz multiverse
Volume 112, No. 6
June, 2012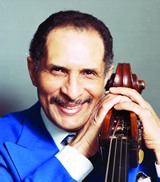 It's 1967, and a 30-year old Larry Ridley is standing next to his friend and bandmate, Thelonious Monk, on the floor of the Roseland Ballroom. It's a Wednesday afternoon, one of the regular days of Local 802's hiring halls. Ridley and Monk are among the very few black musicians present, amidst a sea of white faces. Club date jobs are announced. Time passes, and the rooms empties out. They wait for the call that never comes.
"Monk looked at me in that way he had," remembers Dr. Larry Ridley, now 74 and one of the most prominent jazz bassists and educators in his field. "And he said, 'Let's get the hell out of here.' It was like we were just spectators at a baseball game. It didn't have anything to do with us, we weren't on the scene. We weren't even in the bull pen. We walked out."
Ridley's decidedly pro-union stance today has been balanced by a lifetime of experiences like that one. A member of Local 802 since 1960, Ridley grew up middle class in Indianapolis, Indiana where his father, Lawrence Ridley II, hauled coal and ice for a living, and his mother, Neveoleane Morris Ridley, spent many years as an elevator operator.
"In fact," jokes Ridley, "my mother operated that elevator until about seven or eight months of being pregnant with me. So I tell people I've been going up and down ever since."
His mother was one of 13 siblings. "That's the reason I am the way I am," Ridley remembers. "Growing up in that kind of environment, we all were part of this little mini United Nations. We had all kinds of personalities. It was beautiful."
By the late 1960's, Ridley had established himself as one of a core group of solid, swinging bassists who provided essential support for star players as diverse as Coleman Hawkins and John Coltrane.
By then he was also well on his way to founding what was to become one of the nation's first college-level jazz programs. (The program was first based at Livingston College and eventually became Rutgers University's Mason Gross School of the Arts.)
Along the way there were hundreds of engagements, close associations with many of the leading players in the music's history, and a life's work characterized by a conscious effort to put his natural gifts to use in a search for essential answers regarding, as he puts it, the "what, why, when, where and who of things."
When it comes to the future of jazz, Ridley says the music must be promoted to younger audiences.
"Lady Gaga has her fans," says Ridley. "Beyoncé has her fans. Jay-Z has his fans. They've learned how to market to those fans. And to me there's been a lot of money spent on making them into the so-called stars they are, whereas jazz, with few exceptions, has always been on the short end of the stick in terms of making it a household word."
And of course there is always the issue of how jazz musicians are paid and treated. Ridley is clear where he stands. "Remember the movie 'Wall Street'?" Ridley asks. "The only phrase most people remember is, 'Greed is Good.' It was intended ironically, but in this day and age, that has become like a mantra for employers."
Larry Ridley grew up in the second Indianapolis public housing project that was built during the Roosevelt administration, Lockefield Gardens, in the heart of the black neighborhood. Because of segregation, everyone was lumped together: the well-to-do, poor and middle class. Even then, he was always trying to connect the dots.
"I had a grounding in history and a strong vision what was possible for me and my siblings," he recounts, "and I've always had this strong work ethic, so that I could be a productive contributor. It's also given me a way of not letting my ego get larger than life."
Music came into Ridley's life at an early age. Classically trained, he learned to improvise on the violin via the encouragement of his uncle, a guitarist named Ben Holliman, who was a working jazz musician.
"My uncle Ben, when I was six years old, used to have me playing boogie woogie on the violin and he'd be playing his guitar. And he'd say, 'Play it, boy, play it!' And he scared me. Man, when he shouted, I jumped."
Picking up the bass happened almost by accident. When Ridley was 13, Jazz at the Philharmonic came to town: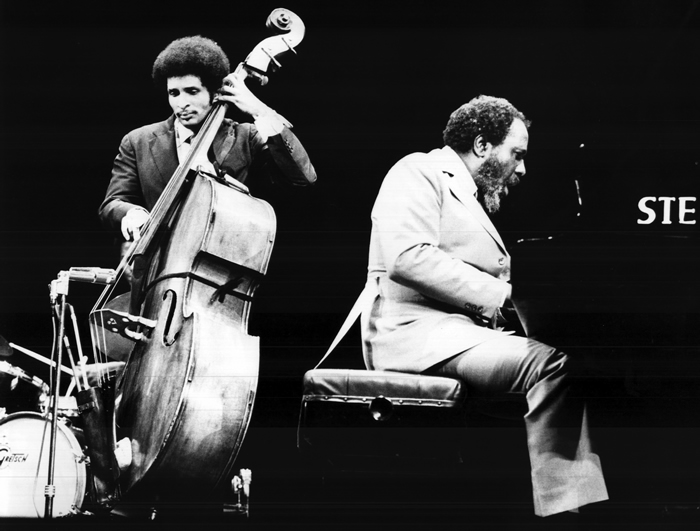 Dr. Larry Ridley playing with Thelonius Monk (above) and with Sonny rollins and George Brown (below.)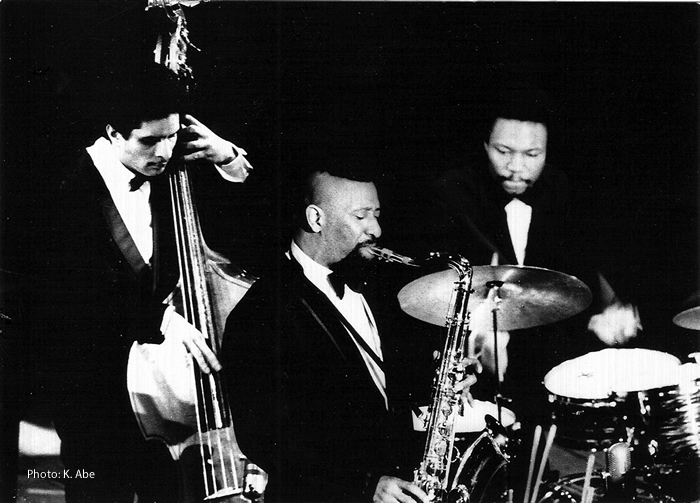 Photo: K. Abe
"I went to the Murat Theatre and I witnessed Ray Brown playing bass, with Oscar Peterson and Herb Ellis; they were backing Ella Fitzgerald. When I heard Brown, I said, 'That's it.' It was his choice of notes, the consistency of his playing, the way he held the instrument, his time, his feeling. And he always had this smile on his face. You could just feel his whole presence emanating from the music. And he was not only great as a supporting player; his solos always were always intelligent. It was not unlike a Beethoven sonata; they had a through-composed quality. I wanted to do that too. To make a lasting statement."
Ridley was blessed with a certain amount of luck, not only in the support he received from his family, but in his earliest associations with other likeminded young people.
He ran with Freddie Hubbard, whom he met on the playground during a softball game. He also hung out with the Montgomery Brothers (Wes, Monk and Buddy), saxophonist James Spaulding, trumpeter Virgil Jones and pianist and organist Melvin Rhyne. Hubbard introduced his friends to the music of Thelonious Monk, Charlie Parker and Dizzy Gillespie.
Indianapolis had its own thriving nightclub scene. Clubs like George's Bar, the Hub Bub, the Turf Club, Mr. B's, the Topper, Clown's Playhouse and the 16th Street Tavern featured top flight entertainment the likes of Jimmy Lunceford, Duke Ellington, Max Roach and Lena Horne.
While still a novice, Ridley found his first bass teacher in Monk Montgomery, who was part of a group of slightly older players who were already making a living from music. Montgomery's teaching methods were unorthodox.
"I saw Monk Montgomery on the street one day," Ridley remembers. "I walked over to him and told him I would like to take bass lessons. So he said, 'O.K. kid, come by the house.' So I walk in and the group is set up in the living room. Sonny Johnson was the drummer, Pookie Johnson was the saxophonist, Wes was on guitar, Buddy Montgomery was on piano and Monk on bass. He told me to have a seat and they rehearsed a couple of tunes. Then Monk stopped and laid his bass down and he says, 'O.K., kid, come over and pick up the bass,' and I said, 'Excuse me?'"
It was a trial by fire, but Monk Montgomery liked what he heard. He gave Ridley the chance to sub for him on his steady gig, which was a huge break.
Some nights, Ridley and his group would sit in with Freddie Hubbard over at where James Spaulding was working. Hubbard and Spaulding would jokingly call them the "B-flat boys."
"They'd figured out that the most proficient key that we could pay in was the key of B flat," remembers Ridley. "They were probably right!"
But soon Ridley was a first call player, and he began meeting more top-tier musicians.
On a trip to Chicago, Ridley went to a Max Roach gig and introduced himself to George Morrow, Roach's bassist. In a fit of generosity, Morrow invited Ridley to start off the set.
"Max was just beautiful," recalls Ridley. "He and those guys were always so nice. I loved my relationship with all the older musicians, because I had so much respect for them."
In the fall of 1955, Ridley began attending the University of Indiana on a violin scholarship. The college was awash in great jazz musicians, including David Baker, Alan Kiger, Lanny Hartley, Joe Hunt, George Bright, Jerry Tyree, Morris Hubbard, Dick Washburn, Jamey Aebersold and Al Cobine.
Ridley played in award-winning college big bands and ensembles, but even as he was finishing up his degree, the jazz world called in an even more emphatic way.
The composer Gunther Schuller had recently come through town, and Ridley had hit it off with him. Schuller told Ridley about a school he was founding in Massachusetts, which later became known as the Lenox School of Jazz. He offered scholarships to both Ridley and David Baker. Ridley said yes.
At Lenox, Ridley hung out and played with Max Roach, Percy Heath, Kenny Dorham, Bill Evans, Marshall Sterns, Dr. Willis James, Milt Jackson, John Lewis, Connie Kay, George Russell, Ornette Coleman and Don Cherry.
He always intended to go back and complete his degree at Indiana. But life had different plans for him. After coming back to the Midwest, he found he was too late to re-enroll for the next semester. So he started playing with drummer Earl "Fox" Walker.
Then Freddie Hubbard blew into town. He had been playing with Sonny Rollins in New York City, and now was touring with Slide Hampton. Hubbard and Hampton came to Ridley's gig, and Hampton asked him if he would play bass in his octet. Ridley answered, "Does fat need greasing?"
Ridley toured with Hampton, and when they landed in New York City, he stayed at Hampton's brownstone in Brooklyn at 245 Carlton Ave. The address "245" became the title of a song by Eric Dolphy, who spent time there, as did Yusef Lateef and John Coltrane.
By 1960, Ridley had moved to New York permanently. He kept playing professionally, but at a certain point became fascinated with how jazz is taught. He reflected back on his experience at Gunther Schuller's Lenox School of Jazz and realized that few of his professors actually had any real professional playing experience.
So, after a number of years on the road, he decided to go back to school.
He ended up first at New York University under Dr. Jerrold Ross. His classmates were other name jazz musicians including Kenny Dorham, Carter Jefferson and Rene McLean. Eventually, he earned a Ph.D. from the University of Maryland Eastern Shore.
Credentials in hand, Ridley landed a job at Livingston College (now absorbed into Rutgers) and eventually became chair of the music department.
It was a fertile time. After the 1967 Newark riots, the college responded by opening up the curriculum and bringing in new voices. Toni Cade Bambara, Nicki Giovanni and Nathan Heard were among those now on the faculty. "God, there were so many great people there, a part of that whole movement," remembers Ridley.
Ridley himself taught seminars on the music of Charles Mingus, Horace Silver and many others. It was one of the first times that a working jazz musician was also teaching the subject. He brought in other leading jazz performers to give guest lectures and concerts. Jazz was being treated with respect at the college level. It was about time.