The Fantastic Al Stewart
At 80, he's done it all and played with everyone. Now he shares what he's learned with the next generation...
Volume 116, No. 10
October, 2016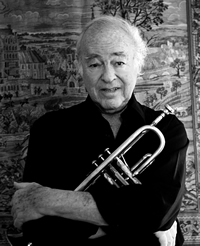 Not many musicians can say they've been a member of Local 802 for over 70 years, but trumpeter Al Stewart is proud to make that claim. At 89 years old, Al has been a union man since 1944. He lives in Florida now, but in his heyday he played with Louis Armstrong, Woody Herman, Claude Thornhill, Dizzy Gillespie, Sauter-Finegan and many other legends.
Al is a Brooklyn boy: he was born in Williamsburg and grew up in Bensonhurst. One day, a neighborhood kid showed Al a trumpet mouthpiece, which Al had never seen before. Al was captivated and he went to the music teacher at Seth Low Junior High and asked if he could play. The teacher, Mr. Levy, looked at Al's teeth and said, "O.K. Clarinet." But Al insisted on playing trumpet, so Mr. Levy said, "O.K. Trumpet." He went to a drawer in his desk and took out a tarnished little mouthpiece, swirled it around in some disinfectant, rinsed it off and gave it to him. By the time Al was at Lafayette High School, he was first chair.
One of his early teachers was Joe Rescigno, who played with the New York Philharmonic and Met Opera. "I used to travel to Mr. Rescigno's home," remembers Al, "which was a beautiful old house in Flushing, Queens. Mr. Rescigno would take us out to the backyard into the garden, and we'd pick a tomato, put a little salt on it with a piece of bread and eat it. He used to make his own wines in the basement, as many Italian families did. He would give us a little thimble of wine. That made the lessons even better."
Joe Rescigno gave Al important lessons in theory and technique. But he also stressed musicality. Eventually, Al and three others formed a band and played in the Catskills. "We learned how to play shows," remembers Al. "The experience taught us how to listen to other people, how to play in tune, how to get a good sound, and how to play subliminally behind the acts on stage."
In 1944, Al enlisted in the Navy. After boot camp, he was given a choice: sonar school or music school. He chose music, and was placed at the Navy School of Music in Washington, D.C. Al ultimately won a position in the band associated with Admiral Patrick Belinger, the commander of the Atlantic Fleet Naval Air Force. Playing in this prestigious band, Al learned how keep his ears open even more and how to refine his phrasing.
After finishing his service in the Navy, Al traveled to New York City to continue his career in music. He was sitting at Charlie's Tavern one day, and one of the guys said to him, "You know, Louis Prima is at the Strand Theatre, and I understand he's looking for a trumpet player. Why don't you go audition for the job?" Al did, and won first chair. He traveled the country with Prima.
Over time, his reputation got him more and more gigs. "Sometimes I didn't even know how I got the gig," remembers Al. A stint in Ray McKinley's band followed. Finally, in 1948, Benny Goodman hired Al for his band, where he stayed for two years. "Benny was an incredible clarinetist," says Al. "He was very studious. He used to call me by an endearing Yiddish term…'boychick.' He liked my playing." Al remembers a funny story. On one impromptu gig, Benny called up a tune, "Don't Be That Way," which was a major hit of his. "But I couldn't find the chart," remembers Al. "Like a fool, I sat there with my horn on my lap. I didn't play; it was embarrassing as hell, but what can I tell you? You know, if you can't do it, then don't do it at all, if you can't do it well."
A flurry of work followed. Al played with Charlie Barnet, performed in the short-lived 1958 Broadway show "Whoop-Up," got gigs with Steve Lawrence and Eydie Gormé, and did TV work with Woody Herman. Once, Al and Woody got into a mock argument. Al said to him, "Woody, one day you're going to fire me." And Woody replied, "Al, I never fire anyone. The cops always get 'em first."
Al also played with Claude Thornhill's band, which featured Gil Evans and Gerry Mulligan as writers. Al remembers that the ensemble "was pure, a band of sound. We played with such beautiful sounds. It was just velvet. I loved it."
When Al reflects on what kept him going as a hard-working trumpeter back in the day, he remembers that "the biggest thing is that you loved to do what you were doing. We would have done anything to play our horns. We got better and better and better. We played with all kinds of different people. Everything is an adventure, so you don't get tired. We loved every minute of the hard work we did – it was a fantastic ride."
Al adds, "You gotta know what you're doing, and you go for it. You know, sometimes you might have not such a good night, but nobody knows that but you really. You gotta listen. And don't always think of yourself when you're playing."
Today, Al hears young trumpeters playing their horns like he's never heard before. "It's incredible," he says. "The technique, the sound, the flexibility. It seems like the barriers of those things have disappeared. They play trumpets as fast as violins – the speed, the clarity, the interpretation and everything. The focus still is on the music and not on showing off, although there are times that you do. But it's been a revelation. I'm still playing down here in Sarasota, and I hear young people who can play around the moon. It's amazing. If you keep your ears open and your eyes open, you learn from everything and everybody. I still do a lot of learning. I've even said on various occasions that the student is the best teacher of the teacher."
What is Al's advice to the future generation of musicians? "Keep listening," he says. "Don't try to be a carbon copy of somebody else, because then you'll only be second best. Keep your ears and eyes open. Listen. Contribute. Don't try to save yourself. Contribute to the general ensemble. Try to play a tune and listen for that. And, of course, time. Playing with good time is the number one thing. You gotta play in good time."