The Future of Music
Volume 111, No. 11
November, 2011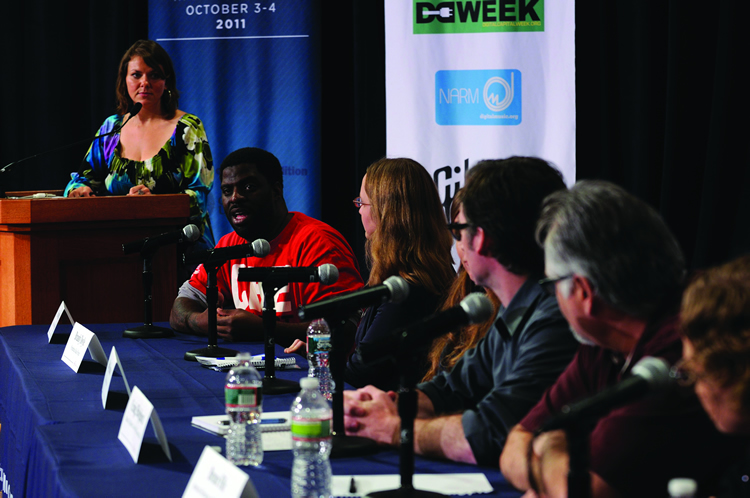 Hip hop artist Che "Rhymefest" Smith speaks at a panel about musicians and local community building at the 2011 Future of Music Coalition Policy Summit.
Photo: Caroline "Puck" Deutermann
Annual conference looks at the big issues, including new sources of income
How do you get people to care about your music and how do you turn that into a career? This question was asked during the closing panel discussion at the Future of Music Coalition Policy Summit at Georgetown University in October.
The overall theme of the 2011 summit was the role of artists in the "music ecosystem" and how a host of issues affect their ability to create and thrive.
The roster of participants covered a wide spectrum, from elected officials to artists, managers to university professors to musicians. The nearly 500 attendees over the two days included industry professionals, students and performing artists themselves.
The National Endowment for the Arts was represented by Dan Lurie, a senior advisor to NEA chairman Rocco Landesman. See www.ArtPlaceAmerica.org for information regarding initiatives to benefit musicians and artists in their local communities.
Also presented was a panel discussion, "Killer Apps, Conflicting Law: Remixing Compensation in Music Services." Panelists ran the gamut from DJ's to law professors to a project manager from YouTube.
There were many similarities to be found between the world of jazz and freelance artists.
In "Money From Music, The Jazz Conversation" Karen Kennedy, a manager of jazz artists, talked about diminished revenues for touring musicians as well as the negative impact of the crossover stars on the jazz artists' fees. She sees many of her clients taking on teaching roles as adjunct professors at colleges and universities as a replacement for some live performance revenue.
Also discussed were the jazz ensemble program funding initiatives, which are sponsored by Chamber Music America. See www.chamber-music.org for more specifics.
I was invited to participate on a panel discussion, "Money From Music: The Session Musician Conversation," along with bassist Dave Pomeroy, the president of AFM Local 257 (Nashville) and a member of the International Executive Board. The discussion was focused on the evolution of revenue streams for session and freelance musicians. From year to year as our careers evolve, the sources of revenue that make up individual incomes shifts. Any given year may include more or less touring, film session work or freelance concert work than the previous one. The essential conclusion was one we all know: we must be versatile and adaptable to make our lives in music.
AFM Vice President Bruce Fife, who is also the president of AFM Local 99 (Portland), represented his local's "Fair Trade Music" project on a discussion entitled "Local Matters: Music Scenes and Community Building." On this panel, rap artist Che "Rhymefest" Smith spoke about how he ran for city council in Chicago in order to benefit his community. While the economy and musicians are struggling, there is still hope for positive progress through the efforts of local organizations for a better future for their communities.
The Future of Music Coalition Policy Summit is an annual event. See www.FutureOfMusic.org.
Gail Kruvand is a member of the Local 802 Executive Board.