The Future Will be Live!
Theatre Community Initiative Breaks New Ground
Volume CV, No. 10
October, 2005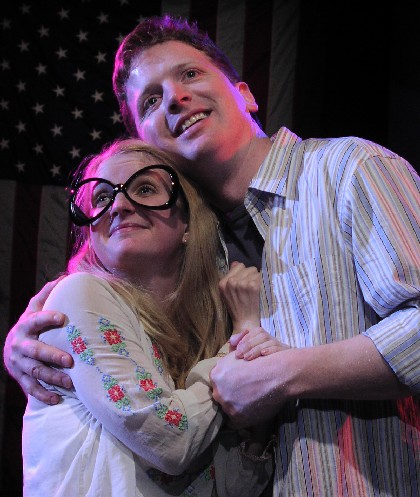 Duke LaFoon and Megan Lawrence in "Monica! The Musical," one of the shows in the New York Musical Theatre Festival. Photo by Daniel Shiffman.
This fall Local 802 began a unique relationship with the New York Musical Theatre Festival — a festival whose mission is to introduce new talent and provide an arena for independent and commercial producers and artists to collaborate.
Why are we in a relationship with a festival? Simply put, the union is committed to supporting live music and live theatre. Working with a new festival provides us with an opportunity to be a part of and help mold the future of live musical performances.
Local 802 made a financial contribution and purchased an ad in the festival's program. This earned us the title of "industry patron" in the program.
While the public relations part of this campaign is incredibly important, the outreach element is our primary goal.
Prior to the festival's opening on Sept. 12, staff at Local 802 distributed materials for the musicians to each show's producer. These materials included a copy of our new "Are You 802" handbook with a special invitation to a networking opportunity enclosed and a newly-formed Theatrical Showcase Rules and Regulations book. These materials were provided for both current 802 members participating in the festival, as well as young musicians who will be the future of Local 802.
As a follow-up, staff and Local 802 members went out in pairs and attended approximately 40 new musicals at the festival.
Our goal was to support the new works being presented and specifically to support the musicians performing — taking the time to speak with the musicians at each show, make sure they received the materials we had distributed to their producer, and encouraging them to attend the networking opportunity.
The final stage of the relationship will occur once the festival has ended on Oct. 2.
The union has planned a networking opportunity in the form of a panel discussion and meet-and-greet for Oct. 5 at 5:15 p.m. in 802's Club Room.
The panel will include Local 802 members from a variety of music professions — music directors, conductors, orchestrators, performing musicians, music copyists, contractors and more.
After a brief panel discussion, musicians will have the opportunity to make connections, network and enjoy some refreshments.
This is a wonderful opportunity for young musicians to reach out to the established musicians of the theatre community as well as for current Local 802 members to reconnect with old colleagues.
Any non-members who attend this networking opportunity will be provided with a special coupon waiving their initiation fee when they join Local 802.
It is our plan that the our relationship with this festival and others will become a yearly event.
In subsequent years, we hope to reach out to other developmental theatre festivals utilizing musicians in New York City and Long Island and expand our initiative.
802 has dubbed this long-term project the Theatre Community Initiative. It is the brainchild of the Broadway Theatre Committee and the Small Theatres Committee. The future of live musical theatre begins at these festivals. And the responsibility of helping to sculpt the future of live music lies with Local 802.
Just imagine what we can do working together.
Sounds like the future will be live! For more information, contact Mary Donovan in the Theatre Department at (212) 245-4802, ext. 156.