The Heat is On
Jazz campaign on the move
Volume CIX, No. 10
October, 2009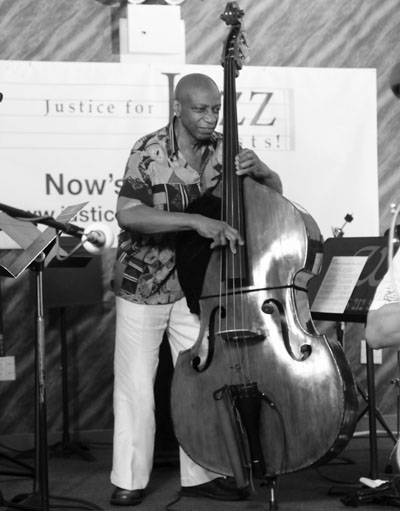 Reggie Workman. Photo by Walter Karling.
Now's the time." That's a famous Charlie Parker tune and also our demand. Now's the time for club owners to do the right thing.
This fall marks a turning point in the union's "Justice for Jazz Artists!" campaign as we held a public rally on Sept. 29 at Judson Memorial Church in Greenwich Village.
At press time, several club owners had agreed to sit down with union representatives to discuss the next steps.
Musicians deserve benefits
As readers well know by now, the goal is to have clubs make pension contributions to jazz musicians so that they have a chance to retire in dignity.
Where would the money come from? Since 2007 the clubs have enjoyed a tax break, the result of a concerted lobbying effort by the Local 802 Jazz Advisory Committee, which is chaired by Jimmy Owens, Bob Cranshaw and Recording Vice President Bill Dennison.
The original bill that gave clubs their tax break was sponsored by Assemblyman Denny Farrell, Senator George Maziarz and Assemblyman Joseph Morrelle.
At the time the legislation was signed, the clubs supported the union's efforts, but once the law went into effect, club owners avoided a discussion of how to make contributions into the pension fund.
After working through several legal and language issues, Local 802 began an effort to reach out to clubs in early 2009.
But after many attempts and no response, the Jazz Advisory Committee voted on sterner measures.
We wrote up a petition and attracted 1,500 signatures over six months – all professional musicians or their fans.
In early September, we turned up the heat a little more by writing a letter to the clubs. We pointed out that under state law, musicians must be treated as employees, not independent contractors, and that this may have rung up a potential backlog of penalties that could injure both the clubs and the industry.
Our goal is a voluntary settlement that resolves these potential liabilities and provides pension contributions for musicians.
Jazz in action
Justice for jazz artists in action can be seen on a new YouTube video.
On Aug. 17, Local 802 and the Jazz Foundation hosted a jam session to kick off the jazz campaign. The award-winning filmmaker and musician Ron Grunhut created a video of the event, which features interview clips of Randy Weston, Dr. Billy Taylor, Benny Powell, Bernard Purdie, Junior Mance, Reggie Workman, Bob Cranshaw, Sean Lyons and Jimmy Owens, among others.
Visit www.JusticeForJazzArtists.org for the most up-to-date information on the campaign.