The Long Haul
After 250 concerts, 'Highlights in Jazz' keeps its groove
Volume CIX, No. 4
April, 2009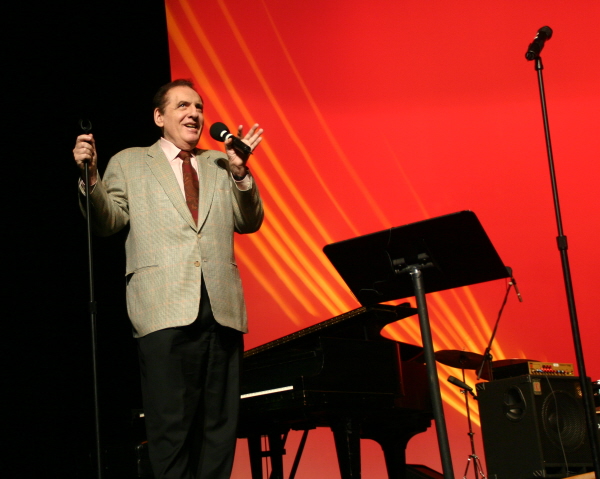 At top, Jack Kleinsinger, at a recent "Highlights in Jazz Concert" at the Tribeca Performing Arts Center. Bottom, clarinetist Anat Cohen and plectorist Howard Alden. Photos by Jim Eigo.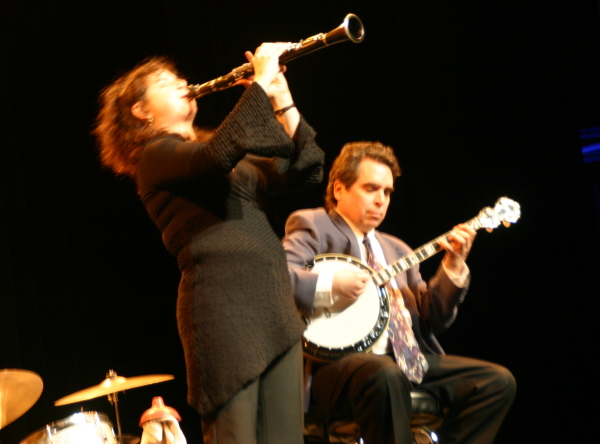 It's jazz time! Seven years ago, Branford Marsalis and the Smithsonian Museum inaugurated Jazz Appreciation Month, making April the month to remember and celebrate one of America's most treasured art forms. Below, Jazz Rep Todd Weeks interviews Jack Kleinsinger, the artistic director of one of the longest-running jazz concert series: "Highlights in Jazz." The organization is a landmark for another reason — it pays its jazz musicians pension under a Local 802 contract.
Jack Kleinsinger has spent much of his life in a kind of waking dream. Seated at his desk in his Peter Cooper Square apartment with a sliver of the Empire State Building visible through the window at his left, he fields phone calls, writes up contracts, and seeks funding.
A big, striped tabby cat luxuriates on the couch. A modest collection of tasteful modern art, collages filled with images of musicians, and other memorabilia — like an autographed photo of New York Giant Bobby Thompson's 1951 "Shot Heard 'Round the World" — line the walls. Jazz recordings abound. A special proclamation from the City of New York declaring Feb. 5, 1998 as "Jack Kleinsinger/Highlights in Jazz Day" is mounted near the front door. He takes another call, this one an invitation to an art opening.
After 36 years of concerts, Kleinsinger, who is 72, hopes to maintain an audience that is made up of loyal subscribers, college students, and out-of-town jazz aficionados.
When the series began in 1973, the Empire State Building had only recently been eclipsed as the world's tallest building, the country was reeling with news of Watergate and Vietnam, and many of the legendary figures from the golden age of jazz were still performing.
The first "Highlights" concert featured the celebrated saxophonists Zoot Sims and Al Cohn. Guitarist Bucky Pizzarelli and fellow guitarist Gene Bertoncini were also on the bill.
Kleinsinger originally had another calling. He worked for 21 years as the assistant attorney general for New York State.
"To save my sanity," he remembers, "I used to frequent the clubs, and I was friendly with a lot of the performers. One act that always grabbed me was Zoot Simms and Al Cohn. They were truly larger than life. Once I got to know them, I'd sometimes run into them at Charlie's Tavern. They'd be watching a ballgame, and I'd ask, 'What's the score?' 'Four to two,' one of them would say. 'Who's winning?' I'd ask. And Zoot, without missing a beat, would answer: 'Four.'"
Kleinsinger adds, "Bucky Pizzarelli suggested I open my own club. I decided to give it a whirl, and we booked the old Theatre De Lys— now the Lucille Lortel — in Greenwich Village for two Mondays a month apart."
Scrapbooks are produced and out come some early reviews. "The first one used the word 'cliché' in the headline, and I thought we were dead in the water. Twelve minutes later, another notice hit the stands, this one from the Times, and it was positive. We were on the map. At the second show we had Milt Hinton, Benny Morton, Dick Hyman, Al Casey, Pee Wee Erwin with a surprise guest — Maurice Waller, Fats' son."
Kleinsinger notes that these early shows were inspired by Jazz at the Philharmonic — or JATP — the famed international concert series and brainchild of impresario Norman Granz. In fact, he recalls that his very first date was at one of these JATP concerts.
"It was an amazing evening," he says. "The roster was Ella Fitzgerald, Oscar Peterson, Gene Krupa, Roy Eldridge, Charlie Shavers, Illinois Jacquet, Benny Carter, Buddy Rich — the surprise guest was Billy Holiday. This was in 1950. That one concert changed my life."
Later, Kleinsinger attended the University of Wisconsin. When Jazz at the Philharmonic came to town he and his friends used to line up the night before to get good seats. It was there that he first encountered a series of incomparable performers, many of whom he was later to feature in his own concerts, including artists such as Flip Phillips and Dizzy Gillespie.
Kleinsinger went to St. John's to earn his law degree, and then ran for New York State Assembly in 1964: "I was 2,000 votes short of getting in. Had I been elected, my life would've probably turned out quite differently."
By the mid 1980's, a celestial roster of talent had touched down on his bandstand — including Eubie Blake, Doc Cheatham, Clark Terry, Cab Calloway, Tito Puente, Maxine Sullivan, and the impetuous — and brilliant — drummer, Buddy Rich.
"Buddy liked me," Kleinsinger remembers, "because I was a prosecutor. Once, in the late 70's, when his big band was featured, he brought along Stan Getz. That was a big surprise for everybody, including me. I remember that Papa Jo [Jones], Mel Lewis and Roy Haines were all in the front row. Before the first set, Buddy had asked me backstage which of the visiting drummers was my favorite. I told him, and when the curtain came up, he embarrassed me in front of these three great men by announcing to the crowd that I'd picked Roy Haines!"
Kleinsinger always featured a surprise guest, an idea which he freely admits he borrowed from Jazz at the Philharmonic. Once, there was Gerry Mulligan, who came out of the audience with a little curved soprano sax under his arm. Another time it was Branford Marsalis. Once Cab Calloway even showed up, unannounced — a surprise even to Kleinsinger, who never told the critics in advance which special guests would appear. These surprise guests were often people he couldn't otherwise afford. But he would always just ask people to show up.
With thinning jazz audiences and so much competition from other venues, how has he managed to keep the series going all these years?
"Well, I had the day gig, so that wasn't a problem. I retired in '91, so I've been able to devote a lot of time to fundraising. We get a lot of funding from NYSCA [New York State Council on the Arts] — although it looks as if we may be taking a huge hit this year. But I've always looked for top talent, and I really make an effort to put together memorable packages. For instance, one year, I did a 'Battle of the Big Horns,' where we had Buddy Tate, Arnett Cobb, and 'Cleanhead' — Eddie Vinson. Shows like that always draw a crowd."
Kleinsinger notes that this year they may lose some $40,000 in funding and that he has even deferred his salary. "We've lost a lot of subscribers. But I've been working with Local 802 for many years, 'cause I believe that's the right thing to do — make sure people get pension and health. People have thanked me for that."
Kleinsinger seems to have a knack for organizing things — and that includes jazz musicians, which has been compared to herding cats. How does he come by it? "Well, my parents were both teachers. I think I got it from them. It's really a whole other life from lawyering. All of a sudden, I'd find myself on a plane next to Dizzy Gillespie; another day I'd turn around and I'd be talking to Lionel Hampton — in my apartment! It's been a bit like one long dream."
"I Don't Eat Frog!"
Jack Kleinsinger Remembers Major Holly
In 1976, I stage managed the Nice Jazz Festival. I got the gig through George Wein… When I got to Nice, I wasn't prepared for the adulation of the French fans. There was this little Frenchman who was a fan of the bassist Major Holly, who was on the festival. "Come to my restaurant," said the man to Holly. But Holly brushed him off. Then the guy asked me to go; he gave me his card and I looked at it and I saw it was a 3 Star Michelin restaurant! So I went to Major and I said, "We've got to do this," and Holly said, "I don't eat frog!" and I said "We'll never have a chance like this again! I'll get you a lot of gigs." (Later, we did "Tubby the Tuba" together.) So, he relented and I called the guy and he sent a car. The drive was beautiful; it took us about ½ an hour up into the Alps. We got there and the restaurant only seated 32 people and we had four waiters: a Maitre Di, one to filet the fish, one to flambé the duck, one to serve the wine. The food was delicious! So the owner went back to his office, and Major said to me, "It would be terrible if we had to pay for this," and I said, "Don't worry, he has photos of you on the wall, he adores you, he'd never make you pay!" And then the desert came and it was more flames, Gran Marnier, the works. And then they brought a bill for $300! And this was 1976, mind you [about $1000 in 2009 dollars-ed.] And Major didn't miss a beat. He called the Maitre Di over, handed him the bill and said, "Excuse me, Monsieur, would you show me which window I broke?" Well, then there were a million apologies, a magnum of champagne and a ride back to our hotel. Holly was a real character, and a great person.
—as transcribed in March 2009 by 802 Jazz Rep, Todd Bryant Weeks.