The Musicians' Voice
Volume CX, No. 11
November, 2010
The Musicians' Voice is an open forum for discussion about the state of union affairs. The letters here do not necessarily express the views of Local 802. E-mail letters to Allegro@Local802afm.org or write to Allegro, Local 802, 322 West 48th Street, New York, NY 10036. Letters must be no more than 300 words.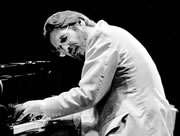 Bill Evans (1929-1980).
Photo: Brian McMillan via Wikipedia
REMEMBERING BILL EVANS, 30 YEARS LATER
Sept. 15 was the 30th anniversary of the passing of the 20th century's greatest jazz pianist, Bill Evans. Not a peep from WBGO or the jazz media. Really tells you something.
I had the great fortune of playing at the Top of the Gate in NYC during the mid 1960's on Monday nights with my army buddy, dear friend and great singer Stan Edwards.
It was on one of those Mondays we split sets with the Bill Evans Trio, and his greatness has stayed with me right up to the present. He told me that as a musician, it's not what you play, but how you play it. I've lived that in my own piano playing no matter what style or circumstance.
Bill had a great sense of humor, laughing about our mutual musical experiences in New Jersey where both of us grew up. For me, no one has ever touched me musically and emotionally like Bill, and I lament the noise that passes for so much so-called jazz that permeates the airwaves today.
Bill wore his inner feelings in his music; no "Hey man, I'm hip; see my toolbox full of well-rehearsed stuff."
He was, and is, all that represents timeless art.
–Joel Zelnik
---
HONORING CHUCK GENDUSO
What an honor it was to be mentored and taught by such a great musician as Chuck Genduso (1921-2010). The only honor which was greater was that of being able to call him my best friend.
As the years passed I learned more and more about Chuck (or "Chuckles" as many of us referred to him). Chuck's stories were priceless. He was never negative, always saw the very best in people, and in doing so, constantly brought out the very best in others. Even after being stricken by polio which rendered his right leg useless, Chuck never saw himself as being anything short of blessed. We were all better off for having him in our lives.
The night Chuck passed away I was at his bedside. I got out Chuck's horn and he taught me the last tune he ever would, "You'll Never Know." From his bed, eyes closed, he would nod in approval or shake his head for wrong notes, showing me the correct fingerings with his hand. A true gentleman to the end, Chuck truly left behind a great legacy embodied in a long line of players who are not just better musicians because of their friendship with him, but better human beings.
I think Chuck can be summed up best in the words of a lady whom he worked with a lot. In fact, one of his first big recordings was with her in 1945, a version of "Flying Home" with Vic Schoen and his orchestra. Inscribed on a now fading photo of them both she wrote: "Chuck, things just wouldn't have been as wonderful without you. Thanks! –Ella Fitzgerald."
I have many more stories about Chuck, and I would love to hear from Chuck's friends. E-mail me at Tmanuel@3villageCSD.k12.ny.us
–Thomas Manuel
---
ELEGY FOR DIANE MORIARITY
by Barbara Comins
If it be heaven, let it be the heaven of horses
tossing their manes in bright air,
and let me be the rider.
Let the syncopation of their hooves take me
past time, past care.
If it be heaven, let it be the heaven of oceans.
Let their tides breathe me out and in like a mother
calling her children in from play,
gathering them home for supper
at the end of day.
If it be heaven, let it be the heaven of blue mountains,
their silhouettes etching a kind of truth
in cool air against a darkening sky,
the heaven of rivers cutting their own truth
through the mountains in time.
If it be heaven, let it be the heaven of summer,
of fireflies, dragonflies, bees,
fluffy white heads of dandelions,
sweet stamens of the honeysuckle,
the heaven of leaves that turn golden,
the heaven of snows that silently fall.
And if it be heaven (for heaven's sake) let it be the heaven of musicians,
noodling tunes, warming up on their signature riffs.
Let it be the heaven of the redolent nostalgic oboe solo,
liquid flutes, shimmering violins, the flowing gold of the cello.
And past midnight, let it be heaven for the trumpet player
alone in the basement, fingers on the valves of something ineffable–
playing with the notes of "The Unanswered Question."
---
HELLO FROM VIC CARLTON
I've been a member of Local 802 since 1941 and just turned 91 on Oct. 22. I've played sax and clarinet and sang lead vocals with big bands, all under the name Vic Carlton. I enjoy reading Allegro and keeping track of what's going on. I now live in Miami and still keep up with playing a few good solos. I would love to hear from friends who remember me. Write me at Vic Carlton, 1201 NE 191st Street, Apt. 105, Bldg. G., North Miami Beach, FL 33179 or call me at (305) 944-9759.
–Victor Kaplan (Vic Carlton)
---
GOODBYE FROM JIM HANNEN
"Don't cry because it's over. Smile because it happened." – Dr. Seuss
On Sept. 19, I attended the memorial service for Diane Moriarity, the late wife of my friend, mentor and former Local 802 President Bill Moriarity. I was deeply saddened at the loss of such an important member of the Local 802 family. As I sat listening to the speakers and looking around the club room at all the people, past and present, that I've had the opportunity to work with since I began in 1992, I couldn't help but think how fortunate I have been.
After more than 15 years serving the members of Local 802, I am leaving at the end of October. That sad Sept. 19th helped put my tenure at Local 802 in perspective – one more thing I can thank Diane and Bill for. The quote above from Dr. Seuss came to mind. It seemed to sum up the emotion in the room that day and my own about leaving Local 802.
I thank the many staff members, officers and members who have touched my life, some in small ways and others in very profound ways, and I hope that in some small way I have touched theirs. I am indeed fortunate to have been surrounded by so many of great substance.
Thanks…and happy trails!
p.s. Friends who want to keep in touch with me can do so at jhannen1951@aol.com.
–Jim Hannen
---
FOCUS ON THE MUSIC
Bravo! Larry Rawdon has it totally correct in the letters page of the September issue of Allegro. There has in the past – and I guess it is still carrying over now into our new administration – a feeling by the officers and Executive Board that they are here to show how politically hip they are by engaging in all sorts of ideas, projects and movements that are not in 802's scope, preview or bailiwick. And the worst part is, when you call them on it and write a letter, you get no response. (In this case I mean activist Paul Molloy and the former Executive Board.)
To quote Mr. Rawdon, "Surely, there are enough issues that do affect Local 802's members' professional lives so that the Executive Board should restrict its entire time and all of its members' dues to deal with those issues." And let me add their post-professional lives as well.
The new officers were elected to move away from the old approach. Please keep it moving to a more music/entertainment approach and members' well being approach.
And as far as Arizona goes, if the locals out there want to deal with their own political situation – more power to them.
–Mickey Burke