The Musicians' Voice
Volume 111, No. 10
October, 2011
The Musicians' Voice is an open forum for discussion about the state of union affairs. The letters here do not necessarily express the views of Local 802. E-mail letters to Allegro@Local802afm.org or write to Allegro, Local 802, 322 West 48th Street, New York, NY 10036. Letters must be no more than 300 words.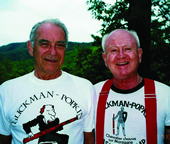 Mark Popkin (right) and Loren Glickman
Remembering Mark Popkin
his letter is about the passing of Mark Popkin (see obituary on page 28). Mark and I were bassoon colleagues and close friends for 60 years. We played together in dozens of concerts with many different groups. We played chamber music concerts with the Lincoln Center Chamber Music Society. We played on recordings with Stokowski, Bernstein, Reiner, Stravinsky, Bruno Walter, and many others. We played many years in Puerto Rico with Pablo Casals at the annual Casals Festival. And we played at the Madeira Bach Festival.
Mark never had a problem with even the most difficult music. He seemed to always have a solution to solving the most taxing technical problems on the bassoon. Just sitting next to him, I feel I learned a great deal in solving those problems.
In 1965, Mark accepted a faculty position at the North Carolina School of the Arts. Although we couldn't work together as often as before, Mark still managed to return to New York regularly to perform in special situations that were attractive to him.
On one occasion, totally out of the blue, he said to me "How about you and I starting a bassoon camp?" I responded, "You're out of your mind. Who would ever come?" Now, 34 years later, we draw between 80 and 90 bassoonists each year from all over the world.
I always enjoyed what Mark had to teach and the enthusiasm with which he delivered his lectures. I shall miss my good friend more than I can ever express. And given his outgoing and ebullient personality, I still have the feeling that he's going to call one day and say, "It's all a big mistake, and I'll be seeing you soon!"
Loren Glickman
This story originally appeared in the October 2011 issue of Allegro, the magazine of the New York City musicians' union (AFM Local 802). For reprint requests, send an e-mail to editor Mikael Elsila at Allegro@Local802afm.org.