The New Biltmore Gets Its First Musical
Union Rep Notebook
Volume CVII, No. 7/8
July, 2007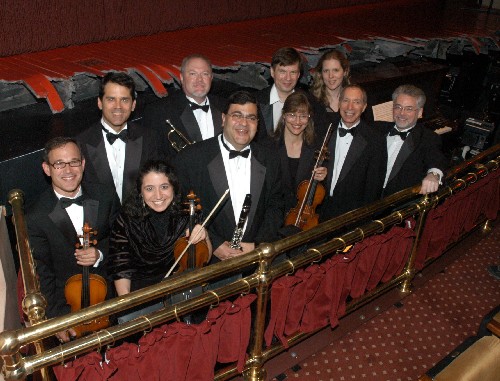 Musicians before a recent performance of "LoveMusik" at the newly-restored Biltmore Theatre on West 47th Street.
Local 802 and Manhattan Theatre Club concluded negotiations on a collective bargaining agreement last September. Now, less than one year later, the theatre is launching the world premier of "LoveMusik," its first musical at the Biltmore. And musicians performing in it will play under an 802 contract.
The contract is a fair deal for musicians given the fact that the Biltmore is not Broadway and seats around 650. Actors' Equity has termed it a regional ("LORT") theatre and pays at similar rates.
The Biltmore — at West 47th Street and Eighth Avenue — was designed by architect Irwin Chanin in 1925 as a 1,000-seat theatre. The first production was "Easy Come Easy Go" in 1926.
Some other notable productions over the years were "My Sister Eileen," "No Exit," "The Heiress," "Barefoot In The Park" and "Hair."
It was a theatre venue for all but 10 years of its active life, when it was used as a CBS studio in the 50's and 60's.
But the Biltmore went dark in the 80's and 90's. It became such a well-known eyesore that it was sometimes used as a backdrop for scary movies.
In 1993, the Nederlanders and a partner purchased the building. They apparently planned to restore it as a legitimate theatre since its landmark status prevents it from being used for other reasons.
But the new owners backed out after a fire damaged the building.
Finally, the nonprofit Manhattan Theatre Club bought it and undertook the daunting task of restoration.
After a two-year, multimillion-dollar expenditure, the Biltmore re-opened in 2003 as a theatre. "The Violet Hour" was the opening production.
For the next few years, the Manhattan Theater Club continued to run straight plays there.
In 2005, they finally decided that they were ready to consider musicals — and so they called Local 802.
After almost a year, an agreement was reached. (It takes time to properly renovate a building —and it takes time to get to a good contract. )
"LoveMusik" has engaged the services of several Local 802 members, including 10 performing musicians, a conductor, a music coordinator and music supervisor, an orchestrator, and two copyists. (One of the orchestra members is also the playing contractor.)
The plot of "LoveMusik" follows the highly-charged relationship between composer Kurt Weill and actress Lotte Lenya.
A review by AP drama critic Michael Kuchwara reads: "The robust pit band segues into a haunting rendition of Weill's classic 'September Song,' showcasing violinist Katherine Livolsi-Landau. It breaks the heart and raises spirits at the same time. Sort of like the musical itself.'
Another review by David Rooney of Variety points out the "invaluable orchestrator Jonathan Tunick."
Tunick was nominated for a Tony for his orchestrations on this production.
Recognition of our orchestra members is rare and even more rare is specific recognition of our musicians. Naturally we're delighted with this recognition and wish it were more prevalent.
"LoveMusik" is now being extended beyond its original run, and wages will bump to the Broadway scale rates. It is rumored that the production may move to a Broadway house as well.