The Secret of the Rigid Vibrator
Member to Member
Volume CVIII, No. 12
December, 2008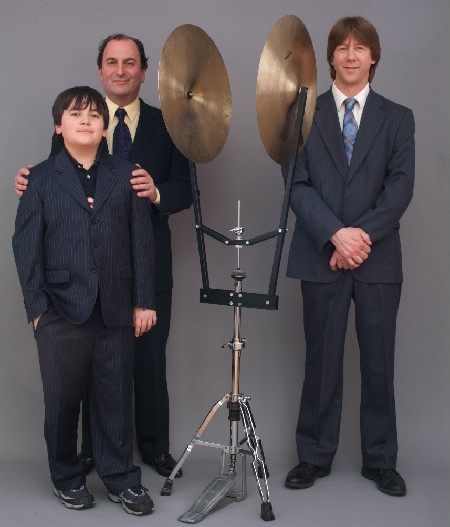 Sometimes the simplest inventions are the most fun and the most useful. Cymbal Guy is a pair of crash cymbals on a hi-hat stand. The inventors are pictured above, from left to right: Noah Hwang, Local 802 member Larry Spivack and Glen Ayers. Spivack learned all about patents and manufacturing as part of his journey.
Check out the photo. Why am I and the others smiling? We recently invented and patented Cymbal Guy, an apparatus that attaches to a drummer's hi-hat and turns it into a hands-free cymbal crashing machine. (As to why the headline for this story refers to a "rigid vibrator," well, you'll have to keep reading…)
It's a real New York story. My buddy Ray Grappone was playing drums for the Broadway revival of "Flower Drum Song" in 2003. He was approached by the writer David Henry Hwang, who had been brought in to doctor the book of the musical. David said that his seven-year-old son, Noah, wanted to take drum lessons, and Ray gave him my phone number.
When David called me I recognized his name as the playwright who had won a Tony Award for "M. Butterfly." We scheduled an hour in my teaching studio, which was then on West 51st Street. "Tell Noah it's not a lesson," I told him. "He's just coming over to play with my stuff, and if we hit it off we'll talk about lessons."
When Noah showed up, he had the most fun playing with one of my toys, a clown about the size of a can opener that crashed cymbals when his stomach was squeezed. Noah had an idea: "Wouldn't it be great to build a giant cymbal crashing machine?"
"Well, Noah," I told him, "if you study with me maybe we can."
"Dad, I want to study with Larry."
Two weeks later he came over for the first lesson. "Well, Noah," I asked him, "what should we do first? Xylophone? Bongos?"
"No, I want to build CYMBAL GUY!"
I had forgotten all about it, but he was so determined. So over the next couple of months we built a prototype out of wood that worked!
I bought a copy of "Inventing for Dummies." In it I read that the U.S. Patent and Trademark Office has a Web site where you can do a search for free. So I spent several Saturdays looking at cymbal inventions and didn't see anything like it, although I did find out that the official classification for this type of invention is RIGID VIBRATORS. You can't make this stuff up!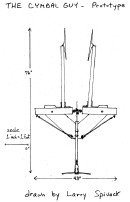 The Cymbal Guy prototype, drawn by Larry Spivack.
Anyway, at that point I contacted my cousin, Seth Watkins, who is a patent attorney (wasn't that lucky?). He filed an application for a provisional patent in October 2004. It's relatively inexpensive; it dates your paperwork and gives you a year to decide if you want to convert it to a full application.
I showed the design to Glen Ayers, a metalsmith whose father Bob is the owner of Ayers Percussion. Glen came up with a much better version made of steel. So, in October 2005 the three of us applied as co-inventors of Crash Cymbal Apparatus (the official patent name). The patent was issued on Feb. 12, 2008, just eight days before Noah's 12th birthday.
The patent means that no manufacturers can make it in the U.S. other than those we give permission. And if a copy is made in a different country, it cannot be sold here.
We are both the inventors and the manufacturer. The design is made of nine pieces of steel that are cut, drilled, polished and painted, plus nuts and bolts. The steel is made of sizes that are commercially available and can be made in any steel shop (or high school steel shop, for that matter).
Check out the fruits of our labor at www.CymbalGuy.com. There are videos there as well as many photos.
Larry Spivack is a percussionist and composer who has been a member of Local 802 since 1971.