The Seeker
Larry Mullins is Toby Dammit – and he never misses a signal
Volume 113, No. 6
June, 2013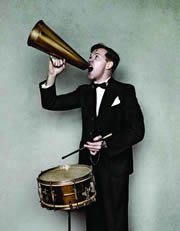 Larry Mullins (a/k/a Toby Dammit) is not your ordinary drummer. For over 20 years, he's been playing with punk godfather Iggy Pop and he's also played with everyone from Rufus Wainwright to Lydia Lunch. The best thing is that he's been a longtime member of the AFM and Local 802, and has been able to file much of his work under a union contract, which protects his work, his wages and his future. This makes him an inspiration to many of our other touring musicians, especially those who don't work in our traditional areas of Broadway or classical.
"I grew up poor in East Tennessee with no future options," said Mullins. At age 11, he started playing percussion in the school band. He made quick progress and was soon leading a 30-member drum section, scoring his own arrangements. He kept up a strict practice regime and studied classical percussion, including Bartok and Varese. "When I played Bach on timpani, doors opened," Mullins said. "I took first chair in these competitions, which built confidence that guided me right out of poverty." By the time he was 14, he had played his first professional gig for a local band at a bar in Knoxville. He recalls that the band had to sneak him in and out for the sound check and the show.
Our recording rep Bob Pawlo recently caught up with Larry Mullins and asked him about his musical past, his advice for others, and where the name "Toby Dammit" came from.
Bob Pawlo: Let's start with a Buddy Rich story.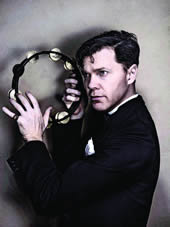 Larry Mullins: My teacher got me in to one of Buddy's gigs. It was big band, with standup solos. Buddy had a microphone. He was rattling off insults to the musicians – "You gotta be joking me, sit down" – mid-solo, humiliating everyone onstage. His solo revealed the fastest human I'd ever seen. Bruce Lee was perhaps faster, but Buddy was a definite second. Before my eyes spun a human Tasmanian devil blur. Backstage, his tour bus was docked with kids lined up. It was an old city bus with folding doors that opened. Someone yelled, a fan went in and out, then another yell. I heard "Next!" and went on. Buddy is there in his robe. I say: "Mr. Rich, I'm 16." I told him how great he was and how he changed my life. He autographed my ticket, looked me right in the eye, and screamed, "NEXT!"
Bob Pawlo: So how did you make the transition from high school into touring with major acts? You started at a very early age.
Larry Mullins: That club gig I played was my first glimpse at people in a bar smoking, drinking beer, dancing, and yelling at you. For a teenager, it was a total rush, as was my first onstage adrenaline. At 17, I joined a band, and we lived together in a house and saved money from shows. But I was also in college with a musical scholarship, performing in the symphony. My teacher accused me of sight-reading in a Monday class performance, after I had a busy gig weekend. I explained the gigs and money and he explained the curriculum and what I should be doing. He saw my future only as a teacher, but I saw it as a performer. I realized I would have to leave Tennessee to succeed, and I quit.
Bob Pawlo: Was this around when you started with Iggy Pop?
Larry Mullins: Iggy Pop had a new record and tour and I was a devoted fan. I drove nine hours to see him in Memphis. During his show he constantly screamed at his drummer, who was lost. Two weeks prior he'd done the same on television, at another drummer. He'd fired that guy and this guy was new. I had a crazed inspiration to fix this problem. I was 19. At the next gig in Nashville, it was the same. I told myself, "I've got to do this; I will work with him." Well…I'm working with him today at age 45 and I knew it clearly at 19. I saw the door right there.
Bob Pawlo: So when did you first join the band?
Larry Mullins: There was no Internet back then, so I figured it out the old way. Iggy went to Ohio, so I threw my drums in my station wagon and drove to Ohio to find him. I had his tour schedule and tickets. I made cassettes and wrote letters explaining what I thought about his situation, and put that in several packages. I can't believe I did that now, but I did. I believed my story would touch him. I gave the packages to his roadies, who still work for him today. Surely they thought, "Who is this kid from Tennessee following us?" Out in the middle of nowhere in Ohio, something happened. Every show at some point, Iggy would speak to the audience with a stream of consciousness about television or society. This night it was my letter, about my life growing up in a small town and trying to get out, not knowing where to go or what to do, getting in a car, barreling down the road after what you want. It was word for word. I thought: "Oh, my God, I'd made the connection!" After the show, I lingered, but a roadie told me to move on. He didn't know I was the guy in the letter, of course. (He's my drum tech today.) So I returned to Tennessee and wrote other artists. Eventually, I moved to L.A. Amazingly, at one gig, I met a fellow musician who was about to audition for Iggy. Now Iggy had continued touring and ended up on the Letterman show. Letterman asked Iggy how he put bands together for records, and Iggy told Dave, "Well, a couple of years ago, a drummer was following me around." That was me! So I told this musician to tell Iggy that I was that drummer who had followed him around. The next day Iggy was on my answering machine. I called him back. He wanted an audition. I hung up in shock. The next day we played together and got along great. He had 12 months of dates and wanted me on tour. I said O.K., and that's the way it went for the next nine years – and 800 shows – all over the world. I can't explain why I chose Iggy Pop. Something connected me to him and the music. I knew I could play it the way he wanted it to be played and I was right.
Bob Pawlo: That's an incredible story. When the opportunity came, you were there.
Larry Mullins: You should know when a door opens before you. You see an opportunity clearly and you act.
Bob Pawlo: So where does your other name "Toby Dammit" come from?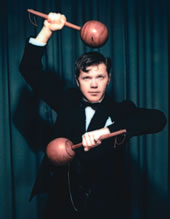 Larry Mullins: Toby Dammit was an Edgar Allan Poe character in his story "Never Bet the Devil Your Head" from 1841. Fellini adapted the story as part of the 1968 French short film trilogy "Histoire Extraordinaire." I was working in Paris with producer Bertrand Burgalat, who was looking for characters to make records for his label. He trademarked several odd names, including Toby Dammit. He produced a psychedelic solo record for me with drums, percussion and strange effects. It helped me become Toby Dammit.
Bob Pawlo: Since being that 18-year-old kid driving to Ohio, you've done thousands of recordings, sold tons of records and played all over the world in so many different venues and situations. What has been the benefit of being a member of the AFM?
Larry Mullins: At 22, I joined Local 47 to play the Arsenio Hall Show and got paid through the union. I saw it as a management system to make sure I got paid. Then I recorded a song for a the closing credits of "Nightmare on Elm Street." I received the standard session fee through the union and thought that was it. It went number one in the U.S. box office. Next year there's a check from the AFM Film Musicians Secondary Markets Fund in the five digits. I thought, "Someone's made a mistake: there's an extra zero here!" I sent a letter to Local 47 before I cashed it. Once they explained, I thought "I will learn more about this!" Since then, I've learned how my talents as a composer, arranger or performer will be protected in a union signatory project. Typical musicians have scant knowledge to protect themselves or their rights in these situations. Mostly people are burned and never even know it. Most corporate labels deny as many rights and access to money as best they can. It's their game to outsmart you.
Bob Pawlo: How have you been able to get sessions in foreign countries filed to Local 802?
Larry Mullins: These were European recording sessions arranged by U.S. labels with U.S. offices. As payroll finalized, they contacted me in Europe. For them it's complex dealing with overseas payments, currencies and banking policies. I offered them the simplicity of going through Local 802. I knew they would have prior experience with it and prefer it.
Bob Pawlo: So that's the strategy to getting your sessions filed on union contracts?
Larry Mullins: They want to go home at 5 p.m. They don't want headaches and foreign languages, so you make it a little easier for them. I know that more union paid productions equals more rights down the road. Years later, a film may license a song from an unsuccessful record, but if the film becomes huge, then you get payments from that. You're played the fool when you accept cash. Then there's also the pension eventually: learn how it works…and stay alive!
Bob Pawlo: Thank you for making that point. Last, what advice would you give musicians starting their careers in this day and age?
Larry Mullins: Open your mind about the world and why you are here. If you're good at anything, there is someone, somewhere that needs you and will appreciate what you can do. Be fearless to go anywhere to show it. I know people that won't leave the U.S., even for work, because they're paranoid, frightened or naïve. Sitting in one place leaves you in that place. I knew my talent had to be relevant somewhere. Opportunities appear not when you expect, nor where you hoped they would. I tell kids to learn other languages, learn to read music, learn about other countries, learn about other cities and learn about other styles. Work in film, not just concerts and records. You won't survive being lazy and uneducated when the door opens.