The Union Makes Us Strong
President's Report
Volume 111, No. 11
November, 2011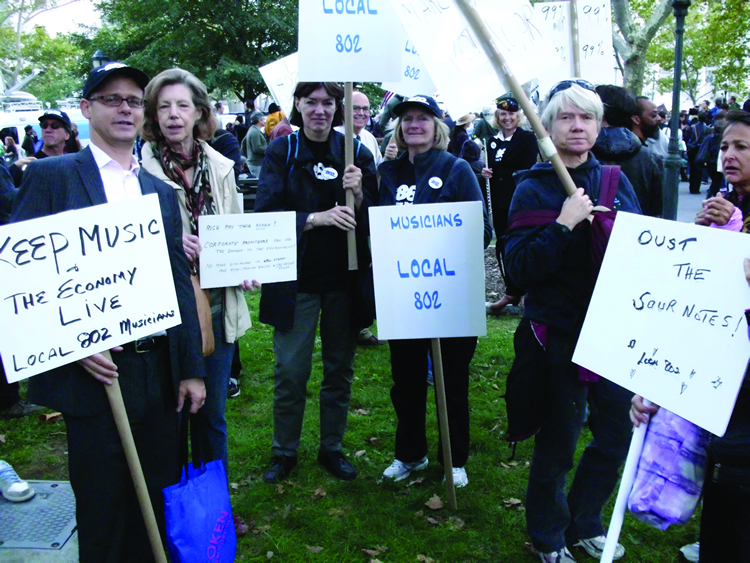 WE ARE THE 99 PERCENT! Local 802 members, staff and officers came together with other unions to Occupy Wall Street on Oct. 5. The Local 802 Executive Board voted unanimously to support the march. We received letters for and against the union's participation; see Musicians' Voice.
Photo: Bud Burridge
I'd like to start with some good news. Even as the economy struggles, Local 802 is still able to negotiate fair contracts – even some groundbreaking ones.
First, we are delighted to announce that we achieved a first agreement with the Winter Jazzfest. You can read the details of this campaign on page 14 of this issue, but let me just say how proud I am of the musicians who led this effort. This is our most substantial jazz festival agreement yet. It is also our first agreement that covers a unique genre of experimental jazz and we're thrilled to welcome these members into the union. We hope this is the start of even more organizing in this area and in other genres where the union has historically not had a strong presence.
Another great jazz contract we recently clinched was our renewal agreement covering instructors at the New School. The agreement features 12.04 percent wage increases over four years, compounded. For more details, see the sidebar story on page 5.
On the theatre front, we recently concluded a successor agreement with the Manhattan Theatre Club for the Friedman Theatre and City Center Stage One and Stage Two.
Both are five-year agreements. The Stage I and II agreement calls for a 13 percent wage increase over five years and a $6.50 increase in weekly health benefits over five years.
Wages for musicians working at the Friedman Theatre will increase 8 percent over five years. Health benefits will increase to a base of $173.46 per week in the first year and will increase $4 per week over the life of the contract.
In addition, the Manhattan Theatre Club has signed on to an electronic media agreement that mirrors the Broadway Media Agreement for the subscription period for the Friedman Theatre.
It will pay the weekly Broadway dollar amount for the media fee (currently $31.82 per week) instead of 2 percent of base wages, which is significantly lower during this period.
This allows for consistency in the payment for the exploitation of captured material for promotional uses in exactly the way the Broadway Media Agreement allows for.
In this way, the Manhattan Theatre Club is able to take advantage of the promotional agreement before the Broadway "bump up" occurs if a show continues to run after the subscription period has concluded.
CHALLENGES AHEAD
Now for the more challenging news. I am sorry to report that our negotiations with the New York Philharmonic Society have proven to be more difficult than anticipated.
Management's stance at the table represents to me a total lack of respect for the value of the talented musicians who are the New York Philharmonic Orchestra. We still expect the Society to be a fair bargaining partner and to negotiate an agreement that recognizes that it is the musicians of the orchestra who bring value to the New York Philharmonic.
Nevertheless, the Executive Board has unanimously approved the request by the committee to hold a strike authorization vote.
The orchestra met and decided that if things do not begin to progress positively, it needed to empower the committee to call a strike.
This is a clear signal that the musicians are willing to go the distance in order to win the contract they deserve.
Another hard situation exists in Philadelphia. Actually, let's call it what it is: a total mess. Musicians in the Philadelphia Orchestra were recently forced to swallow a highly concessionary four-year contract with a 15 percent pay cut and a decrease of 10 chairs.
At the same time, management wants to withdraw completely from the AFM pension plan and has filed for bankruptcy.
We believe that management filed the bankruptcy ploy to relieve itself from having to live up to its pension obligations to the musicians.
However, with the orchestra actually sitting on an endowment of over $120 million, our pension plan is fighting back hard in court on behalf of the musicians. This battle is far from over.
Closer to home, we are still battling the management of the New York City Opera, trying to convince them to do the right thing and not destroy NYCO by turning it into anything other than a main stage opera company. Musicians have formed a Web site and an online petition. Please visit www.SaveNYCO.org and sign.
OUR 90th BIRTHDAY PARTY
Local 802 turns 90 this year, and we are celebrating with a gala event that will also serve as a fundraiser for the Local 802 Emergency Relief Fund, the fund that helps musicians in need. The event is Sunday, Dec. 4 from 6 to 10 p.m. at Roseland Ballroom, 239 West 52nd Street. We'll be honoring music legend and labor activist Pete Seeger, 92, who has been a member of Local 802 for 69 straight years. The event will also feature Steve Earle, Rosanne Cash, Paquito D'Rivera, Bebe Neuwirth, Nellie McKay, Elmar Oliveira and Paul Shaffer. This event will sell out! For ticketing and sponsorship information, call (212) 245-4802.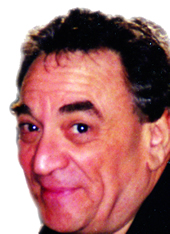 Lenny Leibowitz
GOODBYE, LENNY
I was saddened to hear of the passing of Lenny Leibowitz, 72, on Oct. 3. Lenny was a legendary negotiator and an important advocate for Local 802 musicians. He represented musicians all over the country. We are proud to have had him as our general counsel for so many years and our thoughts and prayers go to his family. Lenny graduated from Bucknell University and Brooklyn Law School. He loved his family, friends, the Yankees, music, swimming at Brighton Beach where he was a lifeguard, and fighting for the rights of working people. His clients were symphony orchestra and Broadway musicians, childcare workers, Teamsters, hospital workers, professors, doctors, film editors and even fellow lawyers.
During his career, he taught classes at Harvard, Yale, Columbia, the Kennedy Center, Baruch College, and SUNY-Binghamton. He chaired Volunteer Lawyers for the Arts and was its director emeritus.
He is survived by his daughter Tovah, son Max, and former wife Peggy. Please also see the tribute written by Harvey Mars in this issue.
ARE YOU EXPERIENCED?
Do you live near Local 802 and are you over 60? The Actors Fund is now conducting a survey of experienced entertainers living in the neighborhoods of Clinton/Hell's Kitchen and Chelsea. These neighborhoods have historically been home to people working in the performing arts.
With the number of people over 55 doubling in the next 20 years and Manhattan Plaza already home to over 1,000 seniors, the Actors Fund is focusing on these neighborhoods to better understand the changing needs of older performing arts professionals.
The survey will be conducted from now through December. The findings will help provide a better understanding of needs, identify gaps in services and help the Actors Fund organize and further develop resources and services for seniors in the entertainment and performing arts community.
Local 802 members who are over 60 and who live in the target neighborhoods should look for a postcard in the mail soon with information on how to take the survey. Or, to take the survey right now, go to www.SeniorsCommunitySurvey.org
For more information, contact Judy Rosch at (917) 281-5988 or Jrosch@ActorsFund.org.
OCCUPY WALL STREET
Local 802 Executive Board members voted unanimously to support and participate in the Occupy Wall Street Community/Labor March on Oct. 5. You'll read on page 24 of this issue that we received letters both praising and criticizing our involvement in the protest.
Whatever your political persuasion, there is one thing all members can absolutely agree on: musicians need audiences. To put it more concretely: in order for musicians to prosper, the general public has to be able to afford to buy tickets to our shows. And people can't buy tickets if the economy is depressed.
The question is how? The Occupy Wall Street protestors may all have different goals and proposed solutions, but frankly, we are not quibbling about the details. We simply want results. We want economic justice.
The New York Times put it best in a recent editorial: "It is not the job of the protesters to draft legislation. That's the job of the nation's leaders, and if they had been doing it all along there might not be a need for these marches and rallies. Because they have not, the public airing of grievances is a legitimate and important end in itself. It is also the first line of defense against a return to the Wall Street ways that plunged the nation into an economic crisis from which it has yet to emerge."
The last thing I'd like to say is that musicians are not passive people. We don't just stand idly around when we see something wrong. And there is plenty wrong in society today, with plenty of blame to go around. It just doesn't feel right to sit on the sidelines while others – including other unions – are taking to the streets, asking for economic justice. That's the side we're on.
PAYROLL SERVICE TOPS $1 MILLION
We have ramped up our promotion of the union's payroll service, Legit 802. If you're a bandleader, you should know that our payroll service makes it extremely easy to pay musicians and takes away the headache of paperwork. Our service is becoming more and more popular: we just passed the $1 million mark in gross contracts this year, which includes all the money that employers submit to the union. For more information, see our ad on page 29.
MONEY FOR GIGS?
Are you a member of Local 802 and planning a free public concert for the holidays? Have you budgeted all the costs for this concert but could use the help of a grant? The Music Performance Trust Fund is here to help. Currently the MPTF is offering 30 percent of total costs to musicians performing single engagement concerts under the public service scales and rules of the MPTF. The application process has been simplified and funds are available to members of Local 802. MPTF rules apply and all applications must be completed and submitted 30 days in advance of a concert date. Applications are subject to approval. For more information and to apply, please contact Aimee Covo at Acovo@Local802afm.org or (212) 245-4802, ext. 150.
NO INITIATION FEE
If you have any friends who haven't joined Local 802 yet for whatever reason, now is the time. We are waiving our initiation fee to any new members who join the union from now through Dec. 30. Now there's every reason to join the largest and strongest musicians' union in the world. Tell your friends and colleagues to call the Membership Department at (212) 245-4802 for more info or to join.
A FINAL NOTE
The AFM and the record labels met once again at the end of October. By the time you read this, we will have hopefully wrapped up our negotiations to improve the Sound Recording Labor Agreement. The SRLA expired in 2009 and it has been a long process but I am happy to say that we are coming very close to finishing an agreement that will address changes in the industry. More on that next time.