Theatre Roundup
Volume CX, No. 6
June, 2010
We've had a busy time Off Broadway. The Theatre Department saved union jobs at "Tony n' Tina's Wedding," visited the rehearsals of Culture Project's "This Side of Paradise" and New Group's "The Kid," and hung out at the cast album recording of the wildly successful "Bloody Bloody Andrew Jackson."
Also, Ars Nova signed a Theatrical Showcase Agreement covering the musical director for its production of "Bloodsong of Love: The Rock 'n' Roll Spaghetti Western."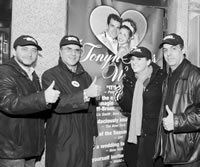 "Tony n' Tina" musicians, from left, Alden Terry, Tony Ventura, Sharon Kenny and Ray Grappone.

Photo by Walter Karling.
The wedding is back on
Earlier this spring, "Tony n' Tina's Wedding," which had been playing at Sofia's Resturant, announced that it was closing its doors. Shortly after the March 27 "closing," Local 802 began to hear rumblings about the show reopening at Sweet Caroline's.
The producers, Broadway Entertainment, began to send out e-mails to the cast about doing the job non-union. They went as far as asking the actors who are part of Actor's Equity to resign their membership in order to remain in the show!
Once Local 802 heard about this, we immediately filed unfair labor practice charges at the National Labor Relations Board.
We also began to mobilize members for a potential job action.
At the last minute, the producers agreed to maintain the contract that we fought for last November.
Tony Ventura, the bassist in the band, told Allegro that "Local 802 saved our jobs, again" and added that the "union stands up for its members."
This is the second time in seven months that Local 802 has fought to keep the job union.
Last year, the same producers tried to fire the musicians in order to use canned music.
Musicians and Local 802 fought and won a strong contract.
(We reported on the story in the December 2009 issue of Allegro.)
'Bloody Bloody' extends run
"Bloody Bloody Andrew Jackson" has been extended to June 27 at the The Public. The show recently did a recording under the Limited Pressing Agreement.
'The Kid'
New Group's "The Kid" is based on sex columnist Dan Savages's memoir about how he and his partner adopted a child through open adoption. The show ran through May 29.
Grievance won
Local 802 recently resolved a grievance at "Mr. and Mrs. Fitch," which centered around the show's orchestrations. The orchestrator won $1,500.
Two shows move to Broadway
"Scottsboro Boys" is coming to Broadway in October. The show recently finished up a run at the Vineyard Theatre and will move to the Lyceum in fall, after an eight-week run in Minneapolis.
The York Theatre Company's "Yank" will also be making its Broadway debut this fall. The show, which will be directed by David Cromer, made its first appearance at the New York Music Festival in 2005.
'This Side of Paradise'
Local 802 visited an early rehearsal of "This Side of Paradise," a show based on F. Scott Fitzgerald's first novel. The show ran from April 21 to May 23 at St. Clement's Theatre.
More info
If you have any questions about any of these agreements, please contact Claudia C. Copeland at (212) 245-4802, ext. 158.