'This Is About Respect'
What's at stake with the union's jazz campaign
Volume CIV, No. 12
December, 2009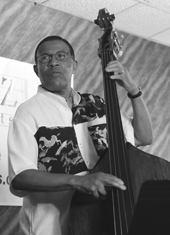 'Had the jazz community known more about pension, I'm sure that the legends – like Dizzy Gillespie, Miles Davis, Milt Jackson and Betty Carter – might have lived longer and better.'
In an open letter, bassist Bob Cranshaw spells out what's at stake with the union's jazz campaign.
Dear members and friends:
The "Justice for Jazz Artists!" campaign is for real now. It's out there. The clubs know we're serious, and they have begun to respond.
This campaign is about respect.
Respect for jazz musicians, and for the jazz community at large.
Respect for the people who play the music, and their families.
Respect for the people who manage the artists.
Respect for the people who book the artists.
Respect for the people who employ the artists.
And respect for the people who come out looking for good, live jazz every night.
We have more jazz clubs than any other city in the world. Let's recognize that it's a vital part of our culture and of our city that we love so much, and let's find ways to help those who create it.
The Justice for Jazz Artists thing is really a symbol of something greater.
By persuading the clubs to do this, we're telling them and everybody else that this kind of long-term commitment is good for jazz everywhere.
If we fail to try and establish something for the jazz community that the union has already done for other groups, it will make very little sense.
Since the campaign is largely about pension, we need to educate people about the AFM pension plan.
How do you get vested in the pension plan, and what does "vested" mean, anyway?
How can you make contributions into the plan?
What will your pension pay you when you are ready to collect?
These details are just some of the things that we need to talk about. And we need people to listen, too, and to be open.
As one of the jazz musicians who is now receiving a pension, I can honestly say that most of my pension earnings did not come through jazz engagements.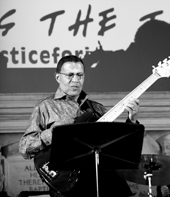 'As a local and a union, we have to be able to move forward, to attract new members by advocating for all who play live music.'
Had I been receiving contributions for all the jazz gigs that I worked since I started as a performer 50 years ago, my pension would be double what it is today!
So, for all of those reasons and others, it's important that we start now.
The sooner we start, the more pension contributions can add up. This means more money for musicians when they retire.
We will start small if necessary.
But we hope the concept will then spread to other clubs – rock clubs, funk clubs, hip hop clubs – wherever jazz musicians and other freelancers are working and where there's a cover charge.
But it's got to start somewhere.
As a local and a union, we have to be able to move forward, to attract new members by advocating for all who play live music.
And that's not an easy thing to think about, or to accomplish.
But it's absolutely necessary today for so many reasons.
Show us the money
Let's talk about the clubs themselves.
Under our proposal, the money for musicians' pension would come from money that the clubs used to pay to the state.
They paid this door tax for many years until Local 802 got it repealed.
So our pension plan should be affordable for the clubs. We found the money for them!
We're not holding anybody at gunpoint; we're not stopping anybody from making a living.
But we in the jazz field need to get out of the undertaker business.
Because that's what been going on for years – and that what's still going on today.
Jazz musicians are dying prematurely; they are living in substandard conditions, while certain people who host jazz audiences are flourishing.
Now, some would hold that that's not true.
But if you look at several of the big clubs on our list, they continue to do well and bring in audiences.
The tourists are still here, and some of the clubs charge heavy covers – $35, $40 and $50.
And meanwhile, some older, prominent jazz musicians are living in furnished rooms.
Had we jazz musicians known back then what we know now about the pension, most of our superstars would have had a nice taste of money coming to them or their spouse.
They would have had a least something on top of Social Security.
(Although, the sad truth is, many of these folks never got little if any Social Security in the first place.)
The pension we could have won might have been an extra $500 a month. Or $800. Or $1,000.
Had the jazz community known more about pension, I'm sure that the legends – like Dizzy Gillespie, Miles Davis, Milt Jackson and Betty Carter – might have lived a little bit longer and a little bit better.
Because the thing is, a jazz musician can't afford to retire – at least the rank-and-file musicians can't.
We enjoy what we do. But there comes a time when one would like to be able to say, "OK, I can put it down for now – if I want to, or if I need to."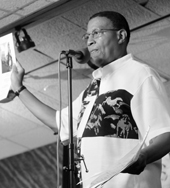 'This campaign is about respect. Respect for the people who play music, and their families.'
Is this a civil rights issue? Yes.
Is it a human rights issue? Sure.
Is it social justice? Definitely.
As Jimmy Owens says, "Let's make it real."
We're not asking for that much.
Let's sit down and talk about it with the clubs, and with the other people who employ us.
Let's talk about how we can make it better, how we can help each other.
We need dialogue; we need to articulate our plight to these folks, and to the public, who might not really know what's going on.
We need the support of the entire Local 802 membership on this – because it's not going to happen overnight.
We need the Broadway folks to come out. We need the classical folks. We need everybody.
We know that the clubs have already done some things to help jazz and jazz musicians.
But this is a piece of a larger effort to bring dignity and respect to a community that sorely needs it.
People need access to benefits.
Even today, you have jazz musicians who may not know that there are pension payments waiting for them.
Have we done a perfect job educating them about this? No, we haven't.
But that's what the Justice for Jazz Artists campaign is all about – educating people to take advantage of what's there.
And teaching the community about the need for respect for these artists that have given so much to the culture – and to this city.
It's that simple.
I thank you.