To Prez With Love: Requiem for a Celebration
Jazz Lives
Volume CVIII, No. 9
September, 2008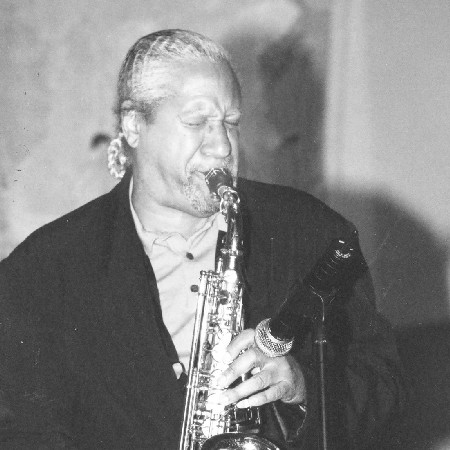 Gary Bantz (2004)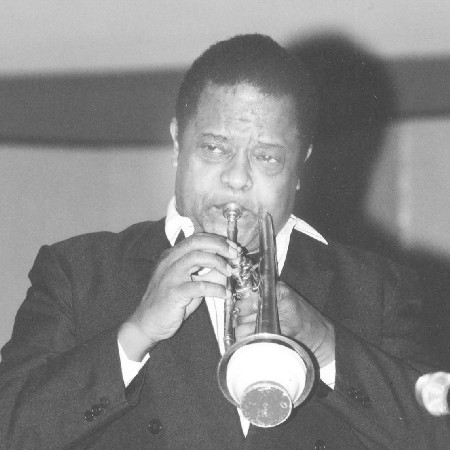 Howard Johnson (2004)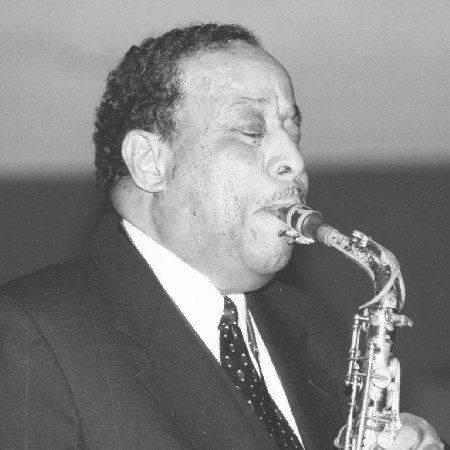 Lou Donaldson (2002)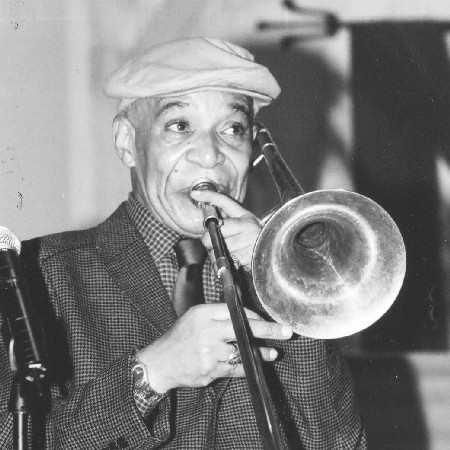 Benny Powell (2004)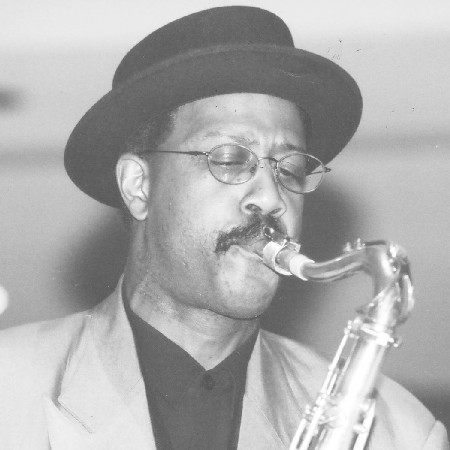 Patience Higgins (2002)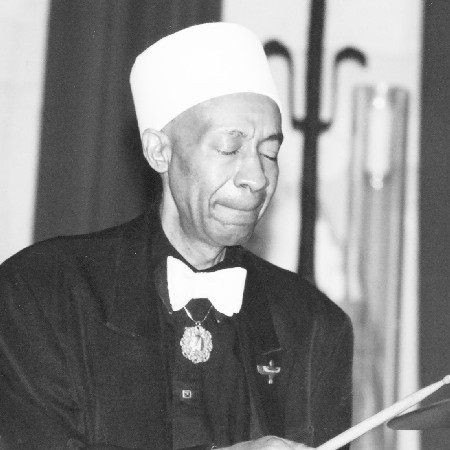 Jimmy Lovelace (2003)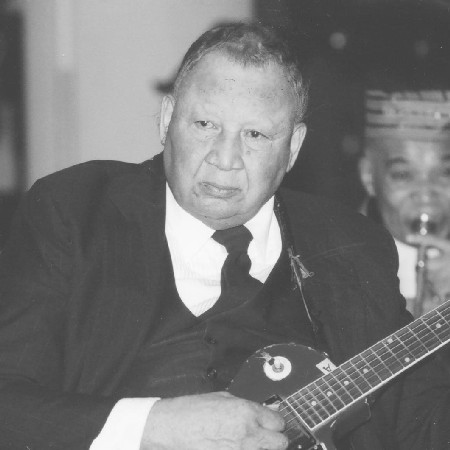 Larry Lucie (2002)
All photos © 2003 by Frederic S. Sater
Lester Young would have turned 99 on Aug. 27, so here are two questions for the Prez fans of the world:
1. Which great American city holds an annual celebration of the life and the music of tenor saxophonist Lester Young?
2. Can you give a Prez tribute without any tenor sax players?
If you answered, "New York City" to question number 1, you would now be wrong. I received a mass e-mail from Saint Peter's Jazz Ministry in February, informing everyone that they were going to "move forward" and no longer celebrate Prez each year. Apparently, though, they will still use my format and the proudly sentimental, bordering on sappy title I created; "To Prez with Love", but will honor a different jazz great each year.
If you were dumbstruck as you read question number 2, the answer is 'yes', that's what actually happened on February 24th, 2008.
The tribute this year was still called 'To Prez With Love' and was supposed to pay tribute to Billie Holiday and her timeless collaboration with Prez. John Ellis, one fine tenor player, was scheduled to play, but fell ill on the night of the event. For the first time in 25 years, there was no ethereal obbligato work behind a vocalist, no 2-tenor madness, no awe-inspiring jam sessions stretching on way past closing time with legions of tenor players, varied instrumentalists and vocalists, all chomping at their bits to play some choruses for Prez, no big bands or Kansas City Six/Seven groups, rambling recollections full of warmth, humor and innuendo delivered by those precious few who knew and played with Prez, no illuminating jazz lectures by Phil Schaap and saddest of all; very little meeting and mingling, back-slapping, laughter and tears backstage in Saint Peter's Living Room as jazz musicians, friends and family came together and really felt like a community. The great Sarah McLawler reminisced about her association with Prez, but was not invited to play or sing. Even the bright warmth and sinuous brilliance of Sheila Jordan's tribute to Prez and Lady, with the golden notes of Jimmy Owens' trumpet couldn't quite dispel the chilly draft in the sanctuary that night….
Call me crazy, but I confess that I'm a hopeless Elder Jazz Statesmen groupie….Even as a young person, when I spent five years living in Ireland, one friend recently reminded me that I was usually to be found sitting around the fire with a group of elders, listening to their stories and songs. I have a great passion for elders and their incredible contribution to world culture. Honoring our elderly jazz musicians lets them know that their lives' work is appreciated and will live on.
I moved to New York City in the mid-80's, from my home state of California after living in Europe for 9 nine years and started looking for singing gigs. I came because New York was the jazz capital of the world. I went to Saint Peter's Church hoping to get a gig, and waited to meet the legendary Pastor Gensel. The receptionist was a tall, light-complexioned, well-dressed gentleman named Ozzie. Pastor Gensel passed by the desk and Ozzie raised his eyebrows and stage-whispered to me, "He's my real father!" Strangely prophetic, I later came to understand that enigmatic statement, as Pastor Gensel became my 'real' father, too; as he was to so many others! After waiting around for ages, I finally got my audience with Pastor Gensel and told him I was a jazz singer. We chatted and he asked me what kind of songs I sang. I had just written a lyric to a Lester Young composition called Blue Lester and added some original music in the form of a verse. When I told him that, his face lit up. Unbeknownst to me, John Garcia Gensel had been a good friend of Prez and had been by his side through his last, sad days at the Alvin Hotel. He then told me that I simply 'must come and sing at the Annual Lester Young Memorial Celebration' which was coming up soon, in March (always held near the day of Prez' passing; March 15th.) I was speechless with wonder and felt that providence must have led me there that day! How did a girl from California stumble into a church in New York City that held an annual tribute to Lester Young?
On the afternoon of the tribute, I showed up and Pastor Gensel introduced me to drummer Willie Jones, who had played with Prez and started this annual celebration. I was spellbound as I listened to an incredible array of stories and recollections and the music of Prez; delivered by a fascinating assortment of people that included Willie Jones, Jamil Nasser, Papa Jo Jones, Phil Schaap, Connie Crothers, Scobie Strohman, Benny Powell, Loren Schoenberg, Abbey Lincoln, Dick Katz, Hank Jones, Lenny Popkin and many others. The audience, too, was no less fascinating. The event went on for hours and the musicians whom I had brought to play with me, all had to leave for other gigs. By the time I was called up to sing, I had no band, so I sang my lyrics to Prez' Blue Lester, a capella (a medium-tempo minor swing blues with a bridge). After I finished, I received the greatest compliment of my life. As I was walking back to my seat, someone whispered to me "As you sang, Max was tapping his foot!" I looked over to where my friend was pointing, and there sat the great Max Roach.
The drummer, educator and activist Willie Jones passed away in 1993 and I asked Pastor Gensel who was going to organize the Lester Young Memorial Celebration now? (I'm known for being the perfect naïve 'straight man'). Imagine my shock, when Pastor Gensel said, "You are!" He was famous for assigning 'jobs' to people, in such a charming way, that no one ever could refuse him. Since I had begun to help Willie Jones out a little, to get the event organized, (once Willie pointed a long finger at me and said, "You have to make sure that this continues, because you're the youngest one here!") I wondered 'how hard could it be?' I also figured there would be people who would help out. Somehow we got something together that year to keep it going. In 1996 Pastor Gensel was getting ready to retire and confided to me that he feared for the survival of the Jazz Ministry that he had created. He told me that "it cost the church too much money and didn't bring in enough." I was horrified to imagine life for the jazz community in New York without The Jazz Ministry! I tried to think of ways that I could help, but I could barely eke out a living for my son and myself as it was, and my talents never seemed to go in the direction of making money.
That's when I got the idea to create a second annual fund-raiser for the Jazz Ministry, in addition to the wonderful All-Nite Soul. Why not charge admission for The Lester Young Memorial Celebration and stir up lots of publicity and give it a catchy name? I came up with my title; 'To Prez with Love'. I envisioned it becoming a world-renown event with all kinds of great players and pictured the sanctuary over-flowing with fans and musicians and I could hear the many stories, music, even artwork, poetry, dance and ? The possibilities were endless….and all inspired by Lester Young! What a gas! All funds would go towards insuring the survival of The Jazz Ministry.
I discovered Lester Young amongst the many, many tenor players and musicians of all kinds that I heard and loved. But Prez' sound jumped out at me…..strange, because it wasn't louder or flashier or more hard-driving than others……..it sounded like "it came from another planet" as Sonny Rollins said in Ken Burns' wonderful series 'Jazz' on PBS. It hit me deep in the soul like a gloved sledge hammer, it killed me softly, sounded other-worldly but embodied so much feeling and truth…….not to mention swing! Prez' music sounded so much more modern than his contemporaries; even though, like most people my age, I heard Coltrane, Miles and Bird before I really got turned on to Prez. But since I heard a lot of swing players, it seemed like he was the first to erase the bar lines . His floating tone and use of negative space in his solos made them architectural masterpieces. His rhythmic and harmonic concepts were way ahead of his time. To my ears, he is the direct ancestral link from which bebop and modern jazz concepts sprung.
I was extremely fortunate to grow up in a musical family in Los Angeles. I'm actually a genuine 'Valley Girl' but don't hold that against me. Many others came from the San Fernando Valley, including Ravi Coltrane and Ted Nash; not bad company! Between hearing my dad and mom sing and perform great standards, and my brother the bass player, always 'honing my ear' by ordering me to "listen to the bass line on this" or" sing the trombone line on that" the soundtrack of my childhood was filled with Basie, Ellington, Lunceford, Erskine Hawkins, Dizzy, Tito Puente, Frank Sinatra, Sarah, Ella, Delta Blues lots of folk and world music, and so much more……Many musicians came through our home, hung out, stayed over. My parents often sang to us and we sang and made music together as a family.
Until I was a young adult, I thought that Nature Boy was my personal lullaby that my dad had made up, just for me. Around 1980 I had a magical chance encounter with Eden Ahbez, the composer, and found out that my dad hadn't written it! I actually told Mr. Ahbez that story and he laughed and replied "Maybe I did write it for you, my dear!"…..the old flirt…..but that's another story…..
When I moved to New York in the mid-80's, it was a veritable treasure trove of great musicians! I had the great good fortune to meet Papa Jo, Eddie Durham, Buddy Tate, Philly Joe, Sammy Price, Claude 'Fiddler' Williams, Buck Clayton, Dicky Wells, Roy Eldridge, Milt Hinton, so many others…… I got to sit in with Eddie Barefield and often had donuts and coffee with Big Nick Nicholas. I met Art Taylor at Saint Peter's; he gave me "Notes and Tones" and we became friends and started corresponding regularly, sharing our thoughts and dreams…..and that time I phoned my friend Phil Schaap and Earl Warren answered the phone! I wound up chatting with 'Smiley' for ages and getting to meet up with him later, at the church, of course. Saint Peter's Jazz Ministry in Manhattan seemed to be the crossroads of it all.
The Prez celebration seemed to bring people together; kind of like a ritual gathering to praise the ancestors. Gary Giddins even affectionately referred to the event as a séance. Honoring Prez every year, was in no way staking a claim that he was the only jazz great worth honoring. Yet Prez represents many things to many people and those that knew him and played with him are proud to share their stories. He was an innovator of language and fashion……He symbolizes, for some, the lone "drummer", listening without compromise, to his inner voice…..his sound was so different; even costing him gig opportunities, as with Fletcher Henderson. Prez came up in a time when the preferred style of tenor playing was exciting in a hard-blowing and insistently robust way, yet Prez dared to let other feelings show through his tone; fragility, tenderness, sadness, fear, irony, humour.
Tales of the days when so many jazz giants walked the earth are so important to pass onto the younger generations. It's also very meaningful to re-tell and share these stories with those who were there because it lets them know that they were important witnesses and we are validating their contribution at the same time. Honoring our ancestors and their hard-earned wisdom, is an essential ritual to the survival of a culture and gives great hope to young people whose journeys are just beginning.
Many jazz musicians, their families, friends and fans came together through Pastor Gensel's Jazz Ministry at Saint Peter's Church. There were always people hanging around who needed something from him; a gig, a hug, a joke, a few dollars, some advice…. Duke Ellington dubbed him "The Shepherd Who Watches over the Night Flock." Whether it was a jazz memorial, a vespers or concert, or just popping in to help Pastor Gensel with a little chore or get his advice on something (any excuse to be around him) or visiting Pastor Dale Lind and sharing a laugh, I always felt a thrill each time I was there. Sometimes a grateful little teardrop came to my eyes, that I was part of a community.
Some memory snapshots from musicians and jazz lovers;
"My fav moment: The late Doc Cheatham duetting w/Jon Faddis. What a couple o' generations!"
–Arnold Jay Smith, New Jersey City University, The OctJAZZarians on www.jazz.com
"As someone who performed at the Prez Tribute for six or seven years, I got to hang, and meet many legendary musicians and had the opportunity to perform with several of them. Cats and kitties came to perform, gratis…the vibe was unique, backstage as well as in the audience….something that seems to be escaping the music scene. Moving forward?…hmmm…."
–Giacomo Gates (2008)
"Jerome Richardson descending the sanctuary steps, playing "Warm Valley" a cappella, on soprano sax….."
–Eve Zanni (1996)
"My group was up and Dick Katz kept comping the intro as late-arriving Billy Smith walked onstage. He saw Bubba Brooks; they embraced and it seemed that time stood still. I found out later that Billy and Bubba had grown up across the street from one another in North Carolina and hadn't seen each other since then."
–Eve Zanni (1999)
"Roy Eldridge stepped up to the microphone to talk about the early years. He was trying to get across to us how much those after-hours jam sessions meant to them. He reminisced about being with Prez and Jo Jones in Kansas City. They were working different gigs. When their gigs were through, and it was time to go to the jam session, he said, 'We RAN to the car! 'He paused and said it again, 'We RAN to the car!' Roy said that Prez' playing changed because Prez was the first one among all the jazz musicians to spot the change in jazz, and the unhappiness that caused him showed in his sound."
–Connie Crothers (circa 1986)
Deepest thanks to some of the many luminaries who came out to celebrate Prez and support The Jazz Ministry;
Annette A. Aguilar, Claude Atkins, Alvin Atkinson,Jr., Isaac Ben Ayala, Danny Banks, The Nancie Banks Orchestra, Bootsie Barnes, Gary Bartz, Tootsie Bean, Dr.Aaron Bell and his singers, Eddie Bert, Walter Bishop, Jr., Ron Blake, Dan Block, Bill Branch, Rolando Briceno; his Afro-Venezuelan Ensemble and Saxophone Quintet, Bernice Brooks, Bubba Brooks, Ernest Bryant, Richard Burnside, Don Byron, Judy Carmichael, Doc Cheatham, James Chirillo, Mike Christensen, Gil Coggins, Joe Cohn, Jimmy Cozier, Chip Crawford, Connie Crothers, Paquito D'Rivera, Dr.Douglas Daniels, Harold Danko, Alec Dankworth, Glenda Davenport, Charles Davis, Sweet Papa Lou Donaldson, Aaron Diehl, Al Dreares, Manny Duran, Bill Easley, John Eckert, Roy Eldridge, John Faddis, Morris Fant, Aaron Ferber, Ken Filiano, Tommy Flanagan, Michael Fleming, Chris Flory, Vernel Fournier, Percy France, Frank Gant, Johnny Gary, Leonard Gaskin, Giacomo Gates, Steve Getz, Dave Gibson, Gary Giddens, Sammy Gilford, Ira Gitler, John Gordon, Lee Greene, Al Grey, Mark Griffiths, Archie Hall, Tardo Hammer, Paula Hampton, The Harlem Blues and Jazz Band, Mike Hashim, Jimmy Heath, Connie Henry, Frank Hewitt, Patience Higgins, Bertha Hope, Stan Hope, Diane Hubka, Al Husband, Dennis Irwin, Ali Jackson, Jane Jarvis, Jack Jeffers and his New York Classics, Howard Johnson, Hank Jones, Tony Kadleck, Dick Katz, Dave Kikowski, Howard Kimbro, Bob Kindred, Reverend Joe Knight, Paul Knopf, Lee Konitz, Ralph LaLama, Rudy Lawless, Doug Lawrence, John Lewis, Mike Longo, Mark Lopeman, Joe Lovano, Jimmy Lovelace, Calvin Lynch, Harold Mabern, Boots Maleson, Junior Mance, Roger Mancuso, Earl May, Bill Mays , Barney McAll, Mike McClennan, John McCuthceon, Don McIntosh, Sarah McLawler, John Menegan, Helen Merrill, Melvin Miles, John Miller, Bob Millikan, Dan Morgenstern, Jimmy Morton, Bob Mover, Ted Nash, Jamil Nasser, Big Nick Nicholas, John Ore, Harold Ousley, Doris Parker, Ray Passman, Cecil Payne, Don Payne, Sammy Price, Bobby Pring, Lewis Porter, Benny Powell, Carline Ray, Jerome Richardson, Larry Ridley, Craig Rivers, Teri Roiger, Ari Roland, Jay Rodriguez with The Latin Prez Project, Rachim Ausur Sahu, Randy Sandke, Bill Saxton, Phil Schaap, Loren Schoenberg, Ed Schuller, Tad Shull, Judi Silvano, Nate Simpkins, Norman Simmons, Melissa Slocum, Billy Smith, Henri Smith, Sonelius Smith, Victor Sprouls, Irvin Stokes, Keisha St.Joan, Scobie Strohman, Ted "Mohawk" Sturgis, The Sweethots, Carol Sudhalter, Dick Sudhalter, Richard Tabnik, Buddy Tate, Mark Taylor, Dr. Billy Taylor, Joe Temperley, Leon Thomas, Gary Valente, Junior Vega, Abdul Wahab, Murray Wall, Clevin Washington, Laurel Watson, John Webber, Rocky White, James Williams, Rafik Williamson, Spike Wilner, Jo Lee Wilson, Steve Wilson, Britt Woodman, Richard Wyands, Webster Young, Dr. Lester Young, Jr., Mary and Yvette, Fred Zabin
(If I've left anyone out; sincerest apologies, and please contact this publication, so we can correct the omission – Eve Zanni)
Eve Zanni is a jazz vocalist, educator, and member of Local 802. She can be reached at SirenaEve@yahoo.com.