Top of His Game
David Finck's musical journey is still taking him in new directions
Volume 118, No. 1
January, 2018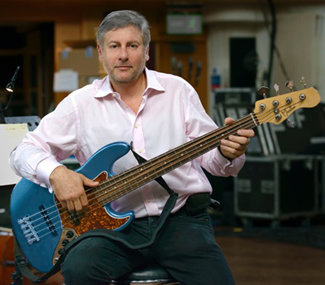 Music can only be described with words, but for David Finck, a member of Local 802 since 1981, music is a language all its own. "I hear music as a spoken language," he says. "When I listen, I'm conscious of the breaths that are taken during a phrase; I hear the vocabulary, the inflection, and the syntax. I listen for all of it." It's a statement that makes sense given Finck's skills as a bassist, producer, arranger and songwriter. Finck has played and recorded with Dizzy Gillespie, Aretha Franklin, Sinead O'Connor, Natalie Cole, Rod Stewart, Herbie Hancock, Al Jarreau, Tony Bennett, Paquito D'Rivera, George Michael, Rosemary Clooney, André Previn and many others. "Growing up I studied classical music," remembers Finck, "but I'm of the generation of the Beatles – and Earth, Wind & Fire – and James Brown and Tower of Power and Frank Sinatra and Count Basie. My parents loved Stan Getz and Antonio Carlos Jobim. They had a great record collection that included everything from Miles Davis and Oscar Peterson to Bernstein conducting "Tristan." Local 802's Bob Pawlo recently got some time with Finck to catch and up and hear about his musical journey.
Bob Pawlo: How did your incredible journey in music begin?
David Finck: It began as I was growing up in the suburbs of Philadelphia. Every day there was music in my house; either the "Sunday with Sinatra" show or a classical music station. My parents were both amateur musicians. My father played guitar and a little bass. My mother played clarinet. And it was my father who actually encouraged me to play the bass. I think he wanted a bass player around the house to play with (laughs). And so, when I was around nine or ten when they were giving out instruments in elementary school, I grabbed the bass. It was a one-quarter size bass, a smaller instrument. I took to it and eventually began studying privately with a couple of members of the Philadelphia Orchestra through middle school and high school. I then studied with Lou Kosma, who ultimately became one of the bassists for the MET Opera Orchestra. When I was in high school I played in a couple of bands. One was called Lonely at the Top, a kind of a folk group. One of my fellow band members was the future movie star Kevin Bacon. After high school, I attended Eastman School of Music. There I majored in classical bass. At the time, Eastman only offered jazz degrees to graduate students. But I always participated in the jazz program. I played in one of the Eastman big bands and started doing jobs in and around Rochester.
Bob Pawlo: What was your first big break?
David Finck: I graduated from Eastman in 1980 and immediately went on the road with Woody Herman and His Thundering Herd. It was special to have a chance to work with a legend like Woody. He was a great guy. He once said to me, "You know, David, I'm a shitty clarinet player. But I'm a good organizer." We played dances, parties, Elks Clubs, jazz festivals, high school auditoriums. We traveled on a very uncomfortable bus. Finally, I wanted to move to New York. I told the road manager, Bill Byrne, that I wanted to leave, and he said, "Well, you have to talk to Woody," which I kind of dreaded. I went up to him at the front of the bus, and I told him, "Woody, it's time for me to leave. I want to move to New York."
Woody said to me, "You're not ready for New York!"
I said, "Well, I'm not really cut out for the bus life."
He snapped back at me, "Yeah, try it for 40 goddamn years!" He made me very uncomfortable. But later he became supportive and even hired me again. Once when he had a gig at the St. Regis, Woody asked me to sub for the legendary bass player George Duvivier.
Bob Pawlo: What was your musical life like when you moved to NYC?
David Finck: I lived in a three-story walkup on East 75th and lugged my bass and amp up and down the stairs. When I moved here, I called everyone I knew. Pretty early on I started working with Jim Pugh, a wonderful trombonist. Later I played in Marvin Stamm's band. I slowly got to meet a lot of musicians. You take every job, your name gets around, and pretty soon you're working a bit.
Bob Pawlo: What were some of your first recordings?
David Finck: In the early 1980s, I started to work with the jazz pianist Steve Kuhn, and over the next 20 years, we recorded for a bunch of different labels. We did several for Concord with various drummers, like Lewis Nash, Billy Drummond, and I think one with Al Foster. We did a couple of records for ECM with Joey Baron. I was in Liza Minelli's band for a while. I worked a great deal with Rosemary Clooney, who was a favorite of mine; a wonderful singer and a great person. We did some jobs where we shared the bill with Joe Williams. And later I did some jobs with Joe. He was a great guy. He could swing super hard. He was really fun to play for.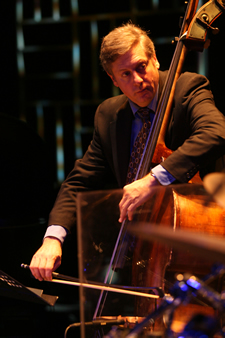 Bob Pawlo: How did you adapt to so many different bands?
David Finck: Every time you play with different drummers, you have to find the zone – where they hit that cymbal and where things are going to feel best. Do they play a little behind or ahead or down the middle. And some players are not flexible, so I have to be flexible. Sometimes I feel like they're really waiting for me to delineate certain aspects of the music. So I do it. You have to be confident as a bass player. Harmonically speaking, most of what we play is functional harmony from the Bach chorales that we had to study in music school. That guy wrote the best bass lines! And essentially, we use them and his rules of voice leading. I've come to realize there really are a limited number of ways to delineate the chord changes while still being functional for the other musicians. For example, take a ii-V-I. There are not endless choices that deliver the information in a way that allows the rest of the band to rely on you. I mean, you can play any notes you want, but the reality is, you're performing a function, and so, knowing what that function is and where you can go in any given musical situation is very important. And in different musical settings, there is different freedom and there is also limitation. In the late 1980s I was asked to join Paquito D'Rivera's band. In that band was pianist Danilo Perez, drummer Mark Walker and trumpeter Claudio Roditi. Those guys gave me a lot of information. They were very helpful. Paquito would come over to me and sing a traditional cha cha cha bass line into my ear. I'd play it until I got it, and then he'd walk away. Roditi did the same with the Brazilian stuff. By the time I left Paquito's band, I had some pretty good skills in the Latin jazz department. But now when I listen to some of the records I did with him, I say to myself, "Geez, I can't play that stuff like that anymore!" I've forgotten a lot of the language. And I would have to say, some of the most fun that I ever had was playing in Paquito's band. We played great music, and we laughed constantly, and I got to play with some fantastic musicians, like Freddie Hubbard, Giovanni Hildalgo, Tete Monteleu, a great singer from Brazil named Leny Andrade, and many others. It was just great. There are also the great bass players from whom I've stolen. I've stolen tons from Ron Carter – in a flattering way. His lines are fantastic. I always felt with great bass players like Ron Carter, Ray Brown, or Paul Chambers, every note of the bass line has intention and leads somewhere.
Bob Pawlo: Let's talk about your practice routine.
David Finck: The main thing is I try to practice with the bow, because the bow reveals bad intonation immediately. It's just like I've heard a lot of drummers say, and I would say it as well, that the metronome is the great equalizer. You think you're playing with good time, turn that thing on, and then you go, holy smoke, I'm way ahead of this click track.
Bob Pawlo: You're also a songwriter. How did you get into that art?
David Finck: I love songs. I think that the craft of mixing poetic language and musical language in a balanced way is really a special thing, and I've always admired it. And a lot of my love for songwriting came from my experience of listening to great singers. When you hear someone like Nat Cole or Frank Sinatra sing a standard and perfectly maintain the balance between the words and the music and the accompaniment, you really start to treasure all of it – the singing and the writing. And that's kind of what piqued my interest. I haven't written a ton of songs, but I really enjoy the process of writing them. I have a pretty good understanding of melody and harmony. I don't pretend to be Richard Rodgers or Oscar Hammerstein, but I think I do understand the power of musical and poetic language. I really admire songwriters like Marilyn and Alan Bergman in combination with Dave Grusin and Johnny Mandel or Johnny Mercer with Harold Arlen. You begin to realize what these people know. The word attached to a long note has a vowel sound at the end. A shorter one might have consonant sounds. You know, it's not just that you slap some words onto a melody. There is tremendous understanding and craft involved.
Bob Pawlo: And how did you get into music production?
David Finck: It is very closely related. I have produced two of my own CDs and I've produced a number of records for Tom Wopat, one for a great singer named Christy Baron and a couple for a great guitarist named John Basile. I recently finished a project with a singer named Vanessa Racci who recorded some Italian songs. I produced three recordings for a jazz singer named Carol Fredette. I definitely apply what I know and love about songs to my work in production. In some ways it becomes almost like being a movie director. Many instrumentalists have habits of starting their phrases the same way every time. Or they may tend to improvise always in the same register of their instrument. And with singers: you have to really listen to help the singer to communicate. They may not realize that they're breathing mid-syllable or that they haven't really thought about what's the high point of the song. Or what's the song really saying. If it's not a happy song, you shouldn't be singing it at a polka tempo. You know, whatever that stuff is. There are many things to be aware of. And I try to stay aware of those things even if I'm just the bassist on a gig. I remember I was doing a job with Michael Feinstein, and he had some guest vocalists, and one of them sang a phrase with the lyrics "the shadow of your smile,"
but he breathed in the middle of the word "shadow."  Michael looked at me, and I looked at him, and that was it. We couldn't look at each other for the rest of the song, because we were going to start laughing. If you listen to singers, especially pop singers of today, most of them give no thought to the sentence structure. And many of them hold the notes as long as they can. For example, they might sing the example above: "thuuuuuuh shadow of your smile." "The" is not the important word in that phrase. Often they are so focused on the sounds of their own voices that they never think, "Gee, that's not English; I shouldn't be singing it that way."
Bob Pawlo: Speaking of singers, I know you toured with George Michael. What was that like?
David Finck: Superb singer. In 1999 I played on a record with George called "Songs From the Last Century." George sang a bunch of standards and pop songs. He just sang the hell out of these tunes. He sang beautifully in tune. He had great rhythm. And so, I don't know, God, it must have been 12 years later, he decided to do a tour that would feature some of this material, along with some of his Wham! hits. I was called to be the bass player on the tour. We recorded a DVD and a CD, and did two extensive tours of Europe with full orchestra. It was really a lot of fun. George Michael delivered big time every night. He was a great singer. It was my first experience playing in front of 20,000 screaming fans in a soccer stadium. It was wild. Every night, I learned something from him. He was a wonderful guy. It was really sad that he passed away. I know he had his demons, but he was a gentleman and a fantastic artist.
Bob Pawlo: Could you share with our readers your experience of working with André  Previn.
David Finck: André Previn is one of the great musicians of our time. It was endlessly educational. He's a great guy. Very smart. He knows everything about everything. You name it. He's like a Renaissance man. We did three duo records, and then I did a couple of records with him and an opera singer named Sylvia McNair. We went to Japan for a week with Kiri Te Kanawa and Natalie Cole. We did some concerts in London, in Germany, and a couple things around the states as well as appearances at the Blue Note and the Jazz Standard. Stupendous musician. Unbelievable.
Bob Pawlo: Tell us about Frank Sinatra.
David Finck: In 1991, I was invited by Gary Giddins to participate in a special edition of the Village Voice about Frank Sinatra. I wrote an article about Frank Sinatra and jazz. It was published and eventually led to my participation in a symposium at Hofstra University about the legacy of Frank Sinatra, which then led to my writing a chapter in a book about Frank Sinatra called "Frank Sinatra: The Man, The Music, The Legend," which was published about ten years ago, maybe a little more. Frank Sinatra was in my opinion actually one of the greatest jazz musicians I ever heard, and I'm a huge fan. He's another person from whom we can learn an awful lot. Bob Berg, the great tenor player, was a big Sinatra fan. Bob played with Miles Davis, and he said that Miles played "I Thought About You" exactly the way Frank sang the melody. I remember when I was interviewing people for my Village Voice article, I talked to Mickey Wiseman, who was married to Frank's manager. She said she went to Carnegie Hall to hear Frank. She went up to the bar to get a drink and there was Miles Davis. She went up to Miles, and said something like, "What are you doing here? Are you a fan of Frank?" and he said, "I got a lot of shit from Frank." (laughter)
Bob Pawlo: How has the music world changed, in your experience?
David Finck: Sadly, I think that the musical bar has been lowered in many ways, and a lot of it has to do with the fact that anyone can make a recording without having any musical skills. You don't have to know voice leading, orchestration, history. You don't have to know how to notate anything. You don't have to understand harmony at all. Frankly, you don't even have to understand the English language. It seems that now you have to understand how to program sounds and drum beats and understand mixing and looping. All of that – you have to know it. And now success in this business is measured by how many hits you have on social media. I'd love to be able to say you really need to study harmony and orchestration, but not much of today's music is reflecting that. People just don't respect it anymore. The last great Broadway show I played was called "City of Angels"…Billy Byers did the orchestration. Byers knew everything. It isn't by accident that he wrote for Sinatra and Basie and Quincy Jones. He knew how to make every chord ring out. He could write great rhythmic figures. He had depth and humor. Then you jump forward, you know, 20 years or 25 years, and you go into the pit of a show, and you see that the orchestrator was a rehearsal pianist, and doesn't understand the range of the trumpet or the function of the bass, and even worse, he doesn't care to find out. You end up spending hours trying make his stuff sound better, and theoretically, you shouldn't. I shouldn't have to sit there and explain to the guy that that two-octave leap ain't gonna happen in fast eighth notes on an acoustic bass. Or that you're way below the register of a piccolo. I mean, it's ridiculous. If you're going to be in that part of the business, then you should study.
Bob Pawlo: What's been the importance of the union in your experience?
David Finck: I've felt strongly about labor unions in general. Unfortunately, we live in a society of greedy people, and if we didn't have unions to protect workers, there would still be children working in sweatshops losing fingers and legs. We have to always remember that. The fact that the AFM and Local 802 offers us protection is an important thing. No individual player should have to stand up and say, "Hey, we've been here for three hours. You have to pay us more if you want to go longer." Any musician knows what it's like when a producer or bandleader says, "Oh, can you stay another ten minutes and finish this?" You wouldn't ask that of a construction worker or longshoreman or truck driver. They would say, "Yeah, I'll stay 15 minutes; now you owe me overtime." A friend once told me a story. He was singing in a rehearsal of Beethoven's Ninth. He told me that at 4 p.m. on the dot, the entire orchestra got up and left, even though the piece was just in the middle. He told me, "That's not right." I said, "It is right. What's not right is when somebody says, "Let's finish the piece, and then you can leave." Without offering to pay you. When you do that 50 times, that's a lot of hours of your life doing what you do for a living and not getting paid for it. Every time you pick up your instrument, you deserve to be paid.
I always go out of my way, especially when I'm producing a record, to file union contracts. I always ask the artist to credit Local 802 and the AFM somewhere in the credits. I feel that people don't do that enough. I really wish that people would verbally thank the musicians more often. When I watch the Grammys and someone gets an award, they thank Jesus. They thank their manager. They thank their mom. They thank God. They thank their cousin. They never say thanks to the great musicians who were able to breathe life into the notes on the page. I think it's important, and people don't understand. They buy a CD or watch a YouTube clip and they say, "Oh, I love this song; this is great and the artist is great," and they don't understand the process that went into making that hit record. People need to know that we are here.
David Finck's web site is www.davidfinck.net. His latest recording "Low Standards" (Soundbrush) was filed with Local 802 and features several musicians mentioned in this article.