Tribute to Jerry Bruno by Russ Kassoff
Volume 120, No. 7
July, 2020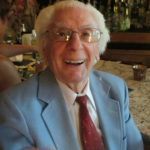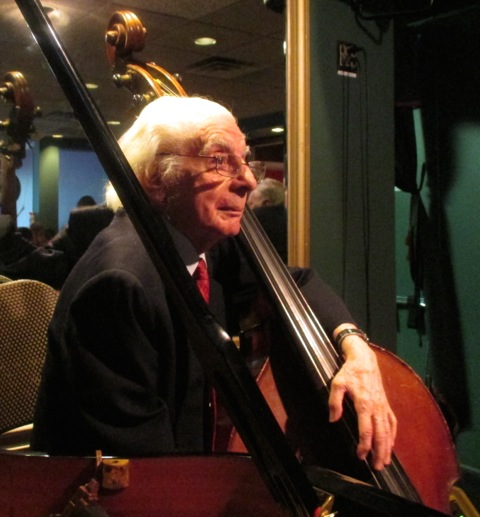 Jerry Bruno, 100, died on June 22, 2020. He had been a member of Local 802 since 1951. Below is a tribute by fellow member Russ Kassoff…

A tribute to Jerry Bruno
Jerry Bruno (real name Frank) is now a historical figure. All throughout his 100 years if you were lucky enough to encounter him you were met with a heart of gold, acceptance, side splitting stories and no worries. His manner encompassed everything in life – love, music, a moral center of goodness and the biggest heart in the world. He was also an unbelievable chef and baker! Musicians strive to be one with every note they play on whatever instrument they are playing. Jerry achieved that all of his life. For Jerry playing music was an extension of his physical being. Straight ahead – and all the right notes!
Born in Rochester NY on January 10, 1920, growing up he was surrounded by music. Music was an integral part in the lives of every member of the family. What was the music of the 1920's? For the Bruno's it was Rudy Vallee, Art Tatum, Bing Crosby, Al Jolson, Fats Waller, Earl Hines and even Teddy Wilson was in the house. He was actually in the house! A frequent guest of the family in the 1970's as he did many gigs in Rochester with brother Al.
The travels and travails of Jerry Bruno could fill a set of encyclopedia. He was everywhere and his experience was your experience. As a child his eldest brother Santos bought a piano and there wasn't enough money to provide for lessons for Jerry. All the playing brothers learned piano, guitar, banjo and ultimately bass which became Jerry's main choice as he grew to be in the class of elites in the music business. His brother Al is still going strong playing a steady gig on bass up in Rochester at 95 years young!
Jerry enlisted in the Army 404th Artillery and served from February 1942 to November 1945. During that period of time he gave up his assignment as the driver for his Colonel Boyle to join the 77th Division band. He knew Eddie Zandy who played trumpet in Ina Ray Hutton's band. He called that the biggest mistake of his life. They were assigned KP and didn't see their instruments for over 2 years. Jerry was transferred to the Pacific – Guam, Leyte, then Okinawa, Sapporo and lastly Hokkaido during the occupation at which time they finally got their instruments back. Common to most if not all veterans of war, it was difficult to speak of those unimaginable experiences and yet Jerry got home not missing a beat.
His first gig was with Louis Prima in Rochester who needed a bass player. The union called Jerry for the gig! Members of that band included NY icons Morty Lewis on sax, Moe Wexler on piano and Jimmy Vincent on drums. Immediately after he joined a band in Chicago led by pianist Joe "Coon" Sanders and like all musical groups the magic of Bruno had its effect. When he got the call to join Louis Prima's touring band Joe Sanders cried at the thought of Jerry leaving. Big time Bruno magic began. He toured with Louis Prima and Keely Smith until 1947 when his fortunes took yet another great turn. Playing Prima's last gig at the Capitol Hotel in NYC and also staying there, on the elevator Jerry ran into Nick DeMaio who told him Vaughn Monroe – playing in the Carnival ballroom needed a bass player. They asked him to sit in, he packed his suitcase and got on the bus for almost six years. It was here that he met his life's best friend the great Don Costa, as well as another lifetime friend – Bucky Pizzarelli. Marion Evans was also an arranger for this band and the three of them had many years of enduring friendship and musical experiences. While on tour with Vaughn Monroe they bussed to Chicago to record "Ghost Riders in the Sky." We had 4 acoustic guitars play Ghost Riders at Jerry's 99 3/4 birthday bash at Maureen's Jazz Cellar graciously hosted by David Budway and Brianne Higgins in November 2019. It was an unbelievable outpouring of music, love and sharing to honor Jerry. Bassist Jay Leonhart saved the day by singing it as he recalled it from his youth! During his time with Vaughn Monroe Jerry got his pilot's license and often piloted Vaughn and select other members of the band from gig to gig.
After Vaughn's band the three amigos all lived on W 45th St. in midtown NYC in the same building until about 1957. During these times the big hang was at Charlie's Tavern on 7th Ave and 52nd Street where all the great musicians on the scene would congregate all the way into the late 60's give or take a move or two by the establishment. There was so much work, so much promise, the music business was flourishing. No one would have ever thought that one day it would all end. Jerry's next road band was a brief stint with the Tommy Dorsey band in the early 50's.
During the 50's and into the 60's Jerry did a ton of free lance work. All of Don Costa's recording sessions in NY including record dates with Steve and Eydie, 2 fabulous albums with Mimi Hines in '66 & '67 which he always considered amongst his favorites, early Paul Anka dates, Vic Damone, Kenny Rankin, Johnny Mathis & Barbra Streisand. Bucky Pizzarelli and Al Caiola were on many of those dates as well. Jerry also played club dates, jazz gigs, and rarely had a night off during these hey days of the NYC music business.
As if that didn't keep him busy – from '57 to '67 Jerry and wife Ilion owned and cooked in a legendary restaurant in Sparkill, NY called Bruno's Inn. Folks who often stopped by included Don Costa, Eydie Gorme, Nick Perito, Joe & Carmel Malin, Bucky Pizzarelli, Dick Hyman, Bobby Rosengarden, Moe Wexler, Tony Bennett, Al Caiola, Rudy Van Gelder and many others. The house pianist was Guy Wood. Two albums were produced in the restaurant by Costa and Perito. Nancy Sinatra & husband Tommy Sands, along with Frank Junior were there during the biggest blizzard they ever had. Six feet of snow and they all slept on the floor. After about 10 years of doing gigs and running the restaurant he was asked by Eydie and Don Costa to go on the road with them. That was it! Back on the road. Show biz Bruno!
For the rest of his life (the next 35 years!) a partial list of performers Jerry worked with include Lester Lanin's society band in the early 70's (performing for Queen Elizabeth), Gigs at the White house for 3 different presidents, Peter Duchin society dates as well as Jerry Kravat – a month in Monaco, countless recordings at Jim Czak's Nola Recording Studio in the Steinway Hall building as well as recordings throughout his entire later life, Tony Corbiscello's Big Band, The Dick Meldonian / Sonny Igoe big band for 30 years starting in 1988, contractor and bassist for Carmel Quinn, Dr. Charles Kelman, producer for Mary Burke's wonderful album, many regular club gigs with John Cutrone and Carmen Leggio, and so many more – like everyone!
During these years and for his entire professional life he relished and was proud to take many young musicians starting out under his wing and recommend them for perfect situations that would jumpstart their careers including: Yours truly, James Chirillo, Jack Cavari, Mike Ponella, Tony Tedesco, Ray Kennedy and countless others. Often when the moment on stage became improvisatory, he would be the go to guy to ask "what are the changes" and he had the answers. He was immeasurably proud in later years to have lovingly helped so many people who encountered him and were deserving.
Jerry did a lot of extensive world wide touring with the cream of the crop. The main tours and gigs he did starting in 1972:
Liza – '72-'77 – U.S. and European tours – incredible fun and wonderful memories including Live At The Wintergarden in NYC
Joey Heatherton – '77-'78 – Production shows and Joey became a personal friend of the family
Steve Lawrence & Eydie Gorme – Several CDs with Don Costa, lots of touring from '67 through the 70's.
Member of the Bucky Pizzarelli trio at the Pierre and Plaza "82'-'85  Including gigs with Benny Goodman!
Many Classic Jazz Festivals & Jazz Parties… Odessa, Tx and Sarasota / Clearwater Jazz Festivals,
and of course nothing better then recording with and playing concerts for Frank Sinatra.
Jerry started touring with Sinatra in '79 – Huntsville Virginia. From then until '87 lots of appearances, concerts, Carnegie Hall, Radio City Music Hall, and classic Sinatra recordings
including Cycles (1968) all the way through to Trilogy (1979) and She Shot Me Down (1981)
THERE wasn't a date that people didn't love him – shining light – smiles, get down to the business and then laugh and eat!
In researching this piece I found an infinite supply of love, smiles and laughs – too much to put down in one article.
In summary I restate that he took an incredible amount of pride in taking young musicians under his wing to get them started on successful careers as if they were his own children.
As a self-taught musician he learned to be one with the music. Every note he played came from every fiber of his being.
He always kept a cool, accepting demeanor and embraced the musical task at hand.
His loving niece Gail was an absolute angel taking care of Jerry in his final years. We had several birthday celebrations attended by a huge cross section of friends and family – for his 99th, 99 3/4, 100th and his final gig with me on his 25th Leap night – Feb 29, 2020 at the Division Street Grill in Peekskill NY.
An active musical great like Jerry always cherished having the next gig, the next musical experience. It kept him going for his last several years. Unfortunately the pandemic shut down our live music world and kept him home in his last months.
Born in Rochester – the son of – Rose (Rosa) – Dad (Nicola) ON 1/10/1920 Jerry had 4 brothers and one sister – Santo, Sam, Joseph – all deceased.
Survived by Jerry's sister – Dolly Ciccariello (98 years old!), Alfred Bruno – brother (95 years old)
Niece is Gail Vento, Nephew is Sam Bruno and many nieces and nephews.
For me, I will always treasure the memory of his smile when we just played tunes in his apartment. Often after him showing me a new (old) chord, and sometimes vice versa. Every single time we visited and played at his home which was quite often in the last year, and after all the gigs we did as duos or trios in the final years I got that phone call the next day to thank me. My response to that is – thank you Jerry Bruno – always remembered and forever in our hearts.
There is only one like you. – RUSS KASSOFF
COMMENTS
"I am so glad that I stayed with my Uncle Jerry at the beginning of this year for a month and I spent Christmas with him too. Although it was difficult for me to grasp that his health was failing, we still had laughs together recalling times when I would come from Rochester to visit with him and Ilion. He was the best and I will miss him forever. Cheers Uncle Jer…I love you." – Gail Ciccariello Vento
"I have Jerry Bruno to thank for single -handedly jumpstarting my musical career in NYC. I met Jerry in 1979 when he came to Boston to do a date with Carmel Quinn. I had been recommended to him by guitarist Don Alessi, and we seemed to hit it off. I told Jerry that I was moving to New York in a couple of months. He said "Great, call me when you get to town. I'll help you out". "Sure", I said, thinking to myself that everyone says the same thing, but no one comes through. I get to town and call Jerry. He tells me to meet him at the union on the floor of the Roosevelt Ballroom where musicians congregated every Wednesday, in hopes of getting work. He brings me upstairs to the 802 offices where I have to fill out my transfer application and wait six months before I can get my union card, as was the rule in those days. Joe Malin, a pretty big contractor at the time, happened to be there. Jerry introduces me to Joe and tells him how I just got here and I'm in the process of joining this local. Joe says " Give me your application and wait here." He goes into the executive board meeting with my papers, and in a few minutes, comes out and says,"Ok kid, you're in."
"That's great. I just have to wait six months and then I can get my card, right?"I asked. "No" Joe says, "just pay at the window and you start TODAY"! "Wow, Jerry Bruno knows some pretty powerful people", I thought to myself!
It didn't stop there. Jerry introduced me to everyone who he thought could help me. Because of him, I began working almost immediately, and that truly put me on my way to beIng able to make a living here in the city. I'll never forget all that he did for me." – Tony Tedesco
"Jerry's joy in playing music was infectious. His heart was as big as his talent, with space for all of us. A darling man, loved by all who knew him." – Terry Blaine
"Jerry was a great musician and colleague, a terrific story teller and the subject of some of the funniest and most wonderful stories in the business. He made everyone smile, on and off the band stand." – Bruce Bonvissuto
"One of the most beautiful things about creating Maureen's Jazz Cellar is getting to meet and bringing together the most talented and caring people. We feel blessed that Jerry brought his spirit and talent to our humble venue, and will always feel grateful to have celebrated his 100th birthday party at our establishment.  He will be missed by all who crossed his path. Sending love always." – David Budway
"It was always a pleasure to play with Jerry, especially when we opened the new Stork Club, back in the 70's. He made the gig easier with all his stories. One day he came to the house, for me to maybe make him an upright bass case in leather. Isaid, "Jerry, it will weigh a ton!." He said: "Right, I'm too old for that sh-t." That was 20 years ago. – Ed Caccavale
"How fortunate was I to meet Jerry at his 80th birthday party through Bucky Pizzarelli. We became close friends and played numerous gigs the past 20 years. What a very special man, To know him was to love him.
I will miss him & love him always" – Judimarie Canterino
"I'm saddened by Bruno's (affectionately) passing but always amazed at his talent, professional relationships, memory, loyalty, cooking skills and great stories spanning 100 years. I owe him much gratitude for recommending and trusting me in my early years and for teaching me how to cook Spaghetti Carbonara at 2 in the morning! Jerry and Bucky are probably jamming already." With love, Jack Cavari
"Just. WONDERFUL Friend to Cheryl & I, but most of all, a Fantastic Musician!!!" – Gil Chimes
"I can honestly say, and without exaggeration that when I first moved to NY, if it wasn't for Jerry Bruno, I would have starved. Sitting next to him for two weeks in the late 70s in Dallas playing Joey Heatherton's show, he was very supportive, telling me to give him a call if I moved to NY, and his recommendations literally kept the wolf from my door." – James Chirillo
"It was my very good fortune to get to know Jerry on a variety of gigs back in the early 60s. He was a magnificent bass player, a man of great integrity – both musically and in the way he conducted his life – and always displayed an impressive sense of humor (occasionally irreverent, I might add). I loved being his friend, and will find solace in the richness of countless, treasured memories. Thanks, Jerry, for all of them! Now rest peacefully." – Ray Cohen
"I got to know Jerry and his brother Sam (also a bassist) through my friend Manny Albam. Jerry and Sam had a bar in Piermont, NY, not far from Manny's house in South Nyack. When I would visit Manny, we always went down to the Bruno bar to hang out a little. Jerry remained a great friend over the years. He was sweet and kind, a good musician, and a fine man". – Bill Crow
"In the fall of 1973 I was on tour playing for Liza along with Jerry Bruno. The two of us decided to go to a steakhouse because we were in Kansas City (known for it's steak) and thought that would be the ideal place to get a great steak. It turned out to be the worst steak either of us had ever eaten. It was frozen. Some 45 or so years later, I mentioned it to Jerry and of course he remembered and we had a good laugh over it.
I did a trio gig with Jerry and Ray Cohen at the St. Moritz hotel. Ray was playing one of his typical 10,000 tunes. It was something obscure and when we came to the bridge he turned to Jerry to tell him where it was going. With eyes widened Jerry looked at him in astonishment. Ray stammered "oh, I'm sorry, I forgot you were playing bass."
And finally, a few years ago Ann Marie and I walked into a party. Jerry was there and we went over to say hello. As Jerry and I hugged, the first thing he said to me was "Wow, Ann Marie looks great". Even though he was in his late 90's, he never lost his appreciation for beautiful women. Jerry was always a joy to be with…his humor…his joy for life…his extraordinary musical talent. I will miss him. RIP Jerry!" – Don DeMarco
"I've known "Brun" for so long and have had so many experiences with him I don't know what to say.
I first met Jerry and Bucky in 1948 when they were with Vaughn Monroe. We have been lifelong friends ever since.
I'm sorry I haven't been able to participate in some of your many events for him but many thanks for all you have done. RIP." – Marion Evans
"Jerry, you have been the wind beneath all of our wings. I am eternally grateful. Love you forever." – Roberta Fabiano
"The day I met Jerry, so very many years ago, it was as though he'd known me for decades. He was such a warm man, soft-spoken, non-judgmental, and of course welcoming. He made everyone his equal though musically some of us weren't. I will miss his snowy white hair and his wry sense of humor forever. Thanks Jerry for sharing you time on earth with us." – Frank Fighera
"Jerry Bruno was an un-stump-able musician. One of the greats! Three summers ago I was on a weekend afternoon job in Connecticut. A woman of 103 years came in with her caretaker. She had brunch and danced a bit to the music. This was something she did almost every weekend. The leader told me that Jerry had done the job the previous weekend (he was 98). When the woman arrived, Jerry leaned over and whispered in his ear: "Find out if she likes younger men". Jerry will be missed." – David Finck
"I used to play in the Meldonian/Igoe Band on Monday nights. Jerry would always come in and say: "Hi Kid" even though I was 50 something." – Gary Haberman
"We will all miss him. He must have had the goal of reaching 100, and he did exactly that! We congratulate him even as we mourn his passing." – Dick Hyman
"Jerry Bruno was the bassist on so many of the iconic pop songs of my youth such as Goin' Out of My Head with Little Anthony and the Imperials!
Lovely man, and he schlepped that bass to gigs, almost to the end." – Madeline Iacona
"It was always such a pleasure to see that Jerry was in the Bass chair when we showed for a job. Not only was he a wonderful and knowledgeable musician but also a kind and gentle soul. I was always intrigued by Jerry's career in music, and he would share his stories about his record dates and recording days with me. He remembered all the musicians that were on the dates and shared some great stories. He used to tell me that the musicians in the 1960's were so busy recording – that in order NOT to get bored doing 2 and 3 jingles a day – the guys would pick up 3 club dates on the weekend (last minute) just to see some different faces and play some different music. What a time that must have been!" – Richie Iacona
"Nobody could make the F word funnier than Jerry Bruno. I called him in January to wish him a happy 100. I asked him if he received a call from the POTUS. His reply: "Yeah , he told me to f*** off!" – Ken Levinsky
"I didn't get to play with Jerry very much because we traveled in different musical circles. I heard so many great stories about him over the years that I felt like I knew him well.
It was such an honor to get to play with him over the last few years. I couldn't believe the love, groove, musicality, passion, strength, dedication, focus and youthful spirit he had. What an inspiration!
I wish we had more time together." – Ray Marchica
"Jerry was just the same wonderful, supportive, warm, funny person, and humble lover of music and bass player every time I was around him, listening, talking or playing together. I'm so very glad I got to know and play with him." – Paul Meyers
"He could play the right notes in 2 and had a great sense of humor. My favorite: "I've been in this business now 70 years and I'm starting to get fed up." – John Mosca
"Dear Jerry, I am so lucky to know you and was able to play with you!!! You always dressed super sharp and enjoyed our meals with charming conversations. You taught me how to make others comfortable on and off the band stand. Thank you Jerry!" – Tomoko Ohno
"Jerry was a one in a row man. They don't grow guys like that very often." – Warren Odze
"Funny …serious bassist…caring….Responsible for Ray Kennedy joining John Pizzarelli starting a successful trio that enjoyed many years of success. Jerry had my back…I adored and love. RIP" – Martin Pizzarelli
"On my fiftieth birthday, I held my own birthday party and during my speech to thank people I announced my engagement – people gasped and were mumbling its about time! Then I said "to Jerry Bruno" and people roared – and I said I'm finally going to see Rome on our honeymoon – and Jerry yelled out Rome, New York!! Jerry was the absolute best – he'll always be my favorite husband" – ❤️ – Mary Pizzarelli
"I met Jerry in 1984 rehearsing with the Sonny Igoe/Dick Meldonian Big Band. He was the main reason I moved into 2 Horizon Road, Fort Lee, after I saw his co-op there. It was best for practicing musicians: One foot thick concrete walls, floors, and ceilings. Great soundproofing! There, Jerry enabled me to make an incredible connection. My father had worked as an NBC TV Camerman for the Perry Como Show. I have a photo in my home of my father in that studio standing next to Perry Como, and his musical director, Nick Perito. Shortly before Nick passed away I finally got to meet him in Jerry's apartment! At Horizon House, the doormen had a nick name for him, Phil Rizzuto. Apparently Jerry was going to a gig somewhere, maybe the Plaza Hotel and someone called out to him Hello Phil Rizzuto! When Jerry finally convinced the person he was not Phil Rizzuto, he added, "I wish I had his money."He will certainly be missed." – Mike Ponella
"Everyone knows about Jerry"s legendary career; working with the who's who in the music business…but he wqs a sweetheart of a man and truly "one of a kind"…..I'm sure he's enjoying his new journey…keep swinging' Jerry…" – Mike Renzi
"I really loved Jerry Bruno. I was in a movie called "The Brotherhood" with Kirk Douglas. There was a scene with a couple of wise guys eating in an Italian restaurant. They called each other Torido. Whenever we saw each other that was the nick name we called each other. Hey Torido! Hey Torido!. He was on the bandstand with Bobby Rosengarden. Jerry looks at Bobby and he makes a hand gesture towards him. Jerry says: "what does that mean? Louder?" Bobby says: "No, better!" There was a jazz gig in Yonkers. I called Jerry to come play the gig and gave him the time to be there. When I got there it was early and there was Jerry already there wearing a jacket and tie, drinking red wine with a beautiful woman at his table. I said "what's happening?" Jerry: "She's having my baby!" – Vinny Riccitelli
"Jerry has been a dear friend to Morty and myself since mid 60's. A joy to be with on and off the stage." – Annette Sanders
"I played with, laughed with and commiserated with Jerry Bruno many times. A great player and human being. It was a privilege to be friends and players together. We will all miss him." – Marc Shane
"I consider myself wildly lucky to have met Jerry just after I'd turned 17 years. He was for me, a glowing example of how perfect a Jazz musician can be. His playing was a masterclass in quiet brilliance. And he showed me that you can be serious about your work without taking yourself too seriously." – Aaron Weinstein