Trumpet Makers On Strike
Volume CVII, No. 4
April, 2007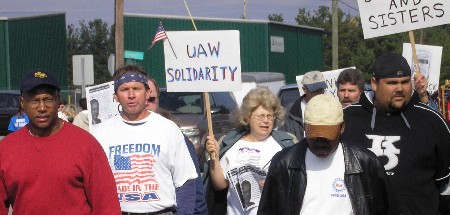 Workers at the Bach trumpet plant in Elkhart, Indiana picket for a fair contract. Photo by Carl O'Haver.
BOYCOTT!
Local 802's Executive Board voted to support a boycott of Bach trumpets while the workers are out on strike. (The Chicago and Las Vegas AFM locals have passed similar resolutions.)
Members who wish to go further can decide whether or not they want to boycott all of the brands owned by Bach's parent company, Steinway. (NOTE: Steinway piano makers are covered by a union contract and therefore we are not boycotting Steinway pianos.)
Steinway's other brands are: Vincent Bach brass; C.G. Conn brass; Selmer woodwinds; King brass; Armstrong woodwinds; Ludwig and Musser percussion; Glaesel strings; Scherl & Roth strings; William Lewis & Son strings; Emerson flutes; Benge brass; Artley woodwinds; Leblanc, Holton, Noblet and Vito band instruments; Yanagisawa saxophones; Martin trombones and trumpets.
Here's a bedtime story for musicians that might make your skin crawl. Most of us grew up playing in high school bands and orchestras where the names Vincent Bach, G.C. Conn and Selmer were household names, even if we didn't play brass instruments ourselves.
Fast forward to the present. Bach, Conn and Selmer have all been consolidated by one corporate owner: Steinway, the famous piano maker. And dozens of other brass and string brands are also owned by Steinway.
The reason this is a nightmare is that workers who make Vincent Bach trumpets have been on strike in Elkhart, Indiana for 12 months. It's a strike that not many New York City musicians may know about, but it's hit these workers hard.
The company wants to slash pay and benefits by more than $8 an hour.
In addition, the employer wants to cut the pension plan, reduce health benefits, take holiday pay away, add mandatory overtime and add more shifts.
To workers at the plant, this doesn't sound like bargaining. It sounds like union busting.
Since the strike, the company has hired scabs to do the work. Striking workers claim that productivity in the plant has gone down by 90 percent and that the horns produced by scabs are inferior. "We really feel bad for the musicians that depended on our instruments," Don Wagner, a tool and die worker on strike from the plant, told Allegro.
Wagner added, "This company will pay out whatever it takes to bust the union and to get rid of us older employees. Myself, I'm 62 years old. We were always making real good profits out of our facility, but the CEO's say they want more, more, more to pad their pockets. We weren't asking for anything in our contract except what we had worked all these years for, but they came across with something so bad they knew we couldn't accept it. Their contract would have taken us back at least 10 years."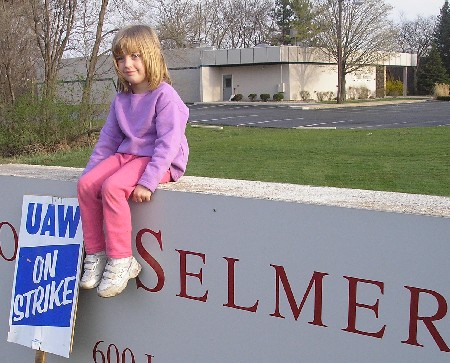 Christa, the granddaughter of a striking worker, takes a break from picket duty. Photo by Carl O'Haver.
The 230 striking workers are all represented by UAW Local 364.
"They want to break us," local president Jerry Stayton told the UAW's magazine Solidarity. The company "is one of the most profitable band instrument producers in the world and the company got greedy. We went in just trying to preserve our rights and maintain our benefits."
Earl Presley, the workers' chief steward, told Allegro that Steinway "put bad management in there that didn't understand the process or people." Presley added that the company has not really been bargaining: "It's just dictating, not negotiating." He's worked there for 26 years.
"My job right before the strike was running a machine that made mouthpieces," Deneen Seigler, a striking worker and union member, told Allegro. "We are on strike because we can not accept what the company is willing to give us. This is a company that had a $115 million profit the year before the strike. New York musicians can help our strike by boycotting all Steinway instruments."
Steinway — the ultimate owner of the plant — has threatened to move its production overseas, which it already has done with many of its brands.
Seigler added, "Steinway has always threatened to move our work out. They have outsourced for years. We have seen how the quality has suffered. We have had to fix the horns that come from overseas before any of them would play." Seigler has worked for the company for 12 years; her husband, for 26.
"This is my plea to all musicians: stop playing our instruments," Kent Hilliard, a 16-year veteran of the plant, told Allegro. "Let's all pull together and put the biggest dents in these corporate thieves' pockets that we can. We have a lot of skilled people that have spent many hours on all instruments being played today — myself included. Show us that you care for what we have done for you." Hilliard buffed saxophones, ran drill presses and performed other jobs at the plant.
The workers have set up their own Web site at www.ConnSelmerStrike.com
HOW TO HELP
Striking Bach workers could use your financial help. There are two ways to give:
Make out a check to the UAW Region 3 Strike Fund and mail it to UAW Region 3 Assistant Director Larry Moffatt, 5850 Fortune Circle West, Indianapolis, IN 46241. Write "For Local 364 strikers" in the memo line of the check.
Some of the workers have set up an independent food bank. Make out a check to "Food 4 Strikers" and mail to 58558 Ardmore Drive, Elkhart, IN 46517.