Undead Festival goes union
Volume 112, No. 6
June, 2012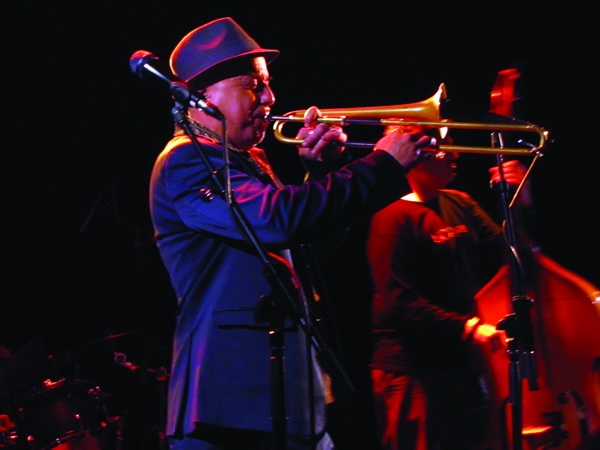 Performing at the Undead Festival under a union contract are Steven Bernstein (trumpet), Kenny Wollesen (drums) and Tony Scherr (bass)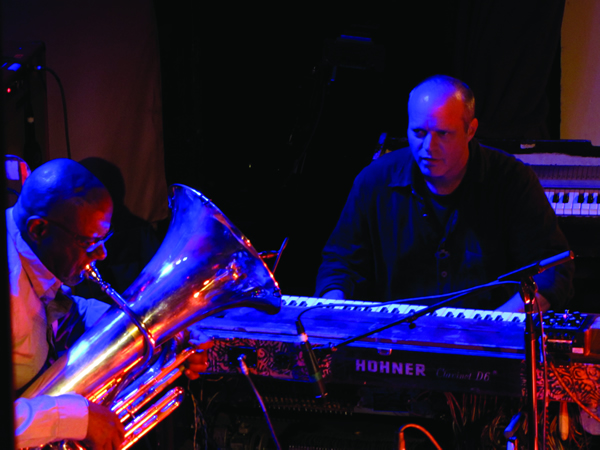 At right, John Medeski (keyboard) and Bob Stewart (tuba). Musicians enjoyed guaranteed wages and recording protection for the first time at the festival.
Musicians performing at the Undead Music Festival won a union contract this year, enjoying guaranteed wages and recording protections for the first time ever.
"Jazz and improvising musicians in NYC can rest assured that Local 802 is on the case in trying to get decent wages for them at festivals and beyond," trumpeter Graham Haynes told Allegro.
Now in its third year, the Undead Music Festival (formerly known as the Undead Jazzfest) is the summer companion to the Winter Jazzfest, which was brought under a union contract last fall after a musician-led petition campaign brought the festival's promoters to the table in good faith negotiations. (See http://bit.ly/WinterJazzfest for our previous coverage.)
The producers of both festivals are Adam Schatz and Brice Rosenbloom.
"Adam and Brice worked with the musicians' representatives to make sure that the festival would be fair and user-friendly for everyone involved," guitarist Marc Ribot told Allegro.
Singer Jen Shyu agrees. She credits "the passion and cooperation among the musicians' committee members, Adam, Brice and Local 802 for raising the standard for the artists in the Undead Festival."
And drummer Jim Black, one of the musicians on the negotiating committee describes the festival as "a young communal phoenix rising from the ashes of last decade's avant club scene," and adds that "it's a very positive and necessary action that the festival guarantees all musicians will be paid [fairly] for their performances."
Each night of this year's Undead festival had a distinct theme.
The first night was a multi-venue affair including one stage devoted to a reunion of musicians that played at the now-defunct Lower East Side venue Tonic.
The second night featured the renowned trio Medeski Martin & Wood with numerous special guests joining over several sets at the Brooklyn Masonic Temple.
Night three was a "D.I.Y." night, promoting various artist-run and underground venues all over New York and in various other cities around the US and even internationally.
Finally, the last night of the festival was an all-improv "round robin" where musicians cycled on and off the stage to improvise in solo and duo settings.
With this festival behind us, Local 802 and the musicians' committee prepare to negotiate terms for next year's Winter Jazzfest.
"We look forward to continuing to work with the Winter Jazzfest and Undead Music festivals to ensure that musicians are treated fairly," said Recording Vice President John O'Connor.
If you are a musician involved in either festival and want to know more about your rights under the new union agreements, contact Shane Gasteyer at (212) 245-4802, ext. 143 or Sgasteyer@Local802afm.org. If you play creative music (avant garde, etc.) or if you play in any NYC jazz festival, we'd love to hear from you. Our long-term goal is to increase the wages and working conditions of this community of musicians.