Union Joins Coalition Against the War
Volume CVII, No. 9
September, 2007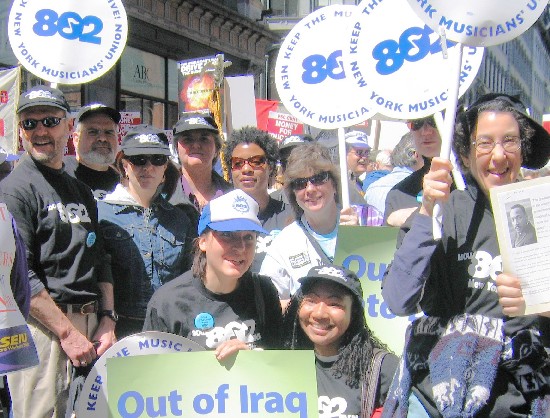 NO WAR! Local 802 members protested the Iraq War last year. This year marked the fourth anniversary of the invasion. Photo by Joy Portugal.
Peace now! Local 802 recently became the 160th union to affiliate with U.S. Labor Against the War, a national organization of organized labor opposed to the Iraq war.
"We are very happy that Local 802 has the wisdom and sense to come out publicly against the war in Iraq," Local 802 signatory Jan Horowitz told Allegro. "We all demonstrated against the invasion and we object to the disastrous follow-up and occupation. We would not wish to see our countrymen and women die in this ill-conceived venture. Thank you for taking this stand."
802 member Ricky Sebastian agrees. "I've been opposed against the Iraq war from the beginning," Sebastian told Allegro. "In hindsight, I'm not surprised that Bush and his administration did this. As a result, they have alienated America from the rest of the world. This has had a direct effect on the musical touring industry to foreign countries: concert promoters are scared to book U.S. groups because of anti-American sentiment, regardless of the people's love of jazz."
U.S. Labor Against the War calls for:
A just foreign policy that will bring genuine security and prosperity to working people.
An end to U.S. occupation of foreign countries, replaced by the reconstruction of war-devastated nations with the full support of the international community and the full participation and decision-making power of affected peoples.
Redirecting the nation's resources from inflated military spending to meeting the needs of working families for health care, education, a clean environment, housing and a decent standard of living based on principles of equality and democracy.
Supporting our troops and their families by bringing the troops home now, by not recklessly putting them in harm's way and by providing decent compensation, veterans' benefits and domestic policies administered without discrimination that prioritize the needs of working people who make up the bulk of the military.
Protecting workers' rights, civil rights, civil liberties and the rights of immigrants by promoting democracy, not subverting it.
Solidarity with workers and their organizations around the world who are struggling for their own labor and human rights, and with those in the U.S. who want U.S. foreign and domestic policies to reflect our nation's highest ideals.
"The Iraq and Afghanistan wars are promoting genocide against our Middle Eastern brothers and sisters and their children," Local 802 member Hank Nowak told Allegro. "On the U.S. Labor Against the War Web site, one can learn why it is especially important for American unions to join in the effort to stop this American shameful slaughter and destruction."
"When it becomes as clear as it is to most Americans that the war was a horrible mistake, the only counterweight to the power of the corporations that continue to profit from it is organized groups of people with some power of their own," said 802 member Pat Hackbarth. "Unions, especially when they join together, are one of the few opportunities for us to wield this power."
For more information, see www.USLaborAgainstWar.org.