Union, Yes! Workers at Avatar Studios Stand Together
Volume 115, No. 11
November, 2015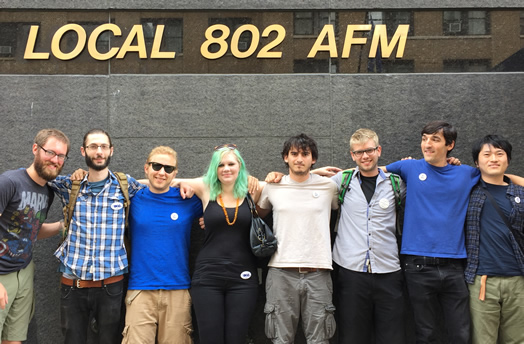 Recently, we workers at Avatar Studios successfully completed an organizing campaign to gain union representation with Local 802. Months of deliberations on our part and meetings with members of the union's Organizing Department (including Maggie Russell-Brown, Shane Gasteyer, Sarah Koshar and Recording Vice President John O'Connor) culminated in a representation election conducted by the NLRB. The result was an overwhelming majority vote in favor of unionization.
There were several events which led to our decision to seek unionization, but primarily it was the feeling – going back several years – that there was an imbalance in the way our interests were represented in the organizational structure of the company. We felt it necessary to stand together as a staff to demand the dignity and respect we have earned as highly skilled professionals who are essential to the success of our client's recording sessions and the success of the studio as a business. Every member of the staff at Avatar dedicates their lives to the studio and makes substantial sacrifices, both financially and personally, to work at such a storied institution and to maintain the standards of excellence that clients expect from the studio. After weighing all our options, we felt that our concerns would be best addressed within the framework of a negotiated contract and with the support of our friends in Local 802.
Our bargaining unit consists of the 12 assistant engineers, maintenance technicians and production assistants employed by Avatar. While it may seem small, by modern standards this is actually a large staff for a recording studio. However, for a facility with as many recording spaces as Avatar, each member is absolutely indispensable. For those unfamiliar with the structure of a studio staff, the following will serve as a brief summary of what we do to make the recording process as seamless as possible.
Assistant engineers are assigned to each recording session and are responsible for all aspects of running a session from a technical standpoint. This includes: setting up microphones, headphones, gear and the recording console; operating the recording software or tape machines; keeping "take notes" and other vital information; troubleshooting technical issues; and, among other duties, ensuring that musicians have everything they need to focus on their performance. Assistants need to have a full grasp of every detail in a session, have intimate knowledge of the ins and outs of each room and console, be capable of accomplishing the duties of an engineer, and be able to anticipate the needs of the clients, the recording engineer, the producer and the musicians. They are the first to arrive in the morning and the last to leave at night. Often the entire success or failure of a session hinges on the ability of an assistant to execute his or her responsibilities quickly, efficiently and with a supreme attention to detail.
Maintenance technicians are responsible for keeping all studio equipment fully functional. This includes two Neve and two SSL consoles, the digital and analog tape multitrack recorders, several computer systems, microphones, outboard gear and vintage plate reverbs, and more. They provide solutions for various technical needs and possess the problem-solving skills to troubleshoot any technical issue that may arise. Techs have a highly specialized knowledge of a wide range of recording equipment, the ability to diagnose problems with that equipment, and make repairs. Not only do they have a firm grasp of electrical engineering and circuit theory concepts, but they also understand the musical and artistic side of recording equipment and techniques.
Production assistants are a step below assistant engineers and are hired onto the staff after displaying promise as interns. They handle a wide variety of the day-to-day tasks that keep the studio functioning efficiently. In addition to their set of prescribed duties, they must also be prepared to address client needs at a moment's notice. They are responsible for directing our paid interns, managing our tape lockers, keeping inventories of microphones and gear, stocking studios with supplies, fetching equipment for sessions, and aiding assistants with setup and breakdown, in addition to countless other tasks. PAs must be well versed in the recording arts and train in their free time to become assistant engineers.
Given that we are not primarily working musicians, the natural question is: why did we approach Local 802 to represent us? First and foremost, we know and regularly work with many musicians who are members of 802, which has lent us a degree of familiarity and respect for the union and its members. We share a common passion for music, and in fact, the majority of us are musicians who have degrees in music performance and sound engineering. Because of this, it seemed natural to us to be represented as musicians, as opposed to stagehands or electrical workers. In addition, the reputation of Local 802 as a very democratic union was appealing. It is essential to us that our voices be heard in shaping our contract and determining what unionization will look like for the company. We owe a deep debt of gratitude to Local 802's officers and staff – John, Maggie, Shane and Sarah – and everyone else for their dedication and generous support for our cause, and we are more than thrilled to be joining this vibrant and talented community of professional musicians.
Unfortunately, we were met with terrible news shortly after our union election victory. As many in the New York music community have heard, Avatar Studios is now up for sale. We learned that the owners had been planning all along to sell the business and the building. (This was apparently in the works for many months prior to our unionization efforts.) The owners have prioritized finding buyers who will maintain the building as a recording studio, but the potential loss of Avatar would be a devastating blow to New York.
The studio is a historic and unique set of acoustic spaces that is of great value to the recording community, as well as the entire music community in New York. It is a storehouse of knowledge, an institution that passes on recording expertise that is born from decades of experience to generation after generation of staff. The New York way of working that has been established at studios like Avatar is needed for maintaining the high level of execution expected of a professional recording session in this city. We need recording opportunities in NYC for large ensembles, and the large recording spaces at Avatar are some of last in the world that can accommodate Broadway cast albums, film and TV scoring, big bands, or any of the other musicians who have come to rely on the unique services of studios like Avatar. Especially important for our music community is the need for studios of this caliber to exist here in NYC in order to prevent outsourcing to other cities and other countries. Studios like this are an essential component of the vibrant music scene unique to New York.
It is our hope that the current owners will follow through on their intention to find a buyer that will breathe new life into an already thriving studio. We hope to be a part of that new life; we are a highly dedicated staff with specific knowledge of this unique recording studio that would be invaluable to any new owner. It is incredibly important to us to provide the same high level of service that the musicians of Local 802 have come to expect from their experience at Avatar, and to work with the help of the union in continuing to be an asset to the music community of New York.
In solidarity,
The workers of Avatar Studios