Vanguard Jazz Orchestra Renews Contract
Volume 119, No. 3
March, 2019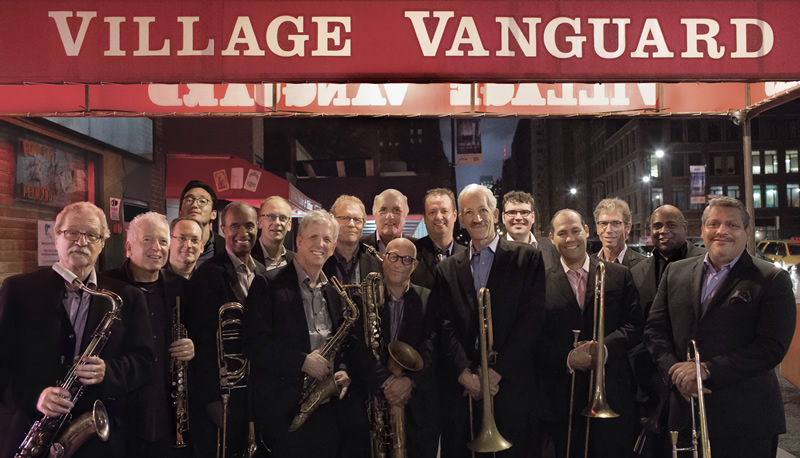 The Vanguard Jazz Orchestra, which has maintained a Monday night residency at the storied Village Vanguard since 1966, recently ratified an agreement, extending its CBA with Local 802 through the end of 2019. The band, which has its own 501(c)3, Sixteen as One Music, Inc., has worked under contract with Local 802 since 2004.
The Village Vanguard has been open at its present location since 1935. Originally a spot for folk and poetry enthusiasts, the Vanguard soon became known as a haven for small group swing and routinely featured legendary performers such as Sidney Bechet, Una May Carlisle and Mary Lou Williams. By the 1950s Miles Davis, Thelonious Monk, Sonny Rollins, Cannonball Adderley and John Coltrane all regularly appeared at the club, and many live albums have been recorded there including highly influential records by Coltrane, Art Pepper, Tommy Flanagan, and Wynton Marsalis.
The Vanguard Jazz Orchestra was originally formed by trumpeter-composer-arranger Thad Jones and drummer-bandleader Mel Lewis. Over the years, the group has featured a veritable "Who's Who" of jazz greats including Billy Harper, Jimmy Owens, Tanya Darby, Bob Brookmeyer, Hank Jones, Jerome Richardson, Jerry Dodgion, Jimmy Knepper, Joe Farrell, Jon Faddis, Marvin Stamm, Pepper Adams, Quentin Jackson, Richard Davis, Richard Williams, Roland Hanna and Snooky Young.
Orchestra manager and bass trombonist Douglas Purviance, who has been with the band since 1978, and who is a long-time member of the "Wicked" pit orchestra, has been instrumental in his recognition of the importance of the group being union members and paying into the AFM pension fund. "It's important that jazz musicians have a CBA," says Purviance, "so that they have representation, rights and benefits as in other genres of music." The extension agreement will allow the band to come together as members to determine the best way to utilize the collective bargaining process.
Current band members are Nick Marchione, John Chudoba, Terell Stafford, and Scott Wendholt (trumpets); Jason Jackson and Douglas Purviance (trombones); Billy Drewes, Rich Perry, Ralph Lalama, Dick Oatts and Gary Smulyan (saxophones); Jim McNeely (piano); David Wong (bass); and John Riley (drums). Tom Bellino is the band's project director. The band appears for two sets every Monday at the Village Vanguard, 178 Seventh Avenue South, in Greenwich Village.